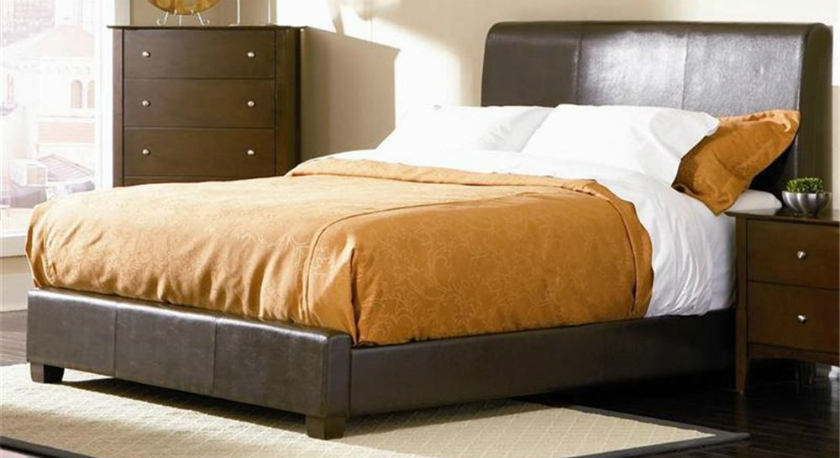 If wanting to upgrade to a king size bed, be aware that a lot of options will be presented. A purchase decision depends on factors such as lifestyle, personal preference, size, and decor of the bedroom, and, of course, financial considerations. If on a budget, a king size bed with a faux leather upholstery is an affordable yet stylish alternative.
About Faux Leather King Size Beds
A faux leather king size bed is similar in almost all aspects to other types of bed frames. The only difference is that the upholstered finish has the added advantages of padded comfort and the look of luxury. The upholstery also serves as a protective layer to the frame for a more durable construction. Faux leather upholstery is made of synthetic materials such as polyurethane (PU), polyvinyl chloride (PVC) or vinyl, with interior foam padding. It simulates the look and feel of genuine leather at a considerably lower cost. Faux leather may not be as strong and long wearing as the real article, but with normal use and proper maintenance, its average lifespan lasts for years. For example, avoiding its direct exposure to sunlight and extreme heat will protect it from cracks forming in the material. Faux leather requires such easy care; all it takes is a quick wipe with a damp cloth.
Bed Frame Construction
Faux leather upholstered beds appeal to many people for their elegant look and plush touch. However, the frame and base foundation are essential criteria that should not be overlooked. The two basic sizes of king beds are the 5-ft king and 6-ft super king. King size beds are built and designed to accommodate bigger, taller bodies and heavier weights. That's why it's critical to choose bed frames of solid and sturdy construction. King size beds made of hardwood are the best option for long lasting value. Nonetheless, technological innovation has made possible the development of engineered wood of reasonably fine quality at a lower price range. With ingenious design and craftsmanship (for example, medium-density fibreboard [MDF] combined with metal), engineered wood can hold up well to normal wear and tear.
Bed Frame Styles
The sheer size and imposing presence of a king size bed make it the focal point of a bedroom. A headboard with plush faux leather upholstery lends the bed an air of sophistication, earning its well-deserved status as the room's centrepiece. Faux leather upholstered king size beds range in style from the basic bed frame to those with headboards, footboards, and storage space. Some designs are an eclectic fusion of functional practicality and contemporary charm. Finding the style that fits the needs, preferences, and budget will not take too long, however.
Basic Platform Bed
The streamlined look of a simple platform bed blends perfectly with a contemporary-style bedroom. Its foundation of slats supports a single mattress, eliminating the need for a box spring. A typical modern platform bed is designed with a basic frame in sleek, bold lines. Its stubby legs project a low profile.
Storage Bed
The exterior of a storage bed appears similar to that of a basic platform bed, except that it has drawers or hidden shelves nestled beneath the mattress. Deeper drawers provide extra storage space, but elevate the bed frame's height. For modest-size bedrooms, storage beds provide the ideal space-saver solution.
Ottoman Bed
The ottoman is another type of storage bed. The entire interior cavity of its base is designed for storage. With a king size bed, the huge available space can accommodate even bulky comforters. A clever mechanism allows access to the storage space by easy lifting of the top part of the base.
Sleigh Bed
The prominent headboards and footboards of sleigh beds enhance their comfort and safety features. The curved boards whose tops roll outwards resemble the horse-drawn sleigh of the old days. Their gentle, graceful curves add a touch of old-world grandeur without overpowering a bedroom's style. Some sleigh beds come equipped with storage drawers or shelves for dual functionality.
High or Low Footend
A bed with a high foot end provides symmetry to the headboard. Its design may be straight or curved, as in a sleigh bed. A tall person may feel a bit cramped at the foot of this type of bed. A bed with a low foot end has a trendier appeal. With maximum space to stretch out the legs, a low foot end gives the tall sleeper a greater sense of freedom of movement. The following table lists a representative sampling of faux leather king beds. A lot more variations in features are available out there in the market. The types are ranked from low to medium price points within the three-figure affordable range.
Bed Frame Design/Type

Price Range

Platform bed with wood slats, no headboard

Low hundreds

Basic, low profile bed frame with simple headboard

Ottoman storage bed Base made of sprung slats and metal bars

Bed with plush tufted headboard with low foot end Base of solid or sprung slats

Storage bed with 4 drawers Sprung-slatted base

Ottoman storage bed with plush padded headboard Base made of high-grade engineered wood, sturdy metal frame, wooden sprung slats

Mid-hundreds

Storage bed with 4 drawers and sleigh headboard Base of sprung-slatted base and wooden legs

Sleigh bed; headboard and foot board with scrolled top rails Base of hardwood sprung slats, sturdy metal centre rail and support legs
Colour Coordination
A typical colour selection of faux leather upholstery consists of the neutral shades of white, cream, brown, and black. Some manufacturers offer red as a visually striking alternative. Choose the colour that best complements the existing bedroom furniture and furnishings. Moreover, colour helps set the right mood and shows off personality in the best light. The following table sparks some ideas.
| Colour of Faux Leather Upholstery | Recommendation | Personality and Ambience |
| --- | --- | --- |
| Black | Blends with any bedroom décor Provides dramatic contrast with light-coloured bedding and accessories Conceals stains | Play it safe - most popular, practical choice Play it up - Black and white bedroom theme creates visual appeal |
| Brown | Softer, subtler alternative to black Provides striking complement to cream bedding and curtains | Warm tones evoke intimacy Rich, lovely, homey look |
| White | Light and airy feel Makes a room look spacious Creates harmony with an all-white bedroom furniture or balance with dark furniture Add touches of colour in bedroom furnishings for accent | Immaculate appearance and clean lines Attractive and eye-catching Brightens up a sombre room |
| Cream | Gentle hue blends well with other colours Creates more subdued effect than stark white | Ultimate cool chic Reflects class and elegance Both classic and contemporary |
| Red | Fiery hue makes a bold statement for individuals who love a bit of dramatic flair and splash of vibrant colour Notches up the intensity or cheers up a dull room | Daring, expressive attitude Flaunts individuality Romantic ambience |
Colour coordination affects the vibes in a bedroom and reflects the personality of its occupants. Don't be stymied with a monochromatic colour scheme. Matching colour pairs create visual harmony, and contrasting colours achieve a striking balance; think of black and white, or brown and cream. The overall effect should optimise the levels of light in the bedroom. Just don't go overboard with the knockout look; after all, a bedroom is meant to be a place of solace and restful sleep.
Find Affordable Faux Leather King Beds on eBay
If a definite budget is in mind, do a quick initial search by typing the keywords faux leather king size bed into the search field of the eBay homepage. The results page generates thousands of available listings, but this vast selection can easily be narrowed down as close as possible to the minimum to maximum price points. On the left pane of the page, enter the price range within the given budget. Make other selections according to individual preference, such as new under the Condition category, and auction or buy it now under Buying Formats. One can also systematically drill down through categories and subcategories, such as Beds & Mattresses, Bed Frames & Divan Bases, and King Size. From this page, filter the listings by Type (for example, classic bed frame) and Material (Faux Leather). Pick the main colour, features, and style to target the search to the specific bed of choice. A king size bed is heavy and bulky. Before committing to buy, read the postage and payment information. Enter the post code of the shipping destination to get the rates. Contact the vendor about warranty, return and exchange policies, and fees if this important information is not provided in the listing. Brand new bed frames will be shipped flat-packed for assembly. Upon arrival, inspect the parts for completeness or damages. Assemble the bed frame as soon as possible to check if the parts fit properly. Report any defects promptly for resolution or discount negotiation.
Conclusion
A faux leather bed is an economical yet presentable alternative to real leather. Some animal lovers opt for synthetic leather to show opposition to the use of animal skin for fashionable furniture. Faux leather is low maintenance, making it the ideal material for environments with more exposure to dust and grime. These advantages of a faux leather bed make its choice an easy decision for savvy, budget-conscious shoppers.