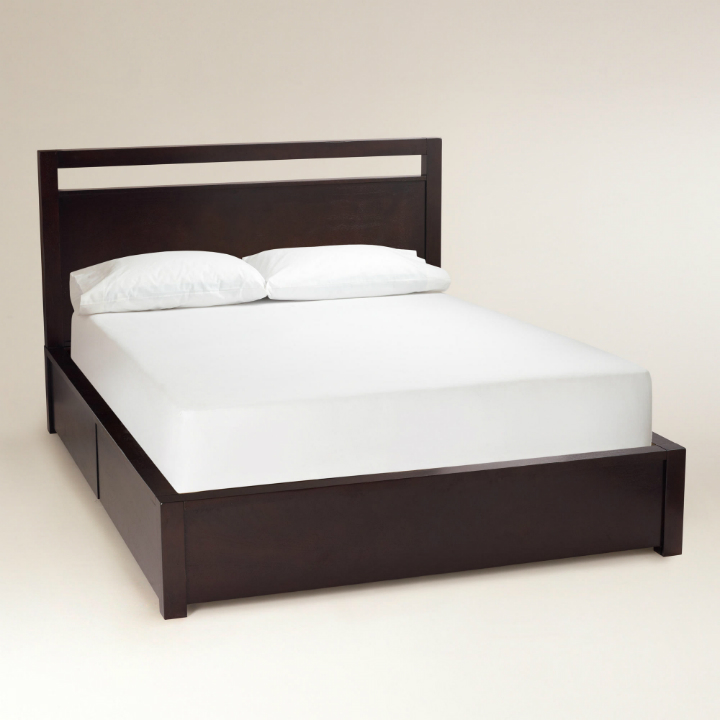 The bedroom should be the one place in your home where you go to rest and relax. Creating a comfortable bedroom not only makes it easier to unwind, it creates a space in the house where you can rejuvenate as well. Since the bed is the focal point of the bedroom, creating a comfortable setting starts with the bed. While some people consider a headboard an optional accessory, there are many benefits to adding a headboard to your room. Not only does the headboard help to pull the decor together, it makes the room look bigger, helps the bed look more complete, and even adds functionality to the bed itself.
Because of the many different styles of headboards, there are types of headboards to fit every budget, and finding an affordable headboard is easier than you think. Headboards can be purchased from brick and mortar stores or online using eBay. Once you understand the different types of headboards that fit within your budget, you can choose the headboard that fits best with your decor. When buying a headboard, you should set a realistic budget, understand the different types of headboards available, and know what size is needed before making a final purchase.
Set A Budget
Before running out and purchasing a headboard, you want to consider the bigger picture. Ask yourself if you see yourself sticking with your existing bedroom decor for a while. Headboards generally last a long time, so you want to invest in a headboard that last for many years. Going for a new look would mean setting a higher budget, but with eBay's extensive selection of bedroom furniture, it is easy to find an affordable headboard within your budget.
Another thing to consider when setting a budget is the type of headboard you can afford. Simple metal, common wood, and painted headboards are often the most affordable, while slow growth woods and headboards with expensive fabrics or extensive detail are usually the most expensive.
Types of Headboards
Once you have set a budget, the next step is to find the type of headboard that fits best with your taste and decor. There are many different types of headboards that fit within any style. Before choosing the type of headboard, there are some factors to consider. If you want a headboard that makes it comfortable to sit up in bed to read or watch TV, a padded or upholstered headboard may work best for you. If you suffer from allergies, metal and wooden headboards may be a better option.
Wooden Headboards
Many traditional headboard options are made of solid wood. Solid wood headboards are often very durable and last for years. Common types of wood, such as pine and oak, are the most affordable options when choosing a wooden headboard, but most people choose the type of wood to match their bedroom furniture. Wooden headboards can usually be easily painted or stained to match existing furniture without going over budget. Furthermore, wooden headboards come in many forms to fit all types of decor. Detailed, intricate headboards can be the perfect fit in a traditional room. Wooden headboards with a sleek design work best with modern decor. Some people choose wooden headboards with mirrors to create more space in the room.
Metal Headboards
Metal headboards consist of metal rods formed together into a headboard. Because the metal is much stronger than other materials, metal headboards are very durable and tend to last longer than other headboards. Brass and wrought iron headboards give the appearance of antiques, and work perfectly with antique furniture and decor. Metal headboards made of sleeker metal, such as stainless steel or aluminium work best with contemporary decor.
Upholstered Headboards
Upholstered headboards generally consist of a large piece of wood wrapped in a cushion liner, and covered with fabric. Since upholstered headboards are padded, they are perfect for people who like to sit up and relax in bed. Upholstered headboards can come in many different types of fabric, which make it easy to fit into any decor. Bold fabrics will create a headboard that is the focal point of the room, while sleeker options such as leather add a touch of elegance to the room.
Upholstered headboards with buttons are also becoming increasingly popular in modern decor, and can add a look of luxury to any bedroom. The highest quality upholstered headboards have high density foam, stain resistant fabric, a hardwood frame and a covered back. A more affordable option is to purchase a custom slipcover for durability and easy cleaning.
Bookshelf Headboards
Bookshelf headboards consist of shelves, drawers, or cabinets that bring additional storage into the room above the bed. Bookshelf headboards are functional as well as decorative, and can fit easily within any decor. Bookshelf headboards are great for people who read in bed or those who need more storage space. Aside from books, people use bookshelf headboards for lamps, alarm clocks, and phones, making everything easily accessible from the bed.
Wicker Headboards
Wicker, or rattan, headboards consist of a hand-woven material, usually plant or plastic fibre, turned rigid. Many wicker headboard designs are based off the look of antique furniture, and fit well in rooms with antique or country decor. Wicker headboards are often very light and can be easily mounted to the bed frame or wall.
Wall-Mounted Headboards
While most headboards attach easily to the bed frame, wall-mounted headboards hang on the wall directly behind the bed with either D-ring hooks or interlocking hanging brackets. The benefit of a wall-mounted headboard is that it generally takes up less space than other headboards, ideal for small spaces. Wall-mounted headboards are also a more affordable option since you do not have to worry about the headboard not fitting with your existing bed frame.
Choosing a Proper Headboard Size
Now that you understand the different types of headboards, the next step is to choose the right size. When purchasing a headboard, it is important to consider the height of the person using the headboard. If the headboard is too short for the person using it, the headboard will not be supportive or comfortable. When choosing a headboard for a child, headboards can be shorter than those used for adults.
Most headboards match a particular size of bed such as single, double, or king. However, some headboards fit multiple sizes such as small double and double. If you choose a headboard that can fit multiple mattress sizes, there may be a gap between the headboard and then bed. Another option is to use a headboard wider than the bed to create a contemporary, modern look.
Do-It-Yourself Headboard Options
With the many different types and styles of headboards, it is easy to find an affordable option that fits your lifestyle and decor. Another affordable headboard option is to make your own headboard. One option is to mount shelves on the wall behind the bed. Although the shelves will not provide the same support as a traditional headboard, they give the illusion of a headboard for a much more affordable cost. Another option is to create a headboard with plywood, foam, and fabric. This allows you to customise the upholstered headboard to match any decor. Yet another option is to attach a large painting or print behind the bed to create a unique, artistic look. Hanging curtains behind the bed is also an affordable way to create the illusion of a headboard and add height to the room.
How to Buy an Affordable Headboard on eBay
Because of the large selection, eBay makes it easy to find any type of headboard within your budget. eBay offers many more choices than traditional brick and mortar stores, and is also the one stop shop to purchase everything you need to build your own headboard. You can begin your headboard search by searching keywords on the eBay homepage.
If you already know which headboard style fits best in your home, you can start with a more specific keyword such as, "brass headboard" or "oak headboard". Starting with a more broad search, such as "metal headboard" or "wooden headboard" will give you a larger selection to choose from, so you can find the perfect headboard for your home. Staying within your budget while shopping on eBay is also simple. After your keyword search, you can enter your maximum price to ensure that you will find your perfect headboard within your budget.
Conclusion
What once was a primarily functional piece, headboards today not only provide support, but create a focal point for the room that shows off the unique style of the homeowner. Whether you are choosing a headboard for comfort or design, headboards can add a pop of colour, contrasting style, or traditional elegance to a room. Whichever headboard style you decide is right for you will help bring together the decor and set the tone of the room. Since choosing a headboard is such a personal style choice, is important to take your time when purchasing one to ensure you find the right piece for your room.
With the help of eBay you can browse through thousands of options, which makes updating your room with a new headboard both simple and affordable. By adding a headboard to your room, you can create unity within the room to create a comfortable, relaxing place to escape and unwind.