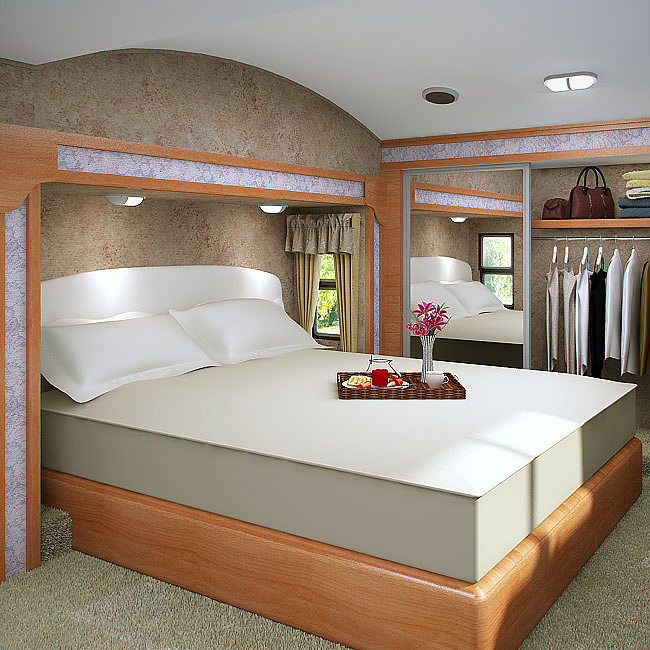 A bed is a very significant part of a person's life, and it should be chosen very carefully. A good bed often ensures a good night's sleep, so it is essential that care and thought is given to its selection. It is not always the case that the most expensive bed on offer the best is, and personal preferences and health issues should always be the deciding factors when making a purchase.
Selecting the Most Appropriate Bed
A king size bed will probably be more expensive than standard sizes, so it is vital that the room for which it is intended is measured first. The bed will be five feet wide, so checks must be made to make sure the bed will fit in the space dedicated to it. There must be ample space to get in and out of bed, and it should not be a hindrance to daily activity. Beds come in two main categories: bedstead and divan. Which type is selected is often just a matter of personal taste; however, they offer slightly different sleeping experiences. Many bedsteads are designed to work in conjunction with a particular mattress, so it is often a good idea to buy them together if that is possible. Divans usually come with a purpose-made mattress, and they provide a firmer sleeping surface. There are some exceptions to these rules, however, so it is important to be in possession of the facts regarding the benefits of different sleeping systems. Wherever possible, the bed and the base should be bought together, as not all mattresses will deliver the benefits they are designed for on the wrong base. There are some stark differences in price, so a little knowledge about the benefits of differently designed beds may save the consumer a significant amount on the final price that is paid.
Mattresses
Mattresses are the most important part of any bed, and they are also the most complex. Regardless of whether the purchase is being made in a store or on the Internet, consumers need to physically test the mattresses they are intending to purchase; people can spend a third of their lives in bed, so it should be regarded as a serious transaction. Mattresses come with different spring-tensions, and they dictate how firm the sleeping surface is. Depending on the manufacturer, there will be between three and five tension-ratings, so the only way to gauge the most suitable rating is by trying mattresses out. A king size mattress will usually be intended for a couple, so it is vital that both partners are present when shopping. Most partners will have different preferences and needs when it comes to a bed; however, mattresses can often be made in two sections before being zipped together. This will add to the price, but it will ensure that both parties get the sleeping experience they want.
Spring Mattresses
Most mattresses on sale in the UK have spring systems providing the core support to the body. Tension is changed by alterations to the thickness, quantity and height of the springs. There are three main varieties of spring mattress, and they have significantly different price-tags.
| | |
| --- | --- |
| Open Sprung | Open-sprung mattresses are the most common design available in the UK – most budget beds will feature this design. Springs are connected to each other in rows, and they are held together by fixed rods. |
| Continuous Spring | Continuous spring mattresses usually cost a little more than open-sprung models, as they feature a more elaborate and responsive design. One length of wire is shaped into several springs that are connected vertically down the length of the mattress. Each individual coil is smaller than those found in an open-spring mattress, but there are far more of them. |
| Pocket Spring | A pocket spring mattress provides users with the most responsive and supportive sleeping experience on the market, and they are always the most expensive models available. Springs are housed in their own fabric pockets, and they are designed to work completely independently from each other. A bed with this system will be expensive, but it is ideal for people with restless partners. |
Mattress Fillings
Fillings are used in all spring mattresses in order to insulate, absorb moisture and provide comfort. Generally speaking, the most comfortable and luxurious fillings will be found in the most expensive beds. There are seven main fillings used in mattresses in the UK, and they all have very different properties.
| | |
| --- | --- |
| Cotton | Cotton is usually packed into the mattress near the surface, as it absorbs moisture from the user. |
| Wool | Wool delivers a luxurious feel to a sleeping surface, but beds with woollen fillings are usually expensive. |
| Foam | Foam offers a unique cushioning effect that is simply not replicated by other materials. However, foam-filled mattresses tend to be expensive. |
| Polyester | Polyester is a man-made material that provides an effective and relatively cheap filling material. |
| Hair | Some of the most luxurious and expensive mattresses available are filled with hair. Hair provides natural spring, resilience, and lots of comfort. |
| Coir Fibre | Coconut fibre is a relatively cheap filling, and it is found in some budget mattresses. |
| Silk or Cashmere | Silk and cashmere are only found in the most expensive and exclusive mattresses, but they deliver a level of comfort unsurpassed by other fillings. |
Non-Sprung Mattresses
There are five main varieties of non-sprung mattresses, and many of them will be more expensive than basic spring interiors. However, they offer very different experiences, and there are some decent bargains to be found at the moment.
| | |
| --- | --- |
| Latex | Latex mattresses are usually very expensive; however, they offer a level of durability, elasticity, and support that makes them ideal for even weight distribution. Latex models are expensive, and bargains are few and far between. |
| Visco Elastic | Visco elastic mattresses mould themselves to the body of the user, and they are available in a number of different densities. However, these memory-foam designs come with a hefty price-tag. |
| Polyurethane | Polyurethane mattresses are usually the cheapest on the market. They are man-made fibres made with petroleum-based foam. |
| Futons | There are some relatively affordable futon beds on the market in the UK today. They consist of several layers of cotton or fibre wadding, and they are most commonly found as part of sofa-beds. |
| Water Beds | Water beds consist of an extremely durable vinyl bag which is filled with varying amounts of water for different tension-levels. Water can be added or drained away, and there are often also options for changing the temperature. Water-filled mattresses are extremely expensive, yet they are ideal for allergy sufferers. |
Bases
There are two main types of base available in the UK today: divans and bedsteads. However, adjustable beds are becoming increasingly popular at the moment, as they facilitate better sleep for people with mobility issues. Adjustable beds are incredibly expensive though, and they are usually made for specific orders.
| | |
| --- | --- |
| Divan | The majority of budget beds on sale in the UK come with a divan base, and they are easily the most popular option today. The most affordable divans are solid-top divans, as they are basically an upholstered box. More expensive models utilise the empty space in a divan as storage, and they come with a choice of door, drawer, or hinge-top access. Sprung-edge divans work in tandem with mattresses to provide flexibility and support, but they are considerably more expensive than the solid-top option. |
| Bedstead | Bedsteads are often sold without mattresses, so buying the two individual components separately can be expensive. Rigid-slat bedsteads are generally the cheaper option, and they deliver the firmest sleeping experience. However, they work against the mattress because of their rigidity, and that can shorten the life of the mattress considerably. Flexible slats deliver similar properties to coils in a spring mattress, but they are usually a little more expensive. |
Finding a King Size Bed on eBay
There are thousands of new and second-hand bedsteads and bases on eBay at the moment, and finding them is very simple. The beds available are categorised by the type of base, mattress system and a comprehensive range of different design-factors and choices. The search should be started by visiting the eBay homepage and selecting Home, Furniture & DIY. The link to Furniture – which can be found on the left of the screen - should then be clicked. Then, simply click the Beds & Mattresses link in order to begin the search for the most affordable king size beds and mattresses in the UK.
Conclusion
Buying a king size bed and mattress is a complex process, as the number of potential combinations of mattress and base is enormous. King size beds will usually cost a little more than standard doubles, but there are still some excellent savings to be found on the internet. A basic divan base with an open coil, polyester-filled mattress will usually be the most affordable bed on the market, but it may not suit the individual's needs. A bed can only be considered a bargain if it actually serves the purpose it is intended for: a good night's sleep.