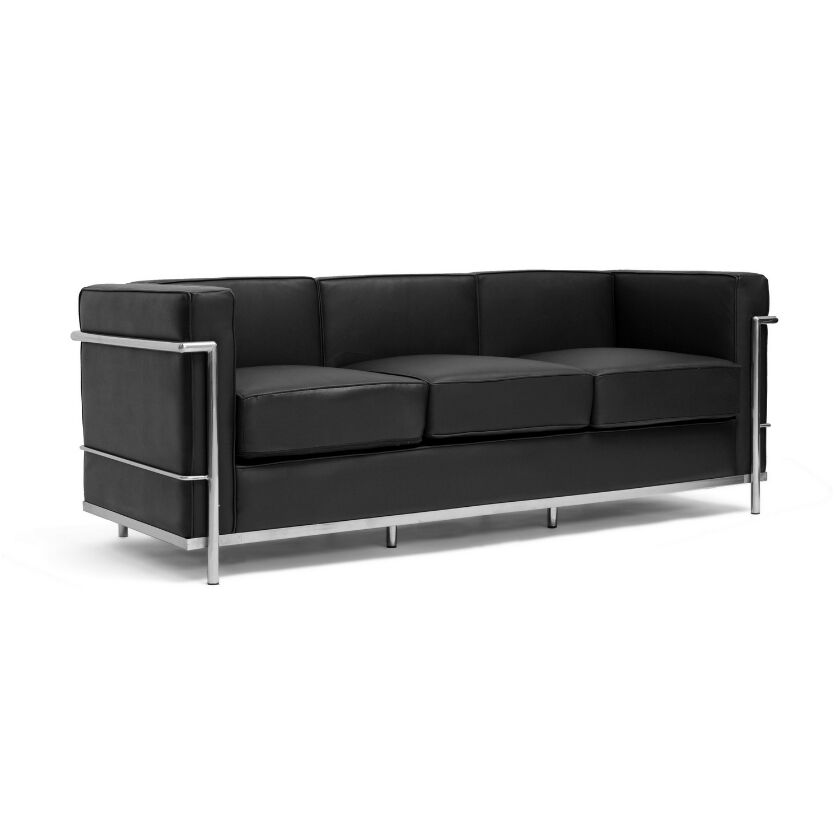 There are several words that describe one of the most familiar pieces of furniture in any British home. It might be called a sofa, or a couch, or a settee. Then, there are less commonly used terms such as canapé, chesterfield, davenport, and divan. These tend to be associated with more expensive items. "Love seat" is a term that might be applied to several of these types and usually refers to a model with space for only two people.
When it comes to the domestic spots where a sofa might be situated, again there are several terms that apply to similar spaces: living room, lounge, sitting room, but more colloquial locations, such as dens and man-caves, are places where they might be found too. They are also a familiar sight in public waiting areas such as doctors' and dentists' anterooms, hotel lobbies, and office reception areas. Often an affordable second-hand sofa comes from such a source. This guide points out some of the variations that can be found and the materials that are used in repairing sofas. It also discusses local places to look for bargains as well as eBay's listings.
Three Piece Suites and Other Chairs
In the Middle East, where the word "sofa" comes from, the term refers to a part of the floor that is raised by about a foot and covered with carpets and cushions to afford comfortable seating and reclining. In Britain, the characteristic definition of a sofa is that it is a piece of furniture that seats more than one person and does so in a comfortable, informal style. The seats and backs are upholstered and often sprung for a cushioning effect, and foam cushions may be alternative or additional means of promoting comfort. It is quite common to see domestic sofas and easy chairs draped with rugs or similar rich fabrics.
In furnishing catalogues, sofas are often the main part of a suite, which may be supplemented by as little as one other chair, or else two chairs and other items such as footstools or coffee tables. The notion of an "affordable" sofa probably excludes such additions.
As well as being a comfortable seat, a sofa can be pressed into service as a makeshift bed. Some are designed to convert into a full-sized bed and are made with varying degrees of complexity, from simple folded double cushions to elaborately cantilevered and sprung affairs.
Settee
A settee is more basic in its characteristic. It may be as plain as a wooden bench with a wooden back; typically the back is high compared to most chairs and seats. Usually it will come with a cushion that matches the length of the bench, and this can be supplemented with smaller cushions to taste. Settees are often found in traditional pubs.
Davenport and Chesterfield
Two variants are the chesterfield and the davenport. The davenport is a brand name, more familiar perhaps in the United States than in Britain and the characteristic style of the davenport has graced many a Hollywood TV show's set. The chesterfield is the button-quilted, often leather or faux-leather upholstery that often furnishes British waiting rooms. As is often the case with British names, it comes not from a corporation but an aristocrat, the Earl of Chesterfield, who commissioned furnishing in the style for his country seat.
Materials
A sofa that is designed solely for sitting is normally built on a wooden frame. With new-built furniture, the wood comes from sustainable stock. Older pieces probably use similar material below decks, but display wood, such as on exposed legs, might be mahogany, walnut, or a fruit wood such as cherry or apple. The under-seat area is often reinforced with steel or plastic fittings and is either webbed or sprung.
Sofa coverings are usually made out of sturdy and durable fabrics, such as linen or corduroy, or otherwise leather or a variety of imitation leather can be used. Fabric covers have the advantage that they can be made in a wide range of colours and patterns so that one can be found to suit just about any home décor and colour scheme. Their drawback is that they can absorb dirt and household odours, which can be difficult to clean off. Leather sofas are easier to clean and maintain, but they are normally more expensive, and their capacity to match a colour scheme depends more on the natural neutrality of the material.
Sofa Beds
Because sofa beds need to fold out in order to fulfil their secondary function, they are normally built on strong steel frames that are designed to concertina in to make the sofa profile or out to make the bed. After extended use, the steel can become bent, and springs can break or come loose. Often, the sofa is not as comfortable as a "proper" sofa, and the bed is uncomfortable compared to a "proper" bed, so the only thing that recommends it is its versatility in restricted spaces.
Futons
A futon couch is similar to a sofa bed in being a hybrid. Unlike the sofa bed, the folding is not performed by a mechanism, but rather the upholstery is foldable in the manner of a duvet. The Japanese futon, from which the term comes, is a padded mattress that is laid on the floor rather than the approximate knee height of a Western bed. The futon couch has a chair-shaped frame upon which the mattress can be laid and sat upon.
Repairing a Sofa
One route to a truly affordable sofa is to buy one that is in need of repair. At the very least, it is cheaper than its pristine equivalent. At best, it might be possible to pick it up for no cost, in which case the only expenditure is the materials needed to fix it up. An initial word of caution though: For the reasons already mentioned in relation to sofa beds, metal framed and sprung sofas are more difficult to repair than wooden ones.
Replacing webbing requires a few pieces of equipment, most of which can be found in eBay's listings: some webbing, a webbing stretcher, upholstery tacks, and a hammer. There are informative sites on the web that provide detailed instructions. The upper parts, the seat and back, can also be replaced. Again, materials can be found on eBay, such as cushion foam and horse hair.
Finding an Affordable Sofa Locally
Because sofas are bulky items, they are the kind of item that one might prefer to buy locally. That applies to second-hand sofas in particular because none of the manufacturer's protective packaging is likely to be available. Besides, moving and carrying a sofa is probably going to be a two-person operation, so delivery is best handled either by a furniture store's specialists or else by nearby friends or family.
Visiting the local showrooms is a good way of getting a feel for styles, sizes, and prices. When it comes to second-hand items though, there are other options too. Classified advertising in the local newspaper is one place to spot a possible bargain. Nowadays, there are a number of websites that offer a similar service. Typically, advertisements on these pages include at least one and possibly several photographs. The pricing structure is such that the wording of the advertisement can be more informative because the seller is not charged by the word.
Another type of source for affordable sofas is charity shops. Several of the major charities operate specialist furniture stores in larger cities. Additionally, community projects that take in and refurbish unwanted furniture items often stock suitable items. Finally, there are house clearing operations that sell old furniture, and they have industrial equivalents where an ex-reception sofa might be found.
One of the advantages of shopping locally for a sofa is that checking for flaws and defects is so much easier. Repair issues are easier to evaluate, and a buyer can take along someone with the expertise to offer advice.
Buying an Affordable Sofa on eBay
With all those local options at your disposal, it is nevertheless worthwhile to look at eBay's listings, either to research possibilities or to make a purchase. A simple search from the home page using the term "sofa" is enough to get you started. Right away, you can specify your definition of "affordable" by using the filter option that lets you enter a maximum and minimum price. It is worth taking in the category titles that your results correspond to. Clicking on one of those will narrow your results, although narrowing might also exclude items that would interest you. Some of the alternative names, such as settee, couch, or chesterfield, can be worth exploring. You will notice that some of these terms give more focused results than others; those category titles again come in handy and help you focus on the type of item you are looking for.
One of the things to be aware of while reviewing the listings is the cost of shipping. Where no carriage charge is specified, it is usually because the seller expects the buyer to collect in person. One way of sorting results is by distance, and you can also set filters to exclude by distance from your postcode if you so wish.
Conclusion
Call it what you will; whether it is going to be a couch, a settee, a sofa, or something more exotic, it is one of the most important pieces of furniture in any home. It is a purchase that a householder wants to get right. There are advantages to shopping locally to find the most suitable fit for a given space. There is the convenience of being able to transport the item relatively easily, and there is the reassurance of being able to take a friend or acquaintance along to help evaluate a purchasing decision.
On the other hand, when affordability as of prime concern, then eBay's listings pages should not be overlooked. It is surprising perhaps that there is a lively online trade in such large items as sofas, but provided that transportation is easy to manage, then there is no reason why a bargain should be out of reach.