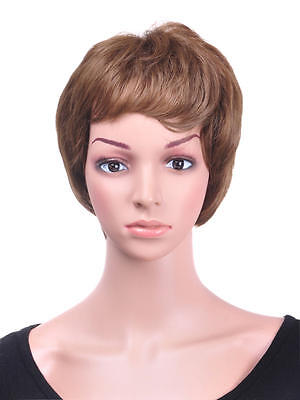 Wigs have been around for quite a while, making their debut on the heads of Egyptians who wore them for aesthetic reasons, and moving centuries later into the area of health care. Now wigs have a multitude of uses. They help women suffering from illnesses and medical conditions such as alopecia and undergoing treatment, such as chemotherapy, and they allow women to update their look or give their hair a break from styling and over-processing.
Affordable wigs come in different shapes and sizes, and can be ready-made or custom designed depending on the wearer's personal preference. Wigs may be natural, that is, made of human hair, or synthetic. Custom made wigs generally cost more as do natural wigs, but they last longer, so could be more affordable in the long run. Wigs offer natural looking hair at all times and can be textured according to personal taste. Women can opt for a straight, wavy, or curly look, and can choose between blonde, redhead, and brunette. They can also choose between various lengths from short crop to long. When purchasing an affordable wig at retailers such as eBay, buyers should consider the various types of synthetic wigs, lace wigs, and the different types of lace. It is also a good idea to learn how to wear the wig properly.
Types of Synthetic Wig
Synthetic wigs cost less to manufacture than natural wigs and are an affordable way for a woman to change her look or to decrease the visibility of hair loss. They are easy to care for and typically last up to a year if worn daily. There are three main types of synthetic wigs: Toyokalon, Kanekalon, and the industry preferred monofilament variants.
Type of Synthetic Wig

Description

Toyokalon

Least expensive

Soft and less prone to tangling

Not as natural looking

Temporary; not designed for everyday wear

Comes pre-coloured and styled

Kanekalon

Lighter and more durable than Toyokalon

Slightly more expensive

Can be styled with very low heat and specialist styling products

Cannot be coloured

Looks more like human hair

Mats and tangles easily

Monofilament

Made from plastic or nylon materials

Most natural looking and expensive

Cap is made from see-through mesh

Each individual hair is hand tied to the cap

Increased styling capabilities
Wearer's should consider the purpose of the synthetic wig when choosing a type. Toyokalon wigs are generally reserved for theatrical costumes. However, they are more affordable than other types. Monofilament wigs are designed for everyday wear and provide a natural look.
Types of Lace Wig
There are two main types of lace wig: lace front wig and full lace wig. Wigs should be chosen based on how they accentuate the features on a woman's face. Each person's face has its own structure and shape, so wigs should complement the features.
Lace Front Wigs
Lace front wigs are designed with a sheer lace base attached in the front beyond the hairline of the wig. They do not envelop as much of the wearer's head as full lace wigs, covering only the front of the head and running from ear to ear. The wig can be made with synthetic or human hair and tied to a lace base. Human hair is more natural and easier to style as well as to maintain. When the hair is knotted into the lace, it creates the illusion of growing from the scalp. Some lace wigs also have a form of baby hair around the temples, which is used to cover any visible signs of lace on the forehead. It is impossible to see where the lace starts or ends, which creates a realistic hairline. These wigs can be custom fitted, trimmed, and temporarily glued to a person's skin around their hairline using an adhesive that is safe for human use. Lace front wigs are designed to blend with the woman's natural skin. Once applied the lace front wig will usually stay bonded for up to a week.
One of the disadvantages of the lace front wig is that it cannot be styled easily as the lace is only in the front half of the wig. If pulled into a ponytail, it becomes obvious that the woman is wearing a wig. Lace front wigs also require periodic maintenance and have a short lifespan of about six months. These wigs vary greatly in price.
Full Lace Wigs
Full lace wigs cover the majority of the wearer's scalp. These wigs are made to fit the woman's head and generally follows the natural hairline. Many have a natural parting or are pre-styled, ensuring that the woman's hair always looks great.
Types of Lace
There are two main types of lace that act as the wigs' base. Wearer's can choose between French lace and Swiss lace, both of which are lightweight and extremely popular. These wigs can be tinted to blend with a variety of complexions. The type of lace used is determined by the style of the wig and the hair.
French Lace
French lace is available in various colours and is thicker and more durable than its counterpart. It is firmer to the touch. These wigs require less maintenance and are often recommended for first time buyers because of they are easier to put on. French lace is available in different forms, with some forms being thinner than others.
Swiss Lace
Swiss lace requires a lot more care and attention to maintain. It is finer and more fragile, blending better with the skin for a less visible appearance. Swiss lace is also more prone to damage during wig application and removal due to its delicate nature and should be used gently to maximise the lifespan of the wig. The majority of Swiss lace wigs use Swiss lace at the front hairline and crown and French lace for the rest of the wig to increase durability. Swiss lace also comes in the option of super fine Swiss lace, which is a thinner lace that is relatively invisible against the scalp. This type of lace is generally more expensive. The most common source of wear and tear for lace wigs is the washing process.
How to Apply a Wig
When putting on a wig, women should place a flesh-toned wig cap over their hair to anchor the wig, then begin by cutting the lace to ensure a perfect fit. Next, the wearer should mark where they want the wig to sit on their forehead before applying the hair. The area around the hairline must be prepared and cleaned to remove dirt and natural oils so that the adhesive can be applied to the skin properly. Women should also consider buying a scalp protector to go around their head where the lace will sit. Adhesive should then be applied to the necessary areas before placing the wig on the head. When finally putting on the wig, be careful to keep stray hairs out of the adhesive. Press the wig into the adhesive, making sure that it is securely fastened. It is best to avoid styling for 24 to 48 hours until the adhesive settles.
Find an Affordable Wig on eBay
To begin shopping for affordable wigs, go to the eBay homepage. For all related item listings on eBay, type "wigs" into the search field at the top of the page. You are free to browse all results or you can narrow down the listings by condition and buying format. Search terms can also be used to find specific items. For example, to see listings for lace front wigs, type "women ' s lace front wigs" into the search field. Check eBay's customer support pages for additional information on searching with keywords.
Buy an Affordable Wig with Confidence
Read item listings for wigs carefully before making a purchase. Check the price of the item, as well its postage and packaging costs. Whether buying a new or used wig, examine the available photos carefully for signs of wear or damage. If additional images or information is needed, ask the seller. Good sellers will be happy to provide additional information to demonstrate their customer service.
Conclusion
Wigs are an ancient accessory, a modern non-surgical hair replacement system, and a fashion item. There are a number of affordable wigs available on eBay that can satisfy every woman's requirements. It is very important that women choose the right fit to allow for the most natural look. Synthetic wigs are a great investment, and the most affordable, especially for first time wig buyers as they are relatively easy to style and maintain. Lace wigs are ideal for women who want a more natural look and increased styling options. If choosing a lace front or full lace wig, buyers must consider the type of lace to ensure a good fit. French lace wigs require less maintenance and are easier to style. However, Swiss lace wigs look more genuine. No matter what type of wig a woman decides on, learning to apply the wig properly is important.
When considering affordability, a synthetic wig is less expensive, but a human hair wig gives the buyer a more natural look. So it is necessary to consider whether price or appearance is more important. The eBay search option allows you to buy the right wig for your budget and your needs.