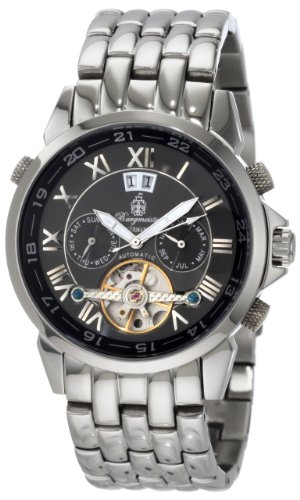 The analogue wristwatch can be a valuable tool for telling time. Analogue watches tend to be more durable and more accurate than digital watches, which can become messed up over time or with exposure to a high-powered magnet or electrical field. The traditional analogue watch contains minerals that when electrified, pulse at 32,768 times per second. The mineral used is ordinarily quartz, which is a durable crystal mineral. Most analogue watches are durable, easy to use, work off of a standard watch battery, and keep time as well, if not better, than the digital watch.
An analogue wristwatch is a classic timepiece that can be dressed up or dressed down depending on the way it is used. The analogue wristwatch can be easily purchased on eBay, the popular auction website. While looking for the perfect analogue wristwatch, there are a few things to keep in mind. First, the person for whom you are buying the watch should be considered, then the features that you want the watch to have, and lastly, how to find the perfect watch on eBay.
Purchasing the Correct Watch
There are a vast variety of different sizes, shapes, and styles, of analogue watches. Many of these watches are not quartz-controlled. Since quartz is considered the most accurate, you want to look for a watch that has a quartz timekeeping mechanism. These last longer and are more accurate in the long run. Most of the true quartz timepieces have the word "quartz" printed directly onto the watch. This can either be found on the face of the watch or on the back of the watch.
Analogue Watches for People Who Enjoy the Outdoors
Many people who are the outdoors type prefer a rugged analogue watch, which means that the band is stronger. The crystal, or the glass that covers the watch, is durable and the watch may be waterproof or extremely water-resistant. Since each person has their own preferences when it comes to watches, it is most likely a good idea to speak to them about what they want before purchasing a watch from eBay.
Analogue Watches for Dress Occasions
Many analogue watches are formal. A fine band, gold Roman numerals, and filigree hands can lend a formal look to an otherwise ordinary timepiece. Some of the men's and women's formal watches come set with gems, gold, platinum, or silver hands as well as a fine metal outer casing. These watches are perfect for the formal occasion.
Analogue Every Day Watches
An analogue watch does not have to be for the outdoors or formal occasions, it can be just a plain watch with an ordinary band and ordinary numbers on the face. These watches are functional and stylish. They can be made more or less formal by changing the band or the face of the watch. Some watches do come with interchangeable casings and faces, which helps to make the watch more of an accessory to an outfit. Most of the watches on eBay are both functional and elegant.
Features Available on an Analogue Watch
The features on an analogue watch may not be as advanced as those on a digital watch, but they can easily be more useful. For someone who spends a great deal of time in the woods, outdoors, camping, or fishing, an analogue watch with an inset compass is a wonderful idea. For someone who works in several different time zones or travels frequently, the analogue watch that automatically advances the date and can display the time in more than one time zone is the perfect accessory.
Many analogue watches also come with lunar or circadian rhythm dials. These allow a person to see where in the lunar cycle a particular time is, and the daylight and night schedule of a location. These are particularly useful when travelling to the far north where day and night tend to blend together.
Waterproofing or water-resistance is always a good feature to have, and far more analogue watches are waterproof or water-resistant than those that are digital. Many digital watches are destroyed when they come into contact with extremely wet conditions.
Also, the majority of sports watches are analogue, including dive watches that are meant to be rugged. They are designed to be subjected to large amounts of stress that many digital watches are not. An analogue watch can be elegant, functional, rugged, or designer. There are as many choices of features on analogue watches as there are designs of the watches, themselves. Older analogue watches are also available in self-winding options.
Analogue Watch Bands
Analogue watch bands are available in rubber, leather, a variety of metals, stretch material, linked metal, or metal that can stretch to fit any wrist. Again, when choosing a band, it is good to think about the wearer, as different wearers have different needs. These needs can be met by a variety of different watch bands. Most of their digital counterparts do not have the variety of interchangeable bands and faces available.
Analogue watch bands come in elegant, delicate styles as well as rugged styles. They come in plastics, leathers, rubber, and metals. The analogue watch band is more the choice of the wearer than anything else. Some wearers find plastic uncomfortable, while others find that they are allergic to metals. Even the colours and metals from which watchbands are made can be interchangeable. Some have noble metal faces or bands including platinum and gold, while others are plated with these metals. Both watch bands and the watches themselves, including interchangeable faces, are sold at the auction website eBay.
Finding the Perfect Analogue Watch on eBay
Finding the perfect watch is not difficult when given the wide selection that eBay offers. Since you can stay at home and view watches from all over the world, from private sellers as well as corporate sellers, eBay allows you to have a large choice of wristwatches. To find an analogue watch on eBay, all that you have to do is type in the search terms "analogue watch", and the results matching those keywords are populated in a list.
If this list is too broad, you can substitute search terms, such as "outdoor analogue watch", to come up with a narrower search result. By widening or narrowing the search results, you can find the exact watch that you desire. Watch bands can also be found on eBay, as can watches with interchangeable faces and other features. When you perform a search, try different search terms and sometimes surprising results are included. Once you find a perfect analogue wristwatch, click on its listing to view some more detailed information about the watch in question. When it comes to viewing the detailed description of the watch, there are a few things to look for, such as making sure the watch has all of the features and the band that you want.
Buying an Analogue Wristwatch on eBay
Purchasing an analogue wristwatch on eBay is as easy as finding one. Take a look at the detailed listing when it is shown on the screen. It contains a description of the item, the seller's name, the shipping information, and the seller's policies regarding returns and other information. On this page is also the seller's feedback and feedback rating, which gives you an idea of how the seller has performed overall with their past customers. The individual feedback consists of comments made by buyers who have purchased products from the seller before. There are many different types of feedback from different buyers. Most are categorised as either neutral, good, or negative.
The feedback can help you decide between two sellers who are offering the same watches with the same features. It is always good to know from whom you are buying. If you have any questions about the analogue wristwatch or watch band that you are purchasing, there is a portion of the page where you can ask the seller questions. Almost all sellers welcome questions from their buyers. It helps to clear up any confusion before a purchase is made.
Conclusion
Purchasing an analogue watch is a great way to receive a lasting timepiece. Many well-made analogue watches often outlast their bands and other ancillary parts. They come in both self-winding and battery-powered options. Many analogue watches are available in different forms with different features. These features can be anything from an altimeter to a circadian clock. Some analogue watches come with compasses and lunar cycle clocks. There are analogue watches for every lifestyle from formal to casual to sports watches.
Many of these watches are available at the popular auction website, eBay. To find them, all it takes is a simple search and you are presented with a variety of options. Sometimes a wider or narrower search term helps to yield the results that you want. Once the watch is chosen, purchasing it is just as easy as finding it. Be sure to check out the top seller listings when choosing the seller from whom you wish to purchase. This designation is for those sellers who are the most reliable and have the most positive feedback.