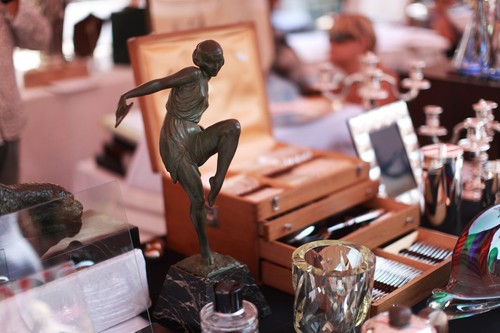 The Art Deco movement of the 1920s and 1930s influenced many areas of design, from architecture to home décor, and the popular figurines of the time offer buyers a piece of history and style. Collectors and enthusiasts often seek male, female, and animal sculptures from the Art Deco era for home decoration or display cases, but upon browsing, a prospective buyer may notice that there are many choices from which to pick. With a wealth of distinctive materials used in the Art Deco era, it can be difficult to know what options exist and which choices are right for the buyer's needs. Through investigating the materials used in these pieces, the definition of an antique Art Deco item, the types of figurines on offer, and their typical features; a buyer can use this guide to better understand their options and find the right Art Deco figurine for their home or collection.
History of Antique Art Deco Figurines
Figurines have a long history; the first European ceramic figurines were created over thirty thousand years ago. Due to the extreme age of these original pieces, no one can be sure exactly what they were used for, though most professionals agree that they were most likely used for religious purposes and represented gods or deities. Chinese porcelain figurines were later made famous in Germany during the early eighteenth century through the invention of hard porcelain. These designs were used as home decorations and depicted scenes or people, often of religious importance. Generally placed above a fire's hearth or on shelves to complement a room's existing décor, these pieces were often passed down over generations and have become precious antiques. Inspired from these earlier designs, the decorative figurines of the Art Deco movement, though more recent, also hold their own history and antique value depending on their age.
Discover Art Deco Figurines
Believed to have started in Paris at the International Exposition of Modern Industrial and Decorative Arts in 1925, the Art Deco movement changed arts and design massively during the twentieth century. The era's figurines are reflective of the general aesthetics of the Art Deco movement, and with its departure from the overly ornate work seen at the turn of the century; Art Deco figurines had strong, geometric shapes and symmetry. The birth of the machine age lead to sleek, minimal lines that evoked speed and power. Figurines of the era often employed 'exotic' materials and techniques from around the world. The sense of sexual liberation that was experienced during the 1920s also had a particular impact on Art Deco figurines as many of the male and female figures were seen naked, though modestly defined.
While the Art Deco movement continued until the end of the Second World War, it is important for a prospective buyer to understand what makes an Art Deco figurine an 'antique' as opposed to simply 'old.' Many professionals consider items made prior to 1930 to be of antique age, and so a small portion of the Art Deco era can be easily considered of this category. As the term antique can also defined as being over one hundred years old, a reader would also be correct in assuming that many of these post-1930s items will soon to be of antique value.
Materials Used in Antique Art Deco Figurines
Antique Art Deco figurines generally consisted of a sculpted figure sat upon a solid base and can be made from a variety of materials.
Base
| Material | Description |
| --- | --- |
| Wood | Various types were used, including mahogany, ebony and rosewood. |
| Marble | A soft rock that is not prone to shattering, generally coming from crystallised limestone or dolomite. |
| Onyx | A soft and smooth crystallised stone composed of quartz and moganite. |
Figure
| Material | Description |
| --- | --- |
| | A light, alloyed metal made from zinc and copper. |
| | Occasionally used for figural lamps and can be crystal, frosted or stained. |
| Terracotta | Clay-based material that is generally unglazed. |
| | A metal alloy made from copper and tin. |
| Plaster | A dry powder mixed with water that is then allowed to harden. |
| Ivory | The teeth or tusks of an animal such as an elephant. |
| Alabaster | A hard variety of the calcite mineral that is suited to sculpture. |
Types of Antique Art Deco Figurines
The female form is common in Art Deco figurines, but they're not the only type. Below are the other varieties that can be found on the antique market.
| Type | Description |
| --- | --- |
| Female | A woman, often with few clothes or completely naked. |
| Flapper | Sub-category of the female figurines. The Flapper design specifically features a 'free-spirited' female character, often laughing and partially undressed. |
| Male | A man, often with few clothes and engaged in a rigorous activity such as fishing. |
| Animal | Can feature a number of impressive wild animals, from jaguars to birds. |
| Group | A scenario that includes a male or female sculpture with one or more animals. |
| Figural Lamp | An Art Deco lamp that incorporates a figurine into its base. |
Factors to Consider When Buying an Antique Art Deco Figurine
Before committing to a particular antique, a buyer may want to consider some further factors.
Art Deco 'style' – A buyer should be aware that reproductions of Art Deco antiques exist on the market. It is best to know the age and manufacturer of an Art Deco piece.
Condition – As antiques are very old, it is good to ensure that there has been no damage to the base or figure over the years, as they are easily to chipped or cracked if dropped.
Retouching – Considering that antiques are often slightly degraded, a buyer should enquire whether a piece has been repainted or repaired in any way, or if it is in its authentic condition.
Typical Features of Art Deco Figurines
Here is a brief list of some of the more common features of an Art Deco figurine.
1. Marble
Marble is one of the most common materials for an Art Deco figurine base. They are offered in various colours, and often put together to create patterning. Marble colours generally lean toward black or white in shade, but can also be brown or green, and can be 'striated,' giving lines of alternating colour.
2. Spelter and Bronze
Metal was a popular material for sculpting the figurine itself, and a common choice for the era often seen on the antique market is spelter. Though it is less expensive and lighter than bronze, it was a common choice for mass production.
3. Patina
Many antiques made from spelter and bronze will acquire green or brown hues caused by the reaction of the metal with the air. This is known as a 'patina,' and is often seen as a positive feature, indicating authenticity, whilst also protecting from from further decay.
4. The Human Form
Most Art Deco human forms are depicted as nudes or semi-nudes and are occasionally 'at one' with nature, sat next to beasts or wild birds. The liberation found in Art Deco figurines is typified by the 'flapper' design, which is generally a, joyous, free-spirited woman in a state of undress.
How to Care for Antique Art Deco Figurines
In order to keep any antique at its best, a buyer may wish to consider guidelines for maintenance.
The cleaning of metal antiques is not always necessary. Bronze and spelter designs, especially if they have an authentic patina built up over the years, should not be polished up to shine like silver.
If cleaning spelter, wash in hot soapy water and then scrub with a stiff wire brush and oil. When this is complete, clean again with methylated spirits.
If noticing brighter patches of colour within the patina of bronzed figurines, take the figurine to an antique professional, as it may be indicative of corrosive 'bronze disease.'
Ensure that delicate antiques, such as plaster or wood figurines, are not kept near fires or in direct sunlight.
Art Deco Figurine Manufacturers
Phillipe
Prost
Cipriani
Villanis
De Roncourt
Descomps
Rioto
Faguays
Chiparus
Finding Art Deco Figurines on eBay
Once you determine the type of Art Deco figurine you want to purchase, visit the Antiques portal on eBay, click on Art Deco and start searching item listings. The Categories list on the left-hand side of the eBay page helps to narrow the search.
Searching forAntiqueArt Deco Figurineson eBay
Search eBay listing titles for specific words when shopping for antique Art Deco figurines. For example, to find an antique spelter male figurine, type 'antique spelter male figurine' into the search box, and then click the Advanced button to customise the results. Also visit eBay's Search Tips page for more advice on searching for antique Art Deco figurines with keywords. If you can't find the exact antique figurine you want, try shopping eBay Stores.
Conclusion
Antique figurines of the 1920s and 1930s continue to be sought after for their unique designs and collectable value. Whether you are looking to start a display case or decorate a single shelf, the above-mentioned guidelines can help isolate the many choices that arise when purchasing these Art Deco items. Considerations such as what defines an Art Deco piece, the types and materials found on the market, the typical features to look out for, and tips for care and maintenance, are all important factors to take into account. Once you have collected this information, you can buy an Art Deco figurine safely and securely on eBay.