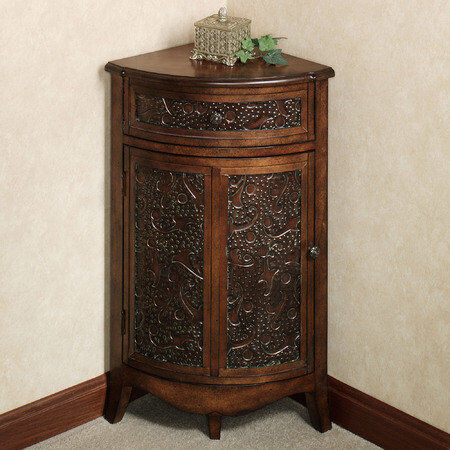 Antique furniture is highly collectable thanks to its character and history, and antique corner cabinets are no exception. Whilst antique cabinets may be difficult to come by, those who make the effort to track one down are often pleased to learn that an authentic piece will always retain its value. And what's more, if the piece is kept in good condition, the item's worth may even increase over time. However, it is recommended that buyers make an informed purchase by gathering all of the necessary information before buying an antique corner cabinet. This guide details the history of antique cabinets, how to care for them and how to ensure an item is authentic.
History of Antique Corner Cabinets
Antique furniture brings a unique charm and appeal to a space that modern furnishings often cannot. Cabinetry requires a great deal of woodworking skill and often involves techniques such as creating dados, bevels, inlays, joints and shelving systems, as well as requiring the use of finishing tools to create decorative features such as edgings. Although the art of cabinet-making had been popular for many hundreds of years, mass production was only made possible during the industrial revolution, which provided cabinet makers with the use of steam power to operate their tools. Fine furniture in Western Europe was a rarity, and people were inclined to value function over form. However, with the mass manufacturing of finely made furniture came a surge in demand from the middle classes, which resulted in the growth of the number cabinets being made – many of which we see today. Noteworthy cabinet makers of the eighteenth century include Thomas Sheraton, George Hepplewhite and Thomas Chippendale.
Discover Antique Corner Cabinets
There are many reasons why it is a good idea to invest in antique furniture such as cabinets. A common argument is that traditional handmade furniture is of a better quality than its modern counterparts, and that it also adds charm and character to a home (almost every piece of antique furniture has a unique story to tell). Moreover, buying antique furniture is widely viewed as an investment in contrast to modern mass-produced items. Antiques are more likely to increase – or at the very least hold – their value over time, which makes antique corner cabinets an attractive and often lucrative asset for homeowners.
Materials of Antique Corner Cabinets
Antique corner cabinets are predominantly crafted from wood. Listed below are some of the types of wood commonly used to create antique furniture.
| Part | Description |
| --- | --- |
| Oak | Light in colour but tends to darken with age and polishing to a deep brown. |
| Mahogany | Colour varies from dark brown to red, and sometimes has a spotted effect. |
| Beech | Pale brown in colour with a speckled grain. |
| Kingwood | A rich brown wood mottled with black, similar to rosewood. Often used in parquetry decoration. |
| Rosewood | Deep brown colour with a distinctive wavy grain, its popularity rose in the early nineteenth century. |
| Elm | Light brown with a characteristic dark grain. |
| Yew | Used from the sixteenth century onwards, this wood is reddish-brown with some burr effects. |
| Walnut | A golden brown hard wood with a distinctive dark grain. |
| Maple | A light, speckled wood. Bird's-Eye Maple was used more in the nineteenth century. |
| Satinwood | Popular in the early nineteenth century, satinwood is light with a yellow colour. |
| Sycamore | A pale wood with a very fine grain, used from the late seventeenth century as a veneer. |
Types of Antique Corner Cabinets
As with any antique, there is an extensive selection of antique corner cabinets available. Below are just some of the popular styles of antique cabinets on the market.
| Type | Description | Advantages | Considerations |
| --- | --- | --- | --- |
| Edwardian Serpentine Double Corner Cabinet | Features a serpentine mahogany door with satinwood inlays. | Has a display case to present ornaments and a solid-fronted cabinet to store other belongings. | Glass-fronted cabinet. |
| Edwardian Inlaid Corner Cabinet | Mahogany inlaid with various exotic woods, including ebony, sandalwood and boxwood. | Ideal for decorative purposes. | Care and upkeep can be trickier due to its intricate inlays. |
| Rosewood Corner Display Cabinet | Crafted from rosewood, the cabinet is a serpentine shape with gilt mounts. | Rosewood makes for very attractive furniture. | More difficult to find rosewood cabinets compared to other woods, such as mahogany. |
| Pair of George I Style Walnut Corner Cabinets | Bowfront corner cabinets with carved shell on knees and ball feet. | Provides extra storage space and adds symmetry to a room. | Comes as a pair. |
Factors to Consider When Buying an Antique Corner Cabinet
Buying and collecting antique furniture can be a costly pursuit, so it is worthwhile for buyers to consider certain factors before making a decision to purchase. Considerations should include the cabinet's…
Rarity – In most cases, the rarer an item the more it is likely to be worth. There are several ways to determine how unique a piece is. When appraising, the buyer should be sure to consider factors such as: How many were originally made? Are similar pieces easily available? Is the item unusual in any way, perhaps in colour or design?
Authenticity – Before buying, the purchaser should consider the markings, materials and finish of the item. Look out for signatures which may indicate the time period from which the piece was made. If the materials have been altered or if the item has been refinished, the cabinet's value may decrease.
Condition – Even with signs of wear and tear, a good quality antique will still be of value to collectors. An item kept in good condition may be described as 'mint',' excellent' or 'good'. General signs of flaws include: scratches, dents, chips, cracks, missing parts, discolouration and signs of repair.
How to Care for Antique Corner Cabinets
When it comes to maintaining the lustre of an antique corner cabinet there are a number of ways to ensure that the item stays in excellent condition. Antique furniture should be dusted frequently with a soft cloth. Once or twice a year, the piece should be polished thoroughly with beeswax and left overnight before being rubbed the following day. This helps to build up an attractive surface colour known as 'patina'. It is also important that owners of antique furniture avoid using spray polishes and household cleaners, as whilst they may appear to create a pleasing effect, they can strip the timber of its natural oils.
In addition, it is recommended that furniture be protected from temperature fluctuations and humidity - even central heating is known to cause harm to antique pieces. If possible, invest in a dehumidifier to maintain a consistent level of relative humidity. Another factor to consider is how much direct sunlight an antique corner cabinet is exposed to. Over time, too much sunlight can lead to uneven fading, so where possible, draw curtains during sunny days to ensure your cabinet is safeguarded against the sun's effects.
Popular Antique Corner Cabinet Manufacturers
George Hepplewhite
Gillows of Lancaster & London
Thomas Chippendale
Parker & Perry
John McLean
Thomas Hope
Edwards & Roberts
Howard & Sons
Robert H & James Simpson
William Kent
Thomas Sheraton
Useful Accessories for Antique Corner Cabinets
The patina of antique furniture is what gives it its unique charm, but it can be easily lost if proper care is not taken when cleaning. It is important not to use household furniture sprays and polishes; instead use beeswax to preserve the cabinet and apply with a soft cotton cloth. It is also useful to have the following to hand when cleaning your antique corner cabinet:
Beeswax
Cotton cloth
Dehumidifier
Lemon oil
Protective gloves
Wax
Finding Antique Corner Cabinets on eBay
Once you determine the type of antique corner cabinet you want to purchase, visit the Antiques portal on eBay, click on 'Antique Furniture' then 'Cabinets' and start searching item listings. The Categories list on the left-hand side of the eBay page helps to narrow the search.
Searching for Antique Corner Cabinets on eBay
Search eBay listing titles for specific words when shopping for antique corner cabinets. For example, to find an Edwardian Serpentine Corner Cabinet, type 'Edwardian Serpentine Antique Corner Cabinets' into the search box, and then click the Advanced button to customise the results. Also visit eBay's Search Tipspage for more advice on searching for antique corner cabinets with keywords. If you can't find the antique corner cabinet you want, try shopping eBay Stores.
Conclusion
Antique corner cabinets can make an interesting addition to any home. When considering purchasing an antique of any kind, it is important not to rush through the buying process. Where possible, look for handcrafted pieces that bear the signature or initials of the furniture maker. Whilst restorations and refinishing may affect the price of an item, general wear and tear will not, so don't be put off by minor scratches on antique furnishings. With careful consideration of the materials and designs available in the marketplace, it is easier for buyers to ascertain which style of cabinet suits their needs and tastes. Once you have collected this information, you can buy an antique corner cabinet safely and securely on eBay.