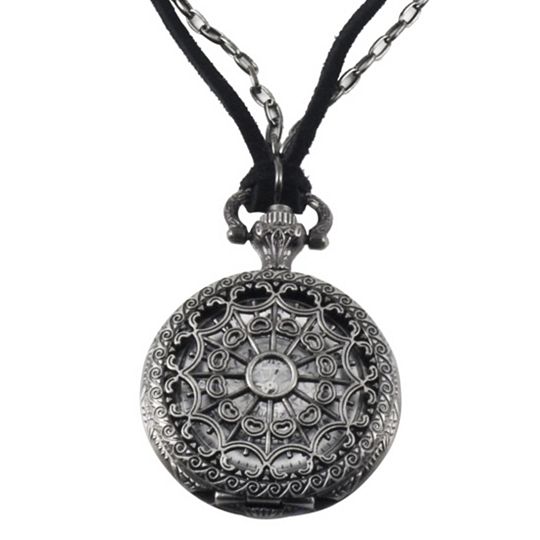 Though small, the pocket watch is a big part of time-keeping history and continues to be sought after for personal use and collections. The pocket watch is a unique predecessor to the common wristwatch, and can provide a metallic surface for personal or ornamental engraving. Before a prospective buyer considers purchasing an engraved pocket watch, they may benefit from following a few guidelines. With important factors to consider, such as the types of pocket watches available on the antique market, what it is that defines an antique, the engraving choices that may be found, general pocket watch features, and simple methods of maintenance; a prospective buyer can be better prepared to find the right antique engraved pocket watch for their needs.
History of Engraved Pocket Watches
Engraving has existed for thousands of years. The ornamental eggshells and bones kept by prehistoric tribes would be carved using crude tools, though they lacked the precision and variation of modern jewellery engraving. The engraving of metal surfaces – though coming long after prehistoric work – preceded the invention of the pocket watch, and so personalised engravings were fast to catch on from the sixteenth century onwards. By the seventeenth century, pocket watches were being designed for the new style of waistcoats introduced by Charles II of England. Attached to a chain in order to ensure it wasn't dropped or lost, the pocket watch soared into popularity among the wealthy, and the precise engraving of each piece was both a mark of decoration and individuality. The precision of the pocket watch itself was given a push by the railroads of the nineteenth century that required a time keeping device to ensure the punctual running of the trains.
Discover Antique Engraved Pocket Watches
While the wristwatch overtook the pocket watch during World War One, the pocket watch continues to be sold today as an antique. With their 'Old World' charm and historical significance, engraved designs often alter the value of a piece as a result of the marks that they bare. An antique pocket watch personally engraved for a King or Queen is likely to be vastly more valuable than one marked for an unknown owner – though a prospective buyer may be wise to consider this an unlikely find on the antique market.
It is also important that a buyer understands what it is that defines an antique pocket watch before looking for an engraved piece. The term 'antique' is applied to any item that is over one hundred years old, though some professionals consider 1930 to be the measuring year. A buyer must know that engraved pocket watches that are simply 'old' do not constitute antiques.
Materials used for Antique Engraved Silver Pocket Watches
Below is a list of the common materials found in the antique engraved pocket watch.
| Material | Description |
| --- | --- |
| | Both popular and valuable, sterling silver contains at least 92.5 per cent silver and 7.5 per cent copper. |
| Britannia Silver | Less common than sterling, this alloy is made up of 95.8 per cent silver which increases its value. |
| | An important distinction from valuable silver alloys; silver plate is simply a small coating of silver on the outside of a less valuable metal such as bronze. |
| 14 Carat Gold | This is made from 58.3 per cent gold and 41.7 per cent alloyed metal, such as copper, nickel, silver or zinc. |
| 18 Carat Gold | This valuable gold is 75 per cent pure gold and 25 per cent alloyed metal. |
| Bronze Alloy | Made from several cheaper metals, but predominantly copper, this metal is less sought after than silver or gold, but can still be engraved. |
Types of Antique Engraved Pocket Watches
Here is a list of the different types of antique engraved pocket watch.
| Case | Description | Advantages | Considerations |
| --- | --- | --- | --- |
| Open-face | No hinged cover to the watch. | · Easy to read. | · Only one side is able to be engraved. |
| Full Hunter | Has a cover that is hinged over the face. | · Protects the face from damage. | · Potentially three surfaces available for engraving. |
| Half Hunter | Has a hinged cover with a small viewing port. | · Allows the reading of the clock face with panel closed. | · Viewing port limits engraving area . |
| Double Hunter | Hinged cover on both front and back of watch. | · Can access the face and the mechanisms found in the back. | · Up to four possible sides for engraving, but is less practical for common use. |
Factors to Consider When Buying an Antique Engraved Pocket Watch
Solid Silver – A buyer should note that sterling and Britannia silver, as well as many gold alloys, are sometimes referred to as 'solid' even though they are not pure. If considering removing engravings, it must be noted that silver or gold 'plated' pocket watches cannot generally be buffed down and re-engraved due to their thin coat.
Repair – When purchasing an antique, it is good to ascertain if any changes to the watches components have been made. This can potentially alter the reliability and the value of the piece.
Typical Features of Antique Engraved Pocket Watches
1. Patterns
The case of a hunter watch, or the back of an open face watch, may have ornate engravings that can vary from intricate floral designs, to more minimal and symmetrical patterns.
2. Monogramming
An antique pocket watch may be found with ornate or simple initials engraved in the case. This is a means of identification, and, depending on the monogram, can alter the value of the piece.
3. Quality
Sterling silver may have the number 925 or a lion engraved in it. Britannia silver may have the number 958. Gold purity ratings may be found with a 'K' and the number of carats such as 'K18.' These marks can be found in a number of places on the metal case, but usually on the inside of the hinged cover.
4. Maker's Mark
Another feature of engraving can be a mark and serial number identifying the date and place of manufacture. This can generally be found inside the watch itself, etched near the gears.
5. Face
The face of a pocket watch can have Roman or Arabic numerals, or simply notches that indicate the hand's positions. Ornamentation such as jewels or ornately fashioned hands may also be found on the face, but this area is generally left clear of engraving.
6. Jewelled Movements
Etched on the inside of the watch may be reference to a quantity of 'jewels' contained in the watch. High quality mechanics will often be adorned with small, hard jewels, and though many of these only serve an aesthetic function, they offer an indication of the quality of craftsmanship.
7. Adjusted Movements
If engraved as 'adjusted,' the pocket watch has been tuned to tell accurate time under certain conditions. This can include such positions as 'dial up' or temperatures within one to forty degrees Celsius. The number of adjustments will also be indicated.
8. Photo Insert
In lieu of an engraving, pocket watches with hinged hunter cases may also be fitted with photos on the inside, much like a wallet or purse.
How to Care for Antique Engraved Pocket Watches
Regardless of engraving, there are a few approaches to maintaining an antique pocket watch that a buyer should take into consideration.
Though it is good to limit the tarnishing of a watch, it is also important to not over-polish or buff as this can degrade engraving over the years.
Do not expose an antique pocket watch to high temperatures such as fireplaces or direct sunlight, as this can warp the metal components.
When winding the watch by hand, be careful to wind slowly and not to wind too far.
It is best to keep pocket watches away from moisture or humidity as this can assist in corrosion and damage the parts.
It is always advisable to take pocket watches to professionals for any repair or serious cleaning.
Popular Antique Pocket Watch Manufacturers
Waltham
Hampden
Benrus
Elgin National Watch Co.
Gruen Watch Co.
Hamilton
E. Howard and Co.
J.G. Graves
J. Thornton
Finding Antique Engraved Pocket Watches on eBay
Once you determine the type of antique engraved pocket watch that you want to purchase, visit the Jewellery/Watches portal on eBay, select 'Pocket Watches' and start searching item listings. The Categories list on the left-hand side of the eBay page helps to narrow the search.
Searching forAntique Engraved Pocket Watcheson eBay
Search eBay listing titles for specific words when shopping for antique engraved pocket watches. For example, to find a 14K monogrammed pocket watch, type '14K Monogrammed Pocket Watch' into the search box, and then click the Advanced button to customise the results. Also visit eBay's Search Tipspage for more advice on searching for pocket watches with keywords. If you can't find the exact antique engraved pocket watch you want, try shopping eBay Stores.
Conclusion
As this guide highlights, there are a few points to take into consideration before settling on an antique engraved pocket watch. With centuries of manufacturing and a variety of engraving options, it is advisable to factor in what design best suits your needs. Consider whether you require an engraved case, and if so, which case style to pursue. It is important to keep in mind the many engraved details found in pocket watches, the choice of metals on which they're engraved, and the methods of maintenance required for your antique timepiece to keep ticking. Once you have collected this information, you can buy an antique engraved pocket watch safely and securely on eBay.