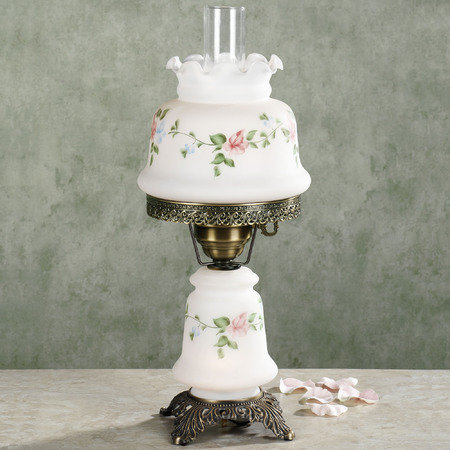 An antique hurricane lamp is both attractive and functional and can add a sense of history to a home. There are a wide variety of antique hurricane lamps on eBay, with many different styles and designs. The key to buying an antique hurricane lamp is to find one that suits a home's decor. This buying guide will provide information about the history, types and styles of antique hurricane lamps. It will also provide tips to assist the selection process, and instructions for care and maintenance after purchasing.
History of Antique Hurricane Lamps
Original hurricane lamps were simply candlesticks positioned inside a brass or ceramic casing. Eventually these evolved into oil-burning lamps and though they performed the same practical function, the lamps became more decorative over time, with characteristics like etched glass and hand-painting.
In 1780, Francois-Pierre Aime Argand invented a lamp with a glass chimney to keep the wind from extinguishing the flame. This innovation allowed the lamp to burn brighter and also gave off less smoke, which was an important consideration in European homes that were battened down airtight for the winter. This invention became known as the hurricane lamp. Early hurricane lamps were designed to burn olive oil, but beeswax, sesame oil, fish oil, and whale oil were also used frequently depending on source availability. These lamps supplied light for homes for more than 100 years, until the invention of gas-powered and electric lights. Hurricane lamps were also used by train conductors, and on boats to send signals to shore of their approach. While the hurricane lamp is no longer part of everyday use, modern versions are still used for outdoor camping, and as non-electrical backups for electrical outages.
Discover Antique Hurricane Lamps
Antique hurricane lamps are very popular with collectors. Some collect them for their historical value, while others simply want their aesthetic value. An antique hurricane lamp can be an excellent accent to many areas of the home, both inside and out.
Outdoors: Since the flame is protected from the wind, a hurricane lamp is ideal for the backyard. It's romantic, moody lighting can lend ambience to any outdoor seating or dining area. Choose multiple lamps with different coloured shades for a more eclectic look.
Seasonal Centre Piece: A hurricane lamp works well in the middle of a plate, tray or mirror, surrounded by seasonal decorations, a wreath, pine cones, fruit, etc. Keep away from anything flammable.
Bathroom Accent: A hurricane lamp in a bathroom is an unexpected surprise that can transform the entire room into a spa-like atmosphere. It creates an ideal environment for long, relaxing soaks in the tub.
Parts of Antique Hurricane Lamps
There are many variations in hurricane lamp design, but most are comprised of the same essential components.
| Part | Description |
| --- | --- |
| Base | Metal or marble bottom that is threaded with a rod to support the lamp |
| Font | Glass or metal fuel container that rests on top of the base, and is sometimes part of the base |
| Fuel | Oil or kerosene |
| Burner | Controls the size of the flame with a knob that adjusts the wick |
| Wick | Flat ribbon or round cord made of cotton, extends into the font to absorb fuel |
| Chimney | Glass enclosure, open at the top, fits over the font to provide the brightest possible light |
| Shade | Coloured or patterned, made of glass, fits over the chimney to diffuse the light |
| Mantle | A chemically treated alternative to a wick that doesn't burn and produces more light |
Types of Antique Hurricane Lamps
There are several different types and styles of antique hurricane lamps. Below are a few of the most popular.
| Type | Description | Advantages | Considerations |
| --- | --- | --- | --- |
| Aladdin Lamp | Uses a chemically treated alternative to a wick that doesn't burn | Produces more light, equivalent to a 60 watt bulb | Invented in late 1700s |
| Gone With The Wind Lamp | Large decorative glass globes | Very decorative | Extremely delicate |
Factors to Consider When Buying Antique Hurricane Lamps
Antique hurricane lamps can be a stylish and practical addition to a home, as when the power goes out they can be brought out to light the darkened home, and are much safer than naked flames. Glass lamps also are fashionable decoration. Hurricane lamps are a very collectible style of antique glass lamp, so buyers must look carefully to determine their true time and place of origin, as many replicas and reproductions are also available.
Brass Collar - Remove the globe and burner to access the brass collar. Original hurricane lamps have a brass collar with internal or external threads. Newer lamps are not likely to have a brass collar at all.
Glass - An original hurricane lamp will probably have pattern glass, or glass with a pressed design. This type of glass is heavy and has a seam up each side. Some have four seams. Reproduction glass will feel greasy or slick and is not quite smooth. There could also be little globs of glass left over from the manufacturing process. As a final test, try sticking a piece of cellophane tape to the glass. It won't adhere easily if the glass is reproduction.
Burner – Original burners are brass. Check for a patent number, date and maker details. The flat part of the stem may also have written information.
Quality - Extra handwork and quality craftsmanship are hallmarks of original hurricane lamps. Turn the lamp base over and check for a design. This might be on the bottom edge or on the inside of the base. Some early lamps have a rope design at the bottom.
Colour Variation - Original hurricane lamps usually have two colors of glass, or an unusual combination of colours. A marble base with a glass chimney and stem was a common scheme.
How to Care for Antique Hurricane Lamps
An antique hurricane lamp requires careful attention and maintenance. If left untouched for too long, the vigorous cleaning needed to remove the dirt and grime could damage the integrity of the lamp and affect its value. Below are cleaning instructions to care for an antique hurricane lamp.
Place the hurricane lamp on a soft towel or thick layer of newspaper to catch any spills. Pull the ring at the top of the lamp and lift off the metal housing, taking care not to scratch or break the glass globe. Tilt the globe sideways until it clears the top housing when it is replaced. Remove the glass globe.
Carefully wash the globe in warm soapy water. Wipe liberally the inner areas that have accumulated soot, and any outer areas that have accumulated buildup. Use a cotton towel or dry cloth to wipe the globe dry.
Unscrew the top lid that holds the wick in place on the oil chamber. Take the wick out of the oil, remove it from the cap and throw it away. Now is a good time to replace the old oil. New oil will make the flame burn brighter and give off less smoke. Drain the old oil into a suitable container for recycling, and wipe the outside of the lamp with a damp rag.
Insert a new wick into the cap and turn the knob until a finger-width of the wick is showing at the top. Fill the font a little over halfway with new oil. Insert the other end of the wick into the font and put the lid back on.
Replace the glass globe, again taking care to avoid damage. Lift the ring and tilt the globe back into place. Lower the top metal housing back on. The wick may need adjusting after it has soaked in the oil. Store the lamp in a cool dry place not in use.
Accessories and Add-ons for Antique Hurricane Lamps
Below are a few items that will assist in the care and enjoyment of an antique hurricane lamp.
Scissors or a knife to trim the wick of oil lamps
Oil
Alternate shades to quickly change the lamp's appearance, and the light it casts
Mild soaps or cleansers
Soft cloths or brushes
Finding Antique Hurricane Lamps on eBay
Once you determine the type of antique hurricane lamp you want to purchase, visit the Antiques portal on eBay, click on the Antique Furniture sub-category, then the Lamps sub-category and start searching item listings. The Categories list on the left-hand side of the eBay page helps to narrow the search.
Searching for Antique Hurricane Lampson eBay
Search eBay listing titles for specific words when shopping for antique hurricane lamps. For example, to find antique hurricane lamps, type 'antique hurricane lamps' into the search box, and then click the Advanced button to customise the results. Also visit eBay's Search Tipspage for more advice on searching for antique hurricane lamps with keywords. If you can't find the exact antique hurricane lamp you want, try shopping eBay Stores.
Conclusion
With this guide, you can find all the information you need about antique hurricane lamps from their history to the popular styles and attributes. Once you have collected this information, you can buy an antique hurricane lamp safely and securely on eBay.