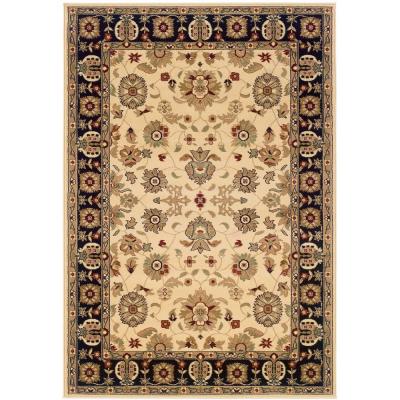 The nomenclature used to discuss antique rugs may be confusing. Many buyers and sellers of antique rugs utilize the terms, Oriental and Persian rugs interchangeably. In truth, both Persian and Oriental antique rugs are made in the same manner, by knotting or weaving different materials based on a variety of designs. In simplest terms Oriental antique rugs were made in the Orient – or Asia, including China, Tibet, and Nepal and so on. Authentic Persian antique rugs come from what used to be Persia or what is now modern day Iran. The cultures and politics of the two different regions impacted the style and colours of the antique Oriental rug. This buying guide will examine antique Oriental rugs in order to provide consumers with useful information which may be used when making a purchasing decision. The following topics will be included in this guide: A brief history of antique oriental rugs, some common elements of antique carpet design, colours used and their meaning. In addition, this guide will take a look at the different types and shapes of antique rugs, and factors to consider when buying antique Oriental rugs.
History of Oriental Antique Rugs
Oriental antique rugs have enjoyed a rich history as a decorative item. The first evidence of rugs being displayed came from the Achaemenid Empire in Persia (550-330 BC). Archaeologists have exhumed lavish rugs from the tomb of one of the great leaders of the Achaemenid Empire, Cyrus the Great. The rugs found there had narrative motifs and imagery that told the story of his reign as king. The true golden era of antique rugs occurred during the Safavid Dynasty (1492-1722). Rug making flourished inside this empire with new techniques of flat weaving (weaving using a loom) increasing the speed at which rugs could be created. The complexity of designs also increased.
A trade network developed between both Persia and Europe and Persia and Asia. Not only were goods traded to Asia, but also techniques of weaving infiltrated Asian societies. The techniques of flat weaving would be learned in China and India. Reaping this now fully Asian tradition, oriental antique rugs would be an item coveted in Europe by the rich, upper classes. The rise of the industrial revolution, and the corresponding growth of the middle class in Europe and America, would make oriental rugs a more common amongst the masses.
Discover Antique Oriental Rugs
The category of antique Oriental rugs is a rich one in terms of selection and choice. Extending beyond the already expansive selection of Persian rugs, Oriental rugs encompass an even deeper selection of designs and styles. This category is truly only limited by the aesthetic tastes and space considerations of the specific consumer. Both Persian and Oriental antique rugs are made in the same manner, by knotting or weaving mainly wool or silk.
Parts of Antique Oriental Rugs
Below is a listing of the different components of antique Oriental rugs.
| Part | Description |
| --- | --- |
| Main Border | The widest decorative design around the outside of the rug. |
| Guard Border | The narrower decorative designs flanking the main border. |
| Field | The back ground of the rug inside the borders. |
| Medallion | The round, oval, or polygonal design element that often occupied the centre of the field. |
| Corner Brackets | Designs that often fill in the corners of fields. |
| Fringe | A decorative border of thread that often, though not always, hangs at the ends of antique rugs. |
Types of Common Motifs Found on Antique Area Rugs
Below is a list of some of the most common motifs that appear Persian and Oriental antique rugs.
Type

Description

Considerations

Gul

Repeated octagonal patterns often with a flower theme.

· Common in carpets originating from Turkman, Gorgan, and Khal

Boteh (paisley)

This design is of droplet shaped palm leaves.

· Originated in 221 BC as a pattern out of Persia.

· In modern nomenclature often called a paisley design.

· Sometimes referred to as 'Persian Pickles' or 'Welsh Pairs'.

Mina-Khani

This pattern is made up of repeated daisies interlinked by diamonds and circular lines.

· An exclusive design for certain weaving guilds. Most notable were those creating Varamin Rugs.

Herati

Repeated design of flowers within a diamond, surrounded by curved leaves parallel to each other.

· Comes in either geometric or curvilinear designs.

Shah Abbassi

A grouping of palmettes in a medallion design.

· Used in the centre of designs and also as a bordering.

Rosette

A circular design radiating from the centre medallion that resembles rose petals.

· Originated in the Middle East.

· Sometimes used in the decoration of military awards.
Colours Used on Antique Oriental Rugs
Most rugs get their colour from either natural or synthetic dyes. Natural dyes are made from vegetable or mineral sources. Synthetic dyes are made from either aniline or chrome. Antique rugs were dyed by natural vegetable dyes. Below is a list of colours commonly used in the making of antique Oriental rugs and the connotations associated with these colours.
| Colour | Connotations |
| --- | --- |
| Red | Happiness, Joy |
| Orange | Devotion, Piety |
| Yellow | Power, Glory |
| Green | Paradise, Sacred |
| Blue | Solitude, Truth |
| Black | Destruction |
| Brown | Fertility |
| White | Purity, Peace, Grief |
Common Shapes and Types of Antique Oriental Rugs
Rectangular Rugs – The majority of antique rugs are rectangular. Different dimensions are used from 2/1 to 4/3 length to width.
Round rugs – A circular antique rug.
Runners – This type of rug is, essentially, a long rectangle. The length of the rug is much longer than the width. Often used to decorate hallways.
Square Rugs – Instead of a rectangle, a square rug with even width and length.
Area Rugs – Large rectangular rugs that designed to take up a majority of the circumference of a room and have furnishings placed on them.
Irregular shaped rugs – This less common category includes hexagonal, octagonal and triangle shaped rugs.
Factors to consider When Purchasing an Antique Oriental Rug
Consumers should consider the following factors before making a purchase of any antique rug.
Room decor and personal taste
When investing in an antique rug, consumers must consider the space that the rug will occupy. Whether hanging from the wall or placed on the floor, the colour scheme and motif design of the rug should add character to the room. One should select an antique Oriental that appeals to his or her own personal taste.
Colouring of the Carpet
When buying an antique carpet assess its colour. Historically, carpets were coloured with natural vegetable dyes. These dyes did not possess the vibrant quality of contemporary artificial dyes found today. Worn, natural looking, vegetable dyed rugs can be more valuable than artificially coloured ones. Be wary of extremely bright, vivid colours on an antique rug. These brighter colours can be evidence that the rug was manufactured more recently.
The knots per square inch count
The best method to test the craftsmanship of an antique rug is to do a 'knots per square inch test.' This test is done by flipping an antique rug over - so that its top-side is facing down - and using a tape measure to measure out one inch (2.5 cm). Count the number of knots that occur within that distance. As a rule: the higher the number of knots; the higher the quality of the rug. Lower quality wool will have a KPSI of 35 – 50 while carpets made of high quality silk could have a KPSI as high as 300 or more. Inquire with sellers about the KPSI count before buying an antique rug.
Accessories and Add-Ons for Antique Oriental Rugs
The following list of accessories can assist in the care of an antique rug:
Finding an Antique Oriental Rugon eBay
Once you determine the type of antique Oriental rug you want to purchase, visit the Antiques portal on eBay, click on 'Carpets/ Rugs' and start searching item listings. The Categories list on the left-hand side of the eBay page helps to narrow the search.
Searching for an Antique Oriental Rugs on eBay
Search eBay listing titles for specific words when shopping for an antique Oriental rug, to find an antique Oriental rug, type, 'antique Oriental rug' into the search box, and then click the Advanced search button to customise the results. Also visit eBay's Search Tipspage for more advice on searching for antique Oriental rug with keywords. If you can't find the antique Oriental rug camera you want, try shopping eBay Stores.
Conclusion
An antique Oriental rug can be a beautiful addition to a home's décor and can have a good investment value. While rugs are usually seen as functional pieces in the home, some antique Oriental rugs are true works of art and in fact displayed as such. Using the information provided in this guide, consumers should now be ready to make a purchase of an antique Oriental rug. The buyer should ask the seller if they require any further information that has not been included in the description. Sellers are used to being asked questions and are more than happy to help. It is important that a buyer gets as much knowledge about the type of product that they are buying as possible. This will help to make the buying process fun and informative. Once you have collected this information, you can buy an antique Oriental rug safely and securely on eBay.