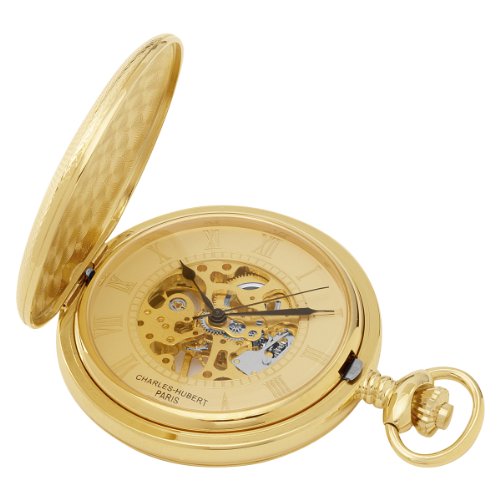 Antique pocket watches offer an elegant and old-word style. Highly collectable items, antique pocket watches are ingrained with a rich sense of tradition and are a remarkable reflection of the progression of science, technology, and innovation throughout history. Antique pocket watches are available in a few different styles, and feature different time regulating mechanisms. Some antique pocket watches feature ornately decorated cases, made of silver or gold.. Some are simple and plain designs made out of brass or nickel. No matter the style, antique pocket watches are a great addition to any collection. This guide outlines the various styles, movements and components of pocket watches to help purchasers in identifying and valuing antique pocket watches.
History of Antique Pocket Watches
Developed in the 16th century, pocket watches were very common up until just after the First World War when wristwatches began to make their appearance. Early pocket watches featured an hour hand, and the minute hand wasn't added until the late 17th century. Pocket watches were designed to fit in the pocket of a man's waistcoat, and featured round, flat styles with a face that was covered by glass. Early pocket watches were wound and set by the turn of a key that fit into a square arbor.
Until the 17th century, pocket watches were a luxury available to those who could afford it. Pre-1720, watch movement was based on a verge escapement and followed the technology used in clocks of the same period, which wasn't entirely accurate or reliable. Lever escapement became common in watches in about the 1820s, and is still commonly used in most of today's mechanical watches. With the development of the railway in the 19th century, the need for accurate watches became imperative to maintaining schedules and avoiding accidents.
Pocket watchcases were made of different materials including silver, gold, and nickel. Wheels were made of steel and plates and gears were typically made from different kinds of brass.
Discover Antique Pocket Watches
Up until the end of the First World War, antique pocket watches were a popular timepiece that offered portability in a small and convenient size. Antique pocket watches are highly collectable, valued both for their function and style. From silver, to gold, to nickel and brass, antique pocket watchcases were made from different materials and could be ornately decorated or simple and plain. They are available in a variety of different types, with different movement mechanisms that followed the advancement of technology at different periods of history.
Components of Antique Pocket Watches
The following table provides a list of some of the common components of antique pocket watches.
| Part | Description |
| --- | --- |
| Case | Covering on a non-open faced pocket watch, it protects from dust and debris. |
| Watch Face | Displays the numerals for tracking time. |
| Mainspring | The mainspring attached to a cylindrical barrel with gear teeth that moves the centre wheel when the mainspring is compressed during winding. |
| Gear Train | Four wheels that are connected by gear teeth that drive the escapement. |
| Escapement | The mechanism that controls the speed of the clock. |
| Balance wheel | Provides the mass for the escapement. |
| Cannon Pinion | Attached to the balance wheel and minute wheel and also drives a mechanism that rotates the hour wheel. |
| Hands | Part of the watch face and are attached to shafts that are controlled by the hour and minute wheel. |
| Stem | Used for winding the pocket watch. |
Types of Antique Pocket Watches
The following table outlines some of the particular styles of antique pocket watches.
| Type | Description |
| --- | --- |
| Open face pocket watch | These pocket watches featured no protective cover over the face, leaving the porcelain dials susceptible to damage and scratches. |
| Full hunter pocket watch | Full-Hunter pocket watches feature a spring-hinged cover that closes over the watch-face and crystal providing protection from dust and scratches. Coverings are often ornate and occasionally will feature an inscription on the interior. |
| Half hunter pocket watch | The half-hunter pocket watch features a cover that closes over the watch-face and crystal, but contains a hole or opening that allows the time to be viewed without having to open the cover. |
| Double hunter pocket watch | These watches included both a decorative cover on the front of the watch, and a second cover on the back of the watch that allowed the internal workings to be seen. |
| Double half hunter pocket watch | Similar to a double-hunter design, these watches feature both back and front covers. The front cover is also similar to the half-hunter watch design in that it offers an opening that allows the time to be viewed without opening the case. |
Mechanical Movements of an Antique Pocket Watch
The following table outlines the different type of mechanical movements featured in antique pocket watches.
| Movement | Description |
| --- | --- |
| Key-wind, key-set movements | Requires a key that fits into a winding-arbor located in the back of the case. The timing was regulated by a fusee chain. |
| Stem-wind, stem-set movements | The most common type of watch-movement found in antique watches, stem-wind, stem-set movement relies on moving the stem to wind the watch. The timing was regulated by a balance wheel and spring. |
| Stem-wind, lever-set movements | This pocket watch was set by removing the level and turning the crown to set the time. This ensured that the time could not be changed accidentally. |
| Stem-wind, pin-set movements | These pocket watches featured a small pin that was adjacent to the watch-stem that had to be pushed in before turning the crown to set the time. |
Factors to Consider When Buying an Antique Pocket Watch
There are certain factors that any buyer should consider before making a purchase of an antique pocket watch.
Condition – Ensure the pocket watch is in good aesthetic condition and that it is functioning. Watch for scratches and defects to the dial face, especially on open-face pocket watches.
Originality – Pocket watches that feature original parts and mechanisms tend to be considered more valuable than ones that have been replaced or refurbished.
·Style – Pocket watches come in different styles, from elaborately detailed cases to more plain and simple designs. Some may feature engraving on the inside of the case.
Material – Some more expensive antique pocket watches may feature gold detailing and may even contain jewelled movements that included rubies or sapphires.
Age – Older pocket watches that are less common and more difficult to find. They may be considered more valuable.
Origins – The history of a pocket watch, including information on its original owner, may add value to the cost of a pocket watch.
Accessories – Check to see if an original chain or antique watch fob comes with an antique pocket watch, both are considered to be valued collectors' items.
How to Care for Antique Pocket Watches
Following a few simple steps can help maintain the quality and health of an antique pocket watch.
Always wind mechanical pocket watches daily, but take care to not overwind or over-tighten to avoid damaging internal mechanisms.
Avoid carrying pocket watches in pockets that contain other articles that may scratch or damage the watch.
Always open pocket watch covers gently and do not force to avoid damaging the spring or hinge.
Take care not to drop a pocket watch; use a chain to secure to a belt loop or waistcoat.
Always use a soft cloth to dust the case of a pocket watch.
Popular Antique Pocket Watch Manufacturers
The following list outlines some of the popular antique pocket watch manufacturers.
Hamilton
Elgin
Waltham
Illinois
International Watch Co.
Patek Philippe
Wilders
Finding Antique Pocket Watches on eBay
Once you determine the type of antique pocket watch you want to purchase, visit the Jewellery and Watches portal on eBay, click on the 'Pocket Watches' under the 'Watches' subcategory and start searching item listings. The Categories list on the left-hand side of the eBay page helps to narrow the search.
Searching for Antique Pocket Watches on eBay
Search eBay listing titles for specific words when shopping for antique pocket watches. For example, to find Woodford Half Hunter Skeleton Pocket Watch, type 'Skeleton Pocket Watch' into the search box, and then click the Advanced button to customise the results. Also visit eBay's Search Tipsppage for more advice on searching for antique pocket watches with keywords. If you can't find the exact pocket watch you want, try shopping eBay Stores..
Conclusion
Antique pocket watches are a popular collector's item, sought out for their function and charm. Predominantly made out of metal, antique pocket watches are often passed down from generation to generation. However, as with any antique, it is important to gain a deeper understanding of the history of antique pocket watches to help in identifying and recognizing their value. Knowing more about the various styles, types, and movement mechanisms can help to make the purchasing of an antique pocket watch an easier process. It is also best to have an understanding of how to care for and maintain these valuable antiques. Once you have collected this information, you can buy an antique pocket watch safely and securely on eBay..