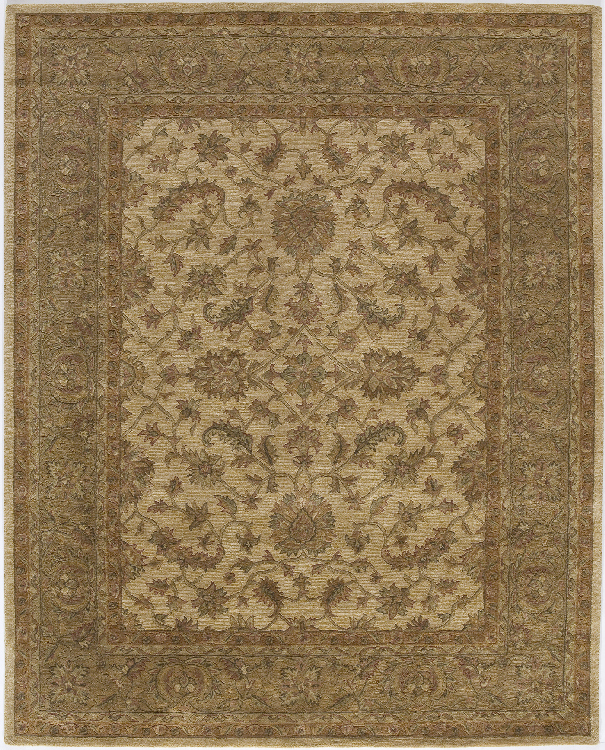 Buying an antique rug can make homes feel more welcoming and warm. They are a lovely accent to any room, and feature a variety of styles that can complement many different décors. Antique rugs vary in their thickness and hand-knotted designs are especially durable. Persian rugs were found in the homes of the very wealthy and some rugs depicted famous portraits, like Hans Holbein's 'Ambassadors' painting. Carpet weavers were brought in from Persia to India, and then began the craft of making pile carpet through hand knotting. As there are so many varieties of rug, it is important to know what to look for when buying an antique rug. This guide provides in-depth information on how to ascertain a real antique rug from a mass produced rug.
History of Antique Rugs
Rug making is an ancient art and it is believed that the first rugs were produced in the Neolithic times, around 7000 BC. The early antique rugs used fleece from sheep and goats. The oldest rug in the world, the Pazyryk carpet, dates back to 500 BC. The early methods of making rugs used warp and weft weaving, which lines the threads up horizontally and vertically to craft a strong, durable rug. Ethnic rugs like the Dhurries and Kilims are still made today using this same method.
Hand knotting involves knotting strands of wool onto a warp and weft frame to make a denser pile; this method is also still used today. While Central Asia civilisations were the first to hone the art of carpet making, Persia soon emerged as an expert in hand-knotted carpets; decoratively detailed rugs produced by the Persian rug makers were sold at a high price. Persian rugs were copied and the craft of making carpet and rugs expanded into France. In Paris, a carpet factory was opened at the old Savonnerie Soapworks and, in 1650, a carpet factory opened in England's Wilton. French Protestants began to flee from the religious discord in France and they headed towards England. They brought with them their carpet crafting skills and took them to Spitalfields and Wilton. Thomas Whitty implemented a technique that had been used in a French carpet factory to set up Axminster carpets, producing a type of carpet that can now be found on the floors of esteemed buildings throughout Britain.
Discover Antique Rugs
A rug that is 100 or more years old is considered to be an antique. Art collectors, designers and dealers seek the best antique rugs. An antique rug may look worn, but if it is in good condition and made by a certain person it could be a worthwhile investment. Some rug types cost less than a conventional rug, and a well-cared for antique will gain in value.
There are various types of antique rugs, from the medallion rugs to the all-over pattern rugs. It is safe to assume that the bigger the rug size, the higher in price it will be. However, there are many factors that come into force when evaluating the price of antique rugs and it is not uncommon for an antique rug to be sold for millions of pounds at auction.
Materials Used in Antique Rugs
The early antique rugs were hand crafted using natural materials like silk, sheep's wool and cotton. Discover more about these materials.
| Part | Description |
| --- | --- |
| Sheep's wool | Antique rugs were often made of ninety five per cent sheep's wool, with the remainder being made up of goat's wool, silk or camel's wool. A hand-knotted, wool rug has durability. |
| Cotton | The horizontal (weft) and vertical (warp) weaving in Persian rugs has always been done using cotton, although the Nomad tribes used wool for warp. |
| Silk | Early Persian rugs used silk. Due to the timely process it takes to craft a silk rug, an antique rug of this material can cost hundreds of thousands of pounds. |
Types of Antique Rugs
The skilled craftsmanship that was seen in the production of antique rugs can be seen in some of the popular rug types detailed below.
| Type | Description | Advantages | Considerations |
| --- | --- | --- | --- |
| Ashfar rug | The Nomadic craftsmen made durable piles and collectable, Kilim rugs. | Available in a variety of dimensions. | Produced in the twentieth century. |
| Baluch rug | This Nomadic group craft carpet with an exclusive, archaic look. | Made during a period that celebrated industry and innovation. | Produced in the 1920s. |
| Qashqui rug | Hexagonal medallion surrounded by small animal and geometric motifs. | Highly sought after rug. | Produced between 1900 and 1920. |
Weaving Techniques Used to Create Antique Rugs
The following list shows a few of the most common flat weaving techniques. Flat weaving used a loom as opposed to previous hand knotting methods. This method greatly increased efficiency and consistency in rug production.
| | |
| --- | --- |
| Part | Description |
| Kilim | Kilim, the oldest variety of flat weave, literally means "double faced." When completed, both sides of the carpet have the same design on it. The most common weaving process used for Oriental carpets. |
| Dhurry | Dhurry is a flat weave made in India and Afghanistan. A tightly woven weave usually made of cotton or wool. This weaving technique was tightly controlled by guilds that catered to local authorities and people of influence. |
| Sumakhs | Sumakhs only have decoration on one side of the carpet. Contrary to the Kilim weave, only loose ends appear on the bottom side of the carpet. |
Factors to Consider When Buying an Antique Rug
There are several important factors that must be taken into account before buying an antique rug.
Rotting or cracking – An antique rug must be well cared for if it is to maintain its value. Firstly, check if the rug has any rotting, or lay down the rug and check for light coloured patches. Gently twist the rug with both hands and listen for the split of any foundation threads. Feel the material. If the silk still feels smooth, the rug is still in excellent condition. However, the condition of wool can vary with age and it may feel bristly and firm to touch.
Knots – If the cotton threads have taken on a yellowish, grey colouring this is an indication that the rug is a genuine antique.
Wear patterns – If the rug has been well cared for it will have a uniform wear. It is useful to ask the seller for the age of the rug. This can be determined by asking the seller to use a pin to pick one of the knots, smooth the knot, and as it releases notice the speed that it curls up. An older rug will curl rapidly.
Typical Features of Antique Rugs
1. Rug style
Some styles of rug are no longer made, including the Moutesan Kashan. An antique rug is distinguishable through its weft threads. The antique Turkish rugs had red weft threads.
2. Type of rug
Look for White Kashans and Persian Qum rugs. These rugs are old and are extremely sought after antiques.
3. Value
Any piece of antique furniture, including a rug, can be a worthwhile investment. New furniture may not have the style and sophistication of an antique.
4. Colour
An antique rug often has an all-over decorative design or central motif; they include shades of red, brown and maroon. In addition, there were no synthetic dyes until the 1920s, so colours were implanted into material through vegetable dyes.
5. Materials
Antique rugs were made of quality materials, such as cotton, wool or silk. These materials are chemical free, soft and durable.
How to Care for an Antique Rug
Experts recommend that a steam cleaner or electric vacuum should not be used on antique carpets or rugs, but dust can be removed by using a carpet sweeper. If possible, try to keep the antique rug out of direct and prolonged sunlight, as this could fade the natural dyes. Gently wipe any stains off the rug with a damp piece of linen.
Accessories and Add-ons for Antique Rugs
Having an antique rug in the home can give a room elegance and style, but it must be well cared for, if it is to maintain its value. While experts do not recommend the use of carpet cleaners or electric vacuums on antique rugs, it is still important to keep the rug clean with a gentle carpet sweeper. Accessories to help with this are listed below.
Finding Antique Rugs on eBay
Once you determine the type of antique rug you want to purchase, visit the Antiques portal on eBay, click on 'Carpets/ Rugs', then 'Pre-1900' and start searching item listings. The Categories list on the left-hand side of the eBay page helps to narrow the search.
Searching for Antique Rugs on eBay
Search eBay listing titles for specific words when shopping for an antique rug. For example, to find a navy blue beige traditional antique designer rug, type 'antique rugs' into the search box, and then click the Advanced button to customise the results. Also visit eBay's Search Tipspage for more advice on searching for antique rugs with keywords. If you can't find the exact antique rug you want, try shopping eBay Stores.
Conclusion
If you have seen an antique rug that you are interested on eBay, do not be afraid to ask the seller further questions. If you cannot examine the rug in person, ask the seller to perform the checks. Buying an antique can be an expensive investment, so it is important that you feel fully confident with your purchase. There are some intricately designed antique rugs, many of which have a central motif. Once you have collected all of the relevant information, you can buy an antique rug safely and securely on eBay.