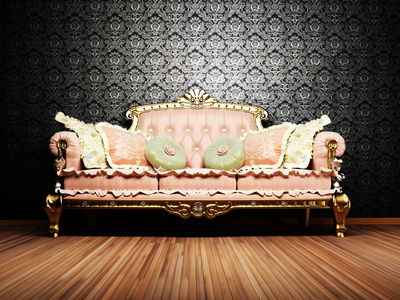 Transforming any room into a luxurious space with old-school charm and sophistication is easy with antique furniture.. Well-crafted antique sofas are a beautiful addition to any antique furniture collection. With styles that reflect the various historical periods in time, there are many antique sofas to choose from that can fit in perfectly with particular tastes and décor. There are also factors to consider when determining the value an antique sofa including its current condition and whether it has been refurbished in any way. It is important to conduct a bit of research before purchasing an antique sofa to help make a well-informed and easy process. This guide aims to offer some basic information on the history of sofas, factors to consider prior to purchasing an antique sofa, a list of popular antique sofa manufacturers and how to search for antique sofas on eBay.
History of the Sofa
From Greek antiquity to modern times, sofas have been around for centuries. In ancient Egypt, sofas were a luxury used by royalty. The sofa was originally intended for one person, predominately the male of the household, on which to stretch out, lie down, relax or eat. It wasn't until about the sixteenth century that sofas were used as a seating area for more than one person.
As building architecture improved, tapestries that once were a means of adding warmth to an environment became the basis for upholstering. It was during the Renaissance that upholstered chairs became popular, which led to the upholstered sofa as an extension of the chair.
Sofa designs and styles followed the current trends throughout history. In the eighteenth century, pattern books were release by popular furniture makers such as George Hepplewhite and Thomas Chippendale that contained sofa and furniture designs. The industrial revolution brought about changes with the invention of coil springs and the sewing machine. Once stuffed with horsehair and down, today's sofas can be padded with anything from foam to polyester fiberfill. Wood frames are still common, but now they can also be constructed of steel, plastic, or laminated boards and covered in a variety of synthetic and natural fabrics.
Discover Antique Sofa
Antique sofas are those considered to be 100 years old and older. Antique sofas offer designs and styles that are rich with historical tradition, and they can be a valuable collector's item depending on age and condition. Designs have gone out of style, only to return re-invented during another time period. With so many styles and options out there, it's important to research any sofa to help authenticate if it is an antique and to help make the process of buying an antique sofa less complex.
Types of Antique Sofas
The table below outlines some of the different types of antique sofas.
| Type | Origins and Popularity | Description | Styles |
| --- | --- | --- | --- |
| Boudeuse | Nineteenth century | A small upholstered sofa that features two opposite-facing seats sharing a common back. | Ornate and luxurious |
| Camel Back | Eighteenth century | An upholstered sofa that features a back with a prominent center arch and a slight arch at both ends. | Queen Anne; Chippendale; Hepplewhite; Empire |
| Canapé à Confidante | Eighteenth century | A long sofa that incorporates extra seats at the end that are faced out from the main seat at right angles. | Louis XV; Rococo; Revival |
| Canapé de L'amitié | Mid-nineteenth century | A long sofa comprised of two seats connected by a long center seat and featuring an open wooden-spindle low back. | Industrial Revolution |
| Chair-Back Settee | Seventeenth to nineteenth century | A popular couch consisting of several distinct chair-back frames giving it the look of multiple chairs attached together. | Queen Anne; Chippendale; Hepplewhite; Empire, Louis XV; Rococo; Revival |
| Chesterfield | Mid-nineteenth century | A sofa that is completely upholstered and features rolled arms that are the same height as the back to form a single curve. | Victorian |
| Indiscret | Mid-nineteenth century | This circular sofa is sectioned into a pinwheel pattern with three parts that share a single tall back. | Ornate |
| Méridienne | Early 1800s | A daybed with a sloping back that connects a high headrest and footrest. | Regency; Empire; |
| Tête-a-Tête | Early nineteenth century | A sofa designed to be similar to two chairs joined together in a serpentine shape where seats face opposite directions. | Ornate Victorian |
| Windsor Settee | 1750s | Variation of the Windsor chair. This sofa features a long bench with multiple-spindle back and sides. | American style |
Styles of Antique Sofas
The following table outlines some of the different period styles influencing the style and design of antique sofas.
| Period | Feature |
| --- | --- |
| Elizabethan | Functional and plain |
| Jacobean | Geometric designs |
| Restoration | Carved scrolling |
| Queen Anne | Lavish styles with curved lines |
| Early Georgian | Plain, simple and sturdy |
| Mid Georgian | Lavish and ornate |
| Late Georgian | Elegant and graceful |
| | Exaggerated decoration, fancy |
| Early nineteenth century | Functional and less decorated compared to Victorian, Art Nouveau and Arts and Crafts |
| Mid-Late nineteenth century | Opulence, Tudor displays, Gothic |
Factors to Consider When Buying Antique Sofas
The following factors and tips are important factors to consider before purchasing and antique sofa.
Frame and Springs - Antique sofas should feature a well-constructed wooden frame made out of quality materials such as mahogany, walnut and oak. Laminate boards, steel, and plastics indicate the sofa is not antique.
Cushions and Padding - Antique sofas will be padded with horsehair or filled with down. Fiberfill or foam indicates refurbishment or modern design.
Joints - Antique sofas should typically feature dovetail joints and glue, whereas screws and nails indicate the sofa is of a newer construction.
Fabric - Antique sofas can feature a range of different upholstery such as velvet or tapestry fabrics on Victorian sofas, along with richer velvets and leather upholstery. Most antique sofas have experienced some reupholstering during some period of the sofa's existence.
Legs and Feet - When looking at antique sofas, it is important to ensure the legs and feet match the time period the sofa was created as they are often replaced throughout the years.
Styles - Sofa styles reflect the period in which they were created. Some styles, however, became re-introduced in later periods of time. It is important to research the style of an antique sofa to ensure it matches the appropriate timeframe and is not a reproduction.
Budget - Determine budget limits prior to searching for antique sofas. The value of an antique sofa will be determined mainly by its condition. If the item is in need of repair or reupholstering that will affect you end cost and should be considered in the overall budget.
Ask questions – The sellers are usually very helpful in offering up information on their furniture, so do not hesitate to ask. Try to get information about the age, condition, and any other details they may have that would confirm that the item they are selling is a genuine antique sofa.
How to Care for Antique Sofas
Some simple precautions can help keep up the condition and value of antique sofas.
Antique furniture should never be placed in areas of direct sunlight to avoid fading fabric, wood, and finishes.
Heaters, vents, and other sources of heat can dry out antique furniture and cause shrinking that will loosen joints and inlays.
Consistent humidity is an important factor in extending the life of antique furniture. Too much humidity will case bacteria growth, and not enough can dry out and damage old furniture.
Keep pets away from antique furniture to avoid damaging delicate fabrics or scratching wood.
Keep liquids away from antique furniture and clean up any spills immediately.
Do not drag antique sofas and always lift from the bottom rails as opposed to the arms.
Popular Antique Sofa Manufacturers
The following outlines a few popular antique sofa and furniture makers.
Thomas Chippendale
John Linnell
William Kent
Thomas Sheraton
George Hepplewhite
Matthias Lock
Henry Copland
Finding Antique Sofas on eBay
Once you determine the type of antique sofa you want to purchase, visit the Antiques portal on eBay, then click on 'Sofas/ Chaises' and start searching item listings. The Categories list on the left-hand side of the eBay page helps to narrow the search.
Searching for Antique Sofas on eBay
Search eBay listing titles for specific words when shopping for antique sofas For example, to find Louis XVI Baroque Antique Sofa, type 'Louis XVI Sofa' into the search box, and then click the Advanced button to customise the results. Also visit eBay's Search Tipsppage for more advice on searching for antique sofas with keywords. If you can't find the exact antique sofa you want, try shopping eBay Stores<.
Conclusion
Antique sofas are a popular collector's item, valued for their luxurious old-world style, handmade craftsmanship, high quality materials, and potential return on investment. There are a wide range of antique sofas available for sale that feature designs and styles that add sophisticated charm to any room. True antique sofas can be harder find and often require a larger investment, so it's important to understand the factors that affect value, and to determine the characteristics that can help identify an antique sofa's heritage.
Before purchasing an antique sofa, it's a good idea to do some research that will help with identifying different styles and types of antique sofas and to provide relevant clues to determining if the sofa is indeed antique as opposed to refurbished, vintage, or a replica. Once you have collected this information, you can buy an antique sofa safely and securely on eBay..