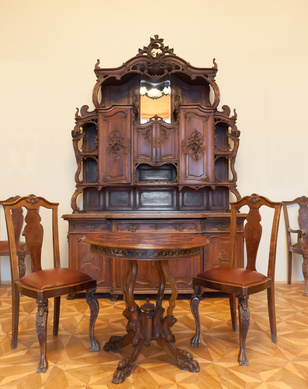 Named after its reigning monarch, the Victorian era lasted from 1837 to 1901. It was a rich and varied period for design and bore some of the finest examples of antique home furnishings; from silverware to cuckoo clocks, lamps to tables. The Victorian era is particularly renowned in the antique world for its expert cabinet making, and such items are particularly desirable to collectors and enthusiasts alike. With the extensive range of styles and materials to choose from, selecting an antique Victorian cabinet can often be a daunting task. This guide offers consumers information about antique furnishings of the Victorian era that will allow them to choose a cabinet that suits their requirements.
History of Antique Victorian Cabinets
The Victorian era saw an increase of wealth in the middle classes, which in turn created a thriving market that saw new tastes and fashions in finely made furniture. To this newly prosperous class, success was defined by elaborate pieces that flooded each of the rooms within a home. The Victorian era encompassed aspects of several design movements, including; Gothic Revival, French Rococo, Renaissance Revival, Eastlake and Aesthetic – the latter of which were the catalysts for the post-Victorian periods of Art Nouveau and Arts and Crafts. Another factor that could be attributed to the rising demand for finely made furniture in the 19th century was the introduction of steam-powered tools, which allowed craftsman and manufacturers to produce more items, therefore making them more affordable. This is why we often see many more examples of Victorian antique furnishings compared to earlier periods, such as the Regency and Georgian eras.
Discover Antique Victorian Cabinets
Antique Victorian cabinets undoubtedly bring a certain charm to a room, which is why specimens from this era are so popular amongst collectors. Furthermore, whilst they are well within the criteria of an 'antique' (defined as an object that is over 100 years old), when compared to older styles, Victorian furnishings are newer and often in better condition. This makes them all the more appealing to prospective buyers. Antique furnishings are also a wise investment choice, as in contrast to modern mass-produced pieces they are considered an asset and will generally increase – or at the very least maintain – their value as time goes on.
Materials of Antique Victorian Cabinets
The material predominantly used to create antique Victorian cabinets is wood. Below are some types of wood that are frequently used in the production of antique furniture.
Part
Description
Mahogany
Colour ranges from a vivid brown to a reddish tone, and sometimes has a dappled grain effect.
Beech
Use may be somewhat limited. Often smaller than other cabinet styles, and so have less storage space.
Corner Cabinet
Corner cabinets sit in the corner of a room as a means of making use of space.
Practical when space in a room is limited.
Hanging Wall Cabinet
These cabinets are hung on a wall to allow extra storage. They also serve as a decorative feature.
The selection of cabinets on offer is extensive, and so it may be difficult to choose.
Traditional Cabinet
A cabinet usually found with glass-fronted, mirrored or solid doors, boasting shelves and drawers inside for storage.
Often display cabinets and dressers are very large in size, so ample space is required.
Display Cabinet/Dresser
A cabinet consisting of wood and glass, with the primary purpose of displaying decorative ornaments and trinkets.
Ideal for displaying cherished objects and China collections.
Factors to Consider When Buying an Antique Victorian Cabinet
As outlined above, there are many styles of antique Victorian cabinet available, each with its own unique purpose. Buyers should contemplate what their cabinet would be used for prior to purchasing.
Ÿ Is the piece rare? - Some Victorian antiques were mass-produced, but handcrafted specimens usually fetch considerably higher prices. Where possible, look for one-of-a-kind pieces, which are usually worth more.
Ÿ Style - Within the Victorian era, movements such as Gothic Revival and Aesthetic were popular. Buyers should consider the qualities of each movement, and decide which will best suit their home.
Ÿ Age - Look for markings or initials of the manufacturer or craftsman to determine the item's age.
How to Care for Antique Victorian Cabinets
Older pieces of furniture require a great deal more care and attention compared to contemporary styles. Often for antique owners, their primary concern is maintaining the patina of their piece. Patina is a film that develops on woodwork over time and is commonly found on antique furnishings. The effect is very appealing and almost impossible to replicate, as it is created by many years of waxing and nurture from its previous owners.
To retain an item's patina, it is advised that owners do not clean the piece using common household furniture sprays. Instead, use a soft lint-free cloth to apply a thin layer of good-quality beeswax at least once a year. Antique furnishings can also be damaged by fluctuations in temperature and humidity, and so it is advised that owners consider investing in a dehumidifier to ensure their furnishings are kept in excellent condition for many more years to come. Exposure to sunlight can also have adverse effects on antique pieces; so try to avoid placing furniture in the path of direct sunlight to prevent uneven colour fading.
Popular Antique Victorian Cabinet Manufacturers
Here is a list of some of the more popular manufacturers of Victorian cabinets. A cabinet made by one of these companies is likely to be extremely sought after.
Thomas Sheraton
Thomas Chippendale
George Hepplewhite
Gillows of Lancaster & London
Thomas Hope
Parker & Perry
Edwards & Roberts
William Kent
Howard & Sons
John McLean
Useful Accessories for Antique Victorian Cabinets
As with any new item, it is often useful for owners to have a number of products at their disposal to ensure that they are able to properly care for it. When it comes to antique cabinets, the handiest products to have are specialist-cleaning products that ensure the attractive lustre of the piece is maintained. After buying an antique Victorian cabinet it is recommended that owners stock their home with the following items:
Gloves
Beeswax
Soft cloth (such as cheesecloth or cotton)
Dehumidifier
Finding Antique Victorian Cabinets on eBay
Once you determine the type of antique Victorian cabinet you want to purchase, visit the Antiques portal on eBay, click on 'Antique Furniture' then 'Cabinets' and start searching item listings. The Categories list on the left-hand side of the eBay page helps to narrow the search.
Searching for Antique Victorian Cabinets on eBay
Search eBay listing titles for specific words when shopping for antique Victorian cabinets. For example, to find Victorian rosewood drinks cabinets, type 'Victorian Rosewood Drinks Cabinet' into the search box, and then click the Advanced button to customise the results. Also visit eBay's Search Tipspage for more advice on searching for antique Victorian cabinets with keywords. If you can't find the exact antique Victorian cabinet you want, try shopping eBay Stores.
Conclusion
With the help of this guide, buyers should be confident of choosing an antique Victorian cabinet that is right for them. Having learned about the history of Victorian cabinets, how best to care for them and how to spot a good specimen, consumers should be able to find an excellent example of a Victorian cabinet whilst shopping on eBay.
However, it is important that buyers do not rush through the decision-making process and instead think carefully about what they are looking for. If they have any questions about an item, they should not be afraid to ask the seller. Understanding the range, styles and materials available will help to make the purchase a successful one.
Once you have collected this information, you can buy an antique cabinet safely and securely on eBay.