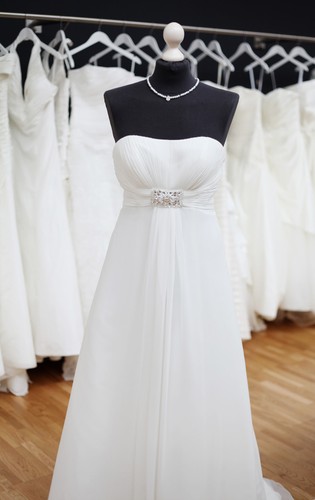 The wedding dress is one of the most important pieces of the entire wedding ensemble. This is not only true in the eyes of the bride, but the groom, both families, and everyone in attendance on that special day. Its arrival sets the tone moving forward into the I Do's and beyond. If there was ever a purchase to go all out for, this is it, and for centuries, brides have been choosing to adopt an imperial state of mind by slipping into an empire wedding dress.
Featured in magazines, showcased on runways, and hanging in closets all over the world, empire wedding dresses boast fashionable value that refuses to go out of style. This type of dress is primarily characterised by its waistline, which cinches directly below the bust to give off a high-waist presentation. The trend is so popular that it has become a regular fixture in almost every gown catalogue offered by major designers.
Empire Dresses Then and Now
The origins of empire dresses go back to the days of ancient Rome and Greece, a time when support for the breasts was as simple as a tie underneath the bust. However, it didn't become popular until evolving under the Napoleonic era in France. In fact, the style got its name due to adoption by members of the French Empire. While there was a time period when more conservative fashions reigned, since being resurrected in the 1960s, the majestic style of dress that caused so much controversy in simpler times has been a major force on the fashion front.
In modern times, the empire style continues to be the first choice for brides the world over, and its diversity has a lot to do with it. Dresses from this cut couple sweet innocence with a touch of provocative, resulting in a combination that looks and feels right. The current collection of empire dresses is comprised of gowns reminiscent of the styles worn by the French empire, and those with the contemporary touches necessary for a trendy feel.
Top Considerations for Imperial Brides
The empire style of dress comes with a unique set of benefits that allows it to stand out from competing fashions. This is seen in its ability to accentuate all shapes and sizes. For example, while empire wedding dresses have a reputation for showing off the slim figures of petite brides, they can also create a flattering appearance for full figured, or even pregnant brides. And although this celebrated style conforms to a wide variety of body types, buying an empire wedding dress can be a complex ordeal as shopping for wedding attire often is. There are several key factors that need to be considered in order to make sure this important purchase is a wise investment.
Body Type
An empire dress is forgiving to most figures, but knowing her personal body type can help a woman choose the style that will fit just right on that special day.
Rectangle
Women with rectangular shapes suffer from having very little curves to speak of, in addition to a combination of hips, waist, and busts closed within a small circumference. However, that shape opens them up to a variety of dress options. Women can bring out the best in this shape with a dress that accentuates their height, and adds dimension to the upper body.
Pear
Pear or triangular shaped women typically have a bust circumference smaller than their hips, attached to a small waist and fleshed out thighs. Brides can approach this dilemma head on with a dress that hides both their hips and thighs, while making the best of the bust. The right empire style can even add volume to the bust and make it the highlight of the attire.
Oval
Typically toting around waists with thin legs, and busts and hips of nearly identical measurements, oval shaped brides are perhaps the most complex to shop for. Women of this shape want to balance out their appearance with styles that highlight their attributes. A dress with a bolder style that shows off those smooth legs could draw some positive attention to her gear.
Hourglass
The well balanced figure many women desire can make for a complicated ordeal when shopping for wedding dresses. This is even the case with the versatile empire style. The right empire dress will accentuate the body to near perfection, but because styles and features vary, women with this enviable body type are encouraged to look for options that bring out that glorious shape rather than hide it.
Neckline
The neckline is one of those often overlooked aspects that happens to be very important when buying an empire wedding dress. It is such a critical factor because of the high waist design, which has a direct affect on the bust. Brides who want to take advantage of this element can do so in a scoop neck that highlights the bust line and makes it appear more attractive. A scoop neck can also lengthen the appearance of the neck, which comes in handy for the small bride who could use a little height. The V-neck is another safe bet that tends to be flattering when paired with almost all empire styles.
Accessories
A glamourous empire wedding dress can be enhanced even further with the addition of some nice accessories. The options here get pretty extravagant. Brides looking to put spectators in a trance may choose to complement their dress by flaunting a necklace with sparkling white pearls or a palette of multi-coloured gemstones. Since the imperial style makes a boldly loud fashion statement all on its own, many brides opt to keep it straightforward with simple diamonds or pearl necklaces that don't draw much attention, yet blend in perfectly.
Another accessory idea is to throw on a pair of flattering earrings, topped off with an ivory flower in the hair that shows off the salon work of the bride who chooses to stand at the altar unveiled. The empire style is so flexible, that stylish accessorial opportunities are only limited by the imagination of the bride and her advisors. There are many possibilities, but the right accessories will be up to the woman in the dress. As always, the bride is encouraged to choose something that looks good, while allowing her to remain comfortable and true to her own preferences.
Shoes
A fitting pair of shoes will give an empire dress the unification a bride needs to feel complete. The girl who wants to leverage the flirtatious side this style brings to the table can achieve it in full with a pair of pumps or high heels. Some of the most important considerations when matching up shoes is finding a pair that accommodates the style of the empire dress, the length of the dress, and the theme of the wedding . The latter factor could come into play in both indoor and outdoor settings. Above all, comfort is the most important factor to keep in mind. The bride will be on her feet all day, and those visually complementing shoes aren't doing their job if they don't keep a woman feeling as good as she looks from head to toe.
Personal Tastes
By nature, the empire style suites a wide variety of preferences and needs. Thanks to its high waist stature, it can lift a short bride's spirits by making her appear taller. And while it has traditionally been known to support larger busts, it is flexible enough to provide comfortable accommodations for smaller bust lines as well. Empire weddings dresses are as diverse as they come, but there have been some exceptions. For instance, although it straightens out rounded areas on women with a little more to love, that high waistline could also cover up too much on a woman looking forward to showing off her figure. Aspiring brides should definitely keep personal preferences and intent in mind when sizing up empire styles.
Wedding Dress Size Chart
When purchasing your wedding dress online it's very important to pay close attention to the size. Without trying the wedding dress on, it's really only a guessing game according to the size, that is unless you have your measurements. Gather up the measurements to your bust, hips and waist, and compare to the chart below accordingly for the proper size of your dress.
| UK Size | Bust (cm) | Waist (cm) | Hips (cm) |
| --- | --- | --- | --- |
| 4 | 81.5 | 59.5 | 90 |
| 6 | 84 | 62.5 | 93 |
| 8 | 86.5 | 65 | 95.5 |
| 10 | 89 | 67.5 | 98 |
| 12 | 93 | 71 | 103 |
| 14 | 96.5 | 76.5 | 105.5 |
| 16 | 100.5 | 80 | 109.5 |
| 18 | 104 | 84 | 113 |
| 20 | 108 | 89 | 117 |
| 22 | 113 | 94 | 120.5 |
| 24 | 118 | 100.5 | 126 |
| 26 | 123 | 105.5 | 131 |
| 28 | 128.5 | 112 | 136 |
| 30 | 136 | 119.5 | 143.5 |
After you have gathered the proper size, shopping online for the empire wedding dress you are looking for will be a breeze. In addition this will help to save from any returns in the future.
How to Buy an Empire Wedding Dress on eBay
If shopping online sounds appealing, eBay is a good place to look. This well known auction site has a vast selection available from sellers located all over the world. One advantage eBay offers is the ability to conduct your search in a variety of ways. For example, you can use the standard search feature, which scans the site based on the keywords you enter into the box. You can also use the Advanced Search feature, a method that allows you to drill down and tailor the process by using price, location, currency, and other filters. eBay's user-friendly discovery system lets you get as broad or targeted as you wish with your search efforts.
Buying a wedding dress is a potentially expensive investment in what could be the most important day in one woman's life. It is not a purchase to take lightly. Consumers shopping on eBay should review the seller's history of feedback and get familiar with their policies before making a commitment to buy. For an added piece of mind, pay attention to listings from "Top-Rated Sellers". These are merchants who have established a reputation for their reliability and great customer service.
Conclusion
Thousands of years after its creation, the empire dress is still a top choice for women. And after all that time, it is more versatile than ever. The style can take what would ordinarily be an oversized bust, and properly proportion it with the rest of the body. It can make a set of small breasts stand out, and even hide those trouble spots that leave many women self conscious about their appearance. The empire concept is all about taking what you've got and maximising it. And because it is so versatile, it can fit seamlessly in the wedding draped in traditional themes, as well as forward thought themes that break all the rules of conventionalism. Planning a wedding gets frustrating on so many different levels, but it's nice to know that an aspect as important as buying the right dress can be dramatically simplified by knowing what to look for.