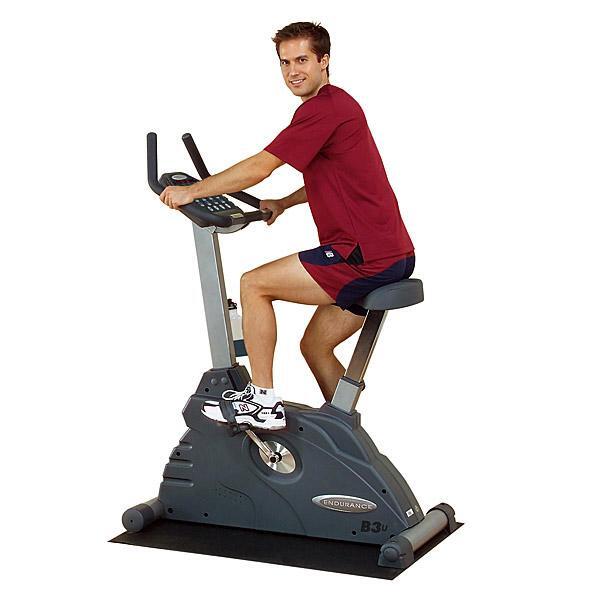 Exercise is an important part of daily life, and in the modern sedentary world it is easy to not get enough of it. Moreover, not everyone likes to exercise when they have to do it outdoors. The sun and wind may feel great to some, but to others, the sun and wind make exercising uncomfortable. This is why there is an array of indoor exercising machines for consumers to choose from, so that they can exercise regardless of whether the weather outside is good or bad.
The exercise bike is among the most popular exercise machine around. If you are planning to buy one, you should be familiar with the types of exercise bikes, their pros and cons, and how to go about selecting an exercise bike to purchase on eBay. Selecting the appropriate type of exercise bike is important so that you get a good deal for your budget and your needs.
Types of Exercise Bikes
The main types of exercise bikes are the recumbent exercise bike, the upright exercise bike, and the spinner exercise bike. Each type of bike has its own advantages and disadvantages. For example, some bikes may be too challenging for beginners while others may not provide enough of a workout for already fit people. Therefore, you should carefully consider which type is right for you.
Recumbent Exercise Bikes
This type of exercise bike has a low seat and a supporting structure for your back. Recumbent exercise bikes offer the advantage of being low impact compared to other types of exercise bikes, and even when compared to other types of indoor exercise equipment. The recumbent exercise bike offers great support for one's back, and this makes it great for those who cannot stand upright for too long, who have back problems, or who are older. However, recumbent bikes tend to be bigger and bulkier than upright or spinner bikes, so you need to have a bigger space in your home to accommodate such bike.
Upright Exercise Bikes
Upright bikes are stationary bikes that are similar to regular bicycles. Because of this, they tend to be harder on the back and neck, and the position that is taken when using an upright exercise bike is more likely to cause pain or discomfort when maintained for a long time. However, upright exercise bikes are smaller than recumbent bikes, and can serve as good practice for those who also cycle outdoors on regular bikes. Some enthusiasts also claim that you get a better workout with an upright bike. If you want to have both an upright bike and a recumbent bike so that you can alternate your workouts, you can always opt for a combination-type bike that can be used as either one whenever you feel like it.
Spinner Bikes
Spinner bikes can be described as modified versions of upright bikes. Using them is similar to using racing mountain bikes. Spinner bikes offer an intense workout, and unless you are already familiar with them or have a good level of stamina, it is best to start off with either a recumbent or an upright exercise bike.
Choosing an Exercise Bike to Purchase on eBay
Buying an exercise bike should not be done without proper consideration. You should think about several things so that you can narrow down your options when you are looking for such bike on eBay. Among the things you should consider is the type of bike which is suitable for you, your exercise goals, the additional features you would like on the bike, and your budget.
Type of Bike
When choosing the type of bike that is suitable for you, decide on whether you are going to use the bike for all your cardio workouts, or if the bike is just an alternative when you cannot cycle outdoors. If it is only an alternative, you may want an upright bike to simulate your cycling routine outdoors. If you need a vigorous workout, and are fit enough, then a spinner bike may be a good selection. Recumbent bikes are great for those who want a lower impact workout. It is better if you can try out the different types of exercise bikes before you choose one; one good way to do this is to try them at the gym if you have a membership or buy a one-day pass to a gym that has all the different types of bikes for you to try.
Your Exercise Goals
While all types of bikes can provide a high-intensity exercise session, a spinner bike is probably better if you desire an intense workout. A recumbent and upright bike can both be used for low, moderate, and high intensity workouts, so it is great for those who like to alternate the intensity of their exercise sessions. However, if you have had an injury or have back problems, it is wise to get a recumbent exercise bike.
Additional Features
Many exercise bikes come with additional features to further assist you as you exercise. At the very least, you should get an exercise bike that has an inbuilt heart rate monitor, as you need to know how quickly your heart is beating to ensure you achieve your target heart rate. Being in your target heart rate ensures that you are exercising effectively. Besides a heart rate monitor, you may see exercise bikes that have calorie counters, distance counters, in-built workout settings, and so on. However, be aware that you may need a bigger budget if you want bikes with more features.
Your Budget
If you want a decent exercise bike, you need to have a big enough budget. Research the retail prices of exercise bike brands you may be interested in, to see which ones really fit your budget. You should also read reviews on those brands, to see if other users are satisfied with the bike's performance for its price. This is important since you are buying the bike on eBay, and cannot test it out first. If you have a smaller budget, you may want to think about buying a used exercise bike.
Utilising eBay's Many Features
Buying an exercise bike on eBay is a relatively straightforward process. You just have to know how to look for items on eBay, what to look out for in listings, and how to make the purchase. The way to look for an exercise bike is to use the search function. You can do this by typing your search term into the search bar on eBay. You can also further customise your search by selecting the type and brand of your exercise bike in the category filter.
The feedback score system is another helpful feature on eBay. A high feedback rating usually means that the seller is reliable. So, make sure you check a seller's feedback score before purchasing from him or her. Also, it is recommended for you to sign up for an eBay account before you finalise the purchase so that you can better keep track of your future purchases. If you like a particular seller, you can also save the seller on your eBay account so you can visit their eBay Shop and view their other products the next time you shop on eBay.
Buying an Exercise Bike on eBay
To search for exercise bikes on eBay, just go to the eBay home page and use the search bar there. Type in the appropriate search terms, such as 'upright exercise bike', to be directed to the product listings page. Take some time to look through the listings and see if any of them match your requirements. If you see one that you like, click on it.
Once you click on a listing, you can see a page that has more information regarding your chosen exercise bike. You can see its price, features, condition, and the location of the seller. Analyse the information and see if the bike fits your needs. If the information provided is inadequate, you can always contact the seller to get more details. Before you make your purchase, you may want to take a look at the seller's feedback rating. After you have read all the necessary details and are satisfied with your exercise bike, you can purchase it.
Conclusion
Buying an exercise bike on eBay is a wise choice, as you can browse right from the comfort of home. Before you decide on the type of exercise bike that you want, you must first get to know the different types. The three types of bikes available are the recumbent, upright, and spinner exercise bike. Each bike is better suited for people with different needs, so you should consider some important aspects before choosing your bike type. It is important to know your exercise goals, budget, and the extra features that you want the bike to have. But remember to track your activity progress with a fitness tracker like the latest Jawbone UP.
When looking for an exercise bike on eBay, you can use the search function to lookup any type of bike that you want. Also, you can use the category filter to select the different criteria such as the type of bike and the price. eBay is a great place to shop for an exercise bike as it has many bikes of various types and brands that you can choose from.