Thermometers are useful tools to have in the home. Being aware of outdoor temperatures helps you plan your attire for the day, care for your plants, and decide what sorts of activities are appropriate for the weather. Strictly indoor thermometers that only monitor a specific room are helpful in regulating heater and AC units, which keeps the indoor climate more comfortable and wastes less energy.
Weather Thermometers

The weather forecast is not always accurate, and most people would rather stay in the comfort of their home than wander outside to see how cold or warm it is. Additionally, the ability to predict weather conditions by monitoring particular levels, such as humidity and barometric pressure, comes in handy. Whether you need to keep an eye on your plants through tricky weather situations or just plan ahead for a day of shopping, weather thermometers have many benefits. They sit inside the home, and you view all of the stats on an LCD panel. An outdoor sensor records temperature levels and reports it to the display, making in an effective outdoor thermometer as well. Digital weather thermometers also come with extra abilities as well. They sometimes monitor humidity levels, barometric pressure, dew point, moon phases, and may even warn against severe weather conditions.
Indoor and Outdoor Thermometers
Not everyone needs all the complicated stats a weather thermometer provides and a basic indoor outdoor thermometer is all they need. A simple display sits inside the house with the same outdoor sensor that reports feedback to the base. The thermometer might only display the outside temperature or it may display both outdoor and indoor room temperatures. As for wiring, battery operated ones look nicer as opposed to wired options because no cords hang down the wall, but replacing batteries can add up in cost. Consider using Duracell rechargeable batteries or Lithium-ion batteries in wireless thermometers.
Room Thermometers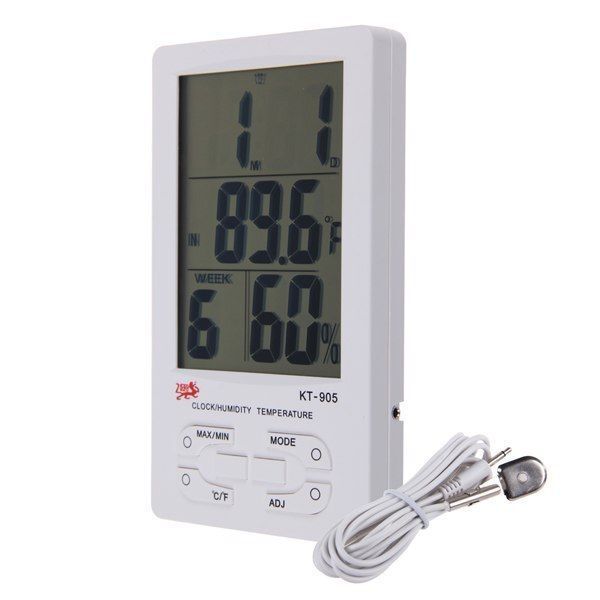 The trouble with any sort of heating or cooling system in a home is that rooms are often heated or cooled at different rates. Monitoring each room in the home with a room thermometer helps you find out where extra insulation is needed or where to block off or close vents. One room that does not heat well could cause the areas to overheat because the heater does not switch off until the room is up to the set temperature. Digital thermometers need a power source, while mercury thermometers do not, and both come in many decorative forms. Hang up a Coca Cola thermometer or find some vintage ones that add character to the decor.