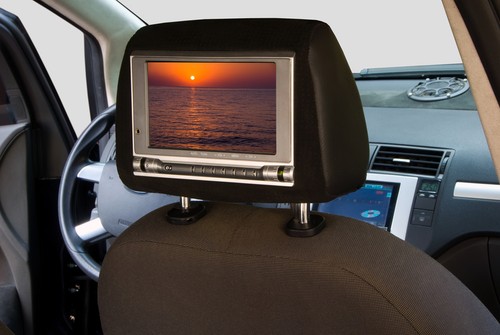 Travelling on long car trips can be dull and boring, especially at night when there is nothing to see. Today, people can install DVD players in their cars so that they can watch a movie to pass the time while on the road. Since they were first introduced, in-car DVD players have come a long way. Many are compact and portable and others are installed directly into the car. No matter what kind of car you drive or what kind of budget you are working with, there is an in-car DVD player out there to meet your needs. eBay is an online marketplace that makes it easier for you to find the DVD player you want. Buyers and sellers from all over the UK connect on eBay to find the products they are looking for. Knowing how to effectively search the site and what to look for ensures that you find an in-car DVD player that is worth the investment.
Searching for in-Car DVD Players on eBay
eBay is an online marketplace that allows you to search for new and used in-car DVD players to install in your vehicle. All items listed are done so by private sellers, which means that you can usually find many items that are priced lower than anywhere else. Finding these great deals means that you need to know how to search this massive site effectively. Start with a basic keyword search that describes the type of in-car DVD player you are looking for. From there, narrow down the results by selecting various options that match the type of DVD player you want. These options may include the type of DVD player or the features it has. Once you have narrowed down the list, you can begin reading each item's description to see if it matches something you are interested in.
Types of in-Car DVD Players
The first option to consider in your search for in-car DVD players is the type that you want. Many different types of DVD players are available for cars, but not all types work in all cars. It is important to evaluate the type of car you have and how much space you have inside before deciding which in-car DVD player to purchase. The table below lists and describes the four main types of in-car DVD players that you can find on eBay.
| DVD Player Type | Description |
| --- | --- |
| | Mounted to the back of the driver and passenger side headrests |
| | Mounted to the dashboard; 180 mm x 50 mm panel; standard size for most manufacturer units |
| | Mounted to the dashboard; 180 x 100 mm panel; larger size allows for more features and flip-out screens |
| | Mounted to the roof of the car; usually in between or behind the front seats |
Single DIN and double DIN DVD players are both installed in the dashboard of a vehicle. These are ideal for viewing by people in the front seat of the vehicle. Also, drivers who do not frequently have passengers riding in the backseat of the car may consider these options. The difference between single and double DIN is their sizes, so be sure to choose the one that fits in the existing stereo space of your car.
Headrest and overhead DVD players are designed for people who are viewing movies in the back seat(s) of the car. Headrest DVD players can be installed directly into the headrest, or they can be attached to the outside of the headrest. When attached to the outside, they can be moved around as needed. Headrest DVD players are designed for single-person viewing because of the position. Overhead DVD players are ideal for multiple-person viewing because they are mounted higher and in a centre position.
Screen Type and Size
You also need to consider the type of screen as well as its size. Some in-car DVD players are directly attached to the screen whereas others have screens or monitors that are attached separately. Additionally, some screens flip open so that they are protected when not in use. The standard size for in-car DVD player screens is 7 inches, but you can find some larger or smaller screens, if desired.
Headphones Connections
Connections for headphones are a good idea, especially if there are children in the car. This allows viewers to listen to their movies uninterrupted. Additionally, those not watching the movie can chat as normal without being interrupted by sounds coming from the movie. Some in-car DVD players have jacks to use standard 3.5 mm plug headphones, while others can connect with Bluetooth. The Bluetooth feature eliminates the need for extra wires, which allows for extra space in the car.
Choosing an in-Car DVD Player
When choosing an in-car DVD player, it is always wise to evaluate all of the brands and features to find the one that best suits your needs. Additionally, you need to find one that fits in your budget. Evaluating the features means that you do not end up spending extra money on features that you do not need or do not plan on using.
Features
As with any television or stereo system, in-car DVD players have many features to choose from. These features directly affect the cost, but they also impact the device's ease of use. For example, a touchscreen makes it easy to navigate the DVD menus without having to fumble for a remote control. Many DVD players, especially dashboard-mounted players, include MP3 and CD playback so that the unit doubles as a stereo system as well. Additionally, people who enjoy watching high quality movies can find high definition DVD players to take HD on the road with them.
Brand
Many brands of in-car DVD players exist on the market. It is important to choose a brand based on its reputation rather than the price. Be sure to read reviews to get a feel for which brands are worth the investment and which brands need to be avoided. Top stereo brands like Sony, Clarion, and Pioneer all make in-car DVD players that can easily be installed with the existing wiring systems in most vehicles.
Price Range
In-car DVD players are found in a wide range of prices. Those with basic features that do little more than play the DVD have the lowest prices, and the prices keep increasing as extra features are added. Rather than choose an in-car DVD player based solely on its price, use the criteria above to determine which type of DVD player meets your needs. From there, find one that works with your budget. This ensures that you end up getting more for your investment.
Used DVD Players
If you are working on a limited budget, then consider buying used DVD players. eBay has thousands to choose from, and the inventory changes on a daily basis. Most of these DVD players are still in good condition and are offered at low prices. Just be sure to inspect all photos of the DVD player and read the description fully to ensure that it is in good condition. Look out for scratches on the screen, missing parts, or descriptions that state that the DVD player is nonfunctional as is being sold for parts.
Choosing a Seller
Choosing a seller to buy from on eBay is just as important as choosing the in-car DVD player itself. Finding a reputable seller ensures that you have a positive shopping experience. Use the feedback system to determine the seller's reputation. In each listing, the seller's name, feedback rating, and total number of transactions completed are all listed. Sellers who have consistently provided high quality service to their customers are recognised as 'eBay Top-rated Sellers'. You can sort listings to show only items sold by these sellers. Otherwise, use the feedback ratings to determine for yourself if the seller is someone you want to work with.
Delivery Options
Sellers determine their own delivery prices and options. If you do not wish to spend a lot of money on postage and packaging, then look for sellers who cover this cost for you. Keep in mind that the price of the DVD player itself may be a little higher to compensate for this. Additionally, the seller determines which shipping method to use. If you want to insure the item before it ships, then look for sellers who are willing to do this. While this might be a little bit more expensive, it ensures that your DVD player arrives through the post intact.
Conclusion
An in-car DVD player is a nice addition to anyone's car, especially if that person does a lot of travelling with other people. Long car trips can quickly become boring when there are several hours to your destination. While the driver remains occupied by keeping his eyes on the road, the passengers must find other activities to keep themselves busy.
An in-car DVD player allows passengers to watch movies and pass the time quickly. You can find DVD players to install in the front seat or the back seat, depending on your needs. Additionally, many DVD players have connections for headphones so that people who are viewing the movie are not disturbed by conversations going on around them. In-car DVD players are available with a multitude of features, and you can even find DVD players that double as MP3 and CD players. With so many choices, it can be hard to pick just one. Fortunately, eBay makes it easy to compare different models and brands to find the one that suits you and your car perfectly.