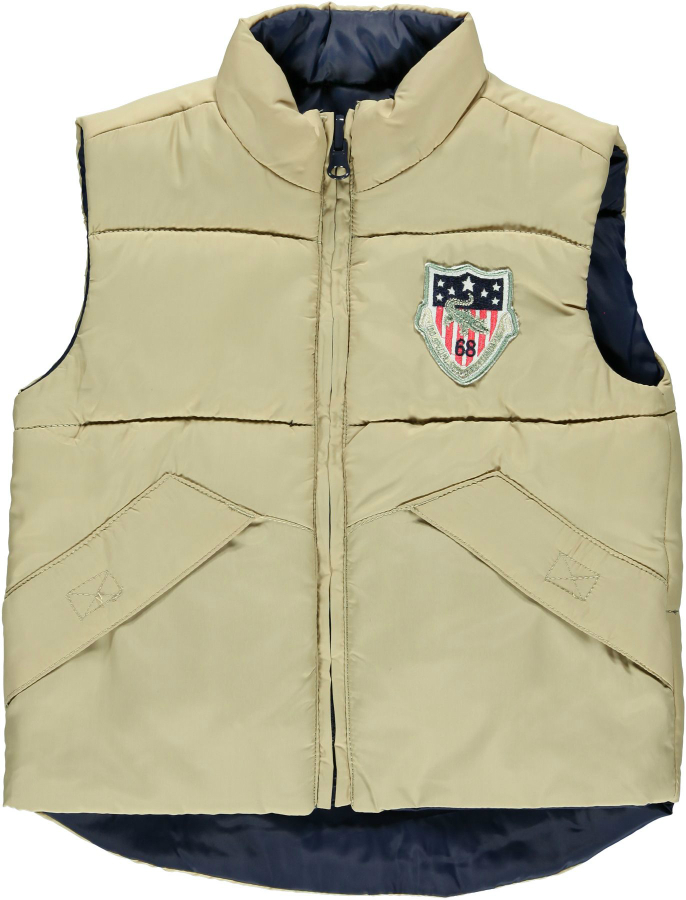 Originally made famous by Lucien Schneller, the Duke of Hungary, who wore them for outdoor activities, such as shooting and fishing, the modern gilet has enjoyed something of a renaissance in recent times. With the rise in popularity of outdoor pursuits, particularly amongst the young, coupled with advances made in modern fabrics and materials, the boys' gilet is once again seen as a viable and lightweight alternative to a full coat. It is especially suitable for activities where the youngster needs the arms free to allow a full, unimpeded range of movement, such as when cycling, participating in field sports, or just general play.
A boys' gilet is essentially a warm, sleeveless, outdoor jacket. It will have at least two external pockets and may feature larger internal pockets, often with zipper or Velcro fastenings. Some gilets are fully reversible, with the traditional lining constructed of a brightly coloured material, so that, at dusk and in the dark, the wearer can reverse the gilet to increase their visibility for safety's sake.
Gilet Styles and Features
Boys' gilets come in many different styles, designs, materials, and colours. Many fashion designers now produce a range of gilets especially for boys that are miniature versions of their full-sized adult models. They are often constructed of traditional materials, such as cotton or denim, but most are fashioned using man-made fabrics, such as nylon, polyester, or a polyester-cotton mixture. This makes them easier to clean and maintain. Padded gilets, as explained below, are filled with either man-made materials or duck or goose down for added warmth and comfort.
Colours
Boys' gilets tend to follow the trend of those colours used for adult styles, with earthy greens, browns, greys, blues, and the ever-popular black. Some modern designs of gilet use bright, day-glo colours, and these are particularly effective in winter when the afternoons draw in, and it is dark much earlier than in summer. Two—, or three—coloured boys' gilets are available, with each colour being broad, often striped, across, or down, the clothing. Sometimes, a particular clothing brand may release a boys' gilet that is in their own distinctive colours. This makes their clothing instantly recognisable, and is possibly something to think about when purchasing a gilet for a boy.
Padding
The padded boys' gilet is the most popular type of boys' gilet and, as indicated previously, may be filled with a man-made fibre, or may have duck or goose feather fillings to provide increased warmth in chilly conditions. When purchasing a boys' gilet with natural filling, it is important to check the washing instructions. Many naturally filled gilets cannot be machine washed and need careful, often expensive dry cleaning. Also, gilets with duck or goose down tend to sag with age and repeated cleaning, because the feathers will distribute unevenly as they drop naturally to the bottom of each pocket. With man-made fibres, this is much less of a problem, as they tend to hold their shape, despite repeated washings, no matter how badly they are treated. Some gilets have a tog rating in a similar manner to duvets to show how much insulation they offer. If the purchaser lives in a colder climate, it is probably worth noting these ratings, if supplied. As a rule, the higher the tog rating, the more insulation a gilet will offer.
Camouflage
Camouflage-patterned gilets are increasingly favoured by today's youth. There are several different colours of camouflage, from the standard dark green and khaki to the desert-coloured lighter greens and greys to the blue-and-grey mixture favoured by skiers and snowboarders. Camouflage gilets also have the added advantage in that they can often be quite dirty upon close inspection, but, from a distance of more than a couple of feet away, appear to be fairly clean. This is arguably worth parental consideration, particularly if the recipient of the gilet is fond of messy, outdoor fun, or there are open fields nearby that are frequently used for outdoor activities.
Hoods
Hoods are also popular, with the hoods being either fixed or removable. They can be padded if the rest of the gilet is, or they may be plain, regardless of the main gilet's construction. Some gilets have hoods that fold up into the neck when not needed, and are fixed by zippers, or press-studs. Hoods may come with tie strings to allow the face of the hood to be tightly drawn around the boy's face, thus preventing heat escaping.
Themes
Boys' gilets are sometimes themed to tie in with children's movies and cartoon characters. Many blockbuster hit movies have produced accompanying themed clothes to purchase, but care should be taken when purchasing such items. Even though a boy may be obsessed with a movie today, he may not be tomorrow, and, because a gilet has the potential to last more than one season, care should be exercised before purchasing one that might be too fleetingly trendy. One other item to note is that some themed boys' gilets may, in years to come, be collectable and therefore, if not too heavily worn, may be worth something to a collector when the boy has outgrown it.
Designer Gilets
Many famous designers and labels are now offering their creations aimed towards the younger end of the market. If a boy's father or other role model in his life owns a certain, highly distinctive brand of gilet, then it is possibly worth investigating to see if they also do a boys' version. The buyer should be aware that designer boys' gilets can often command a higher price than their non-branded counterparts. Designer boys' gilets will usually have the designer's name and logo featured on the inside at the top of the gilet. They may also have either a discreet or bold label on the front breast of the gilet. Occasionally, the designer's mark will be on the rear of the gilet, between and above the shoulder blades.
Reversible Gilets
Reversible boys' gilets that can be worn inside out often have a darker, plainer face that is usually worn outwards, while the inner lining is often a bright or even day-glo colour. This allows the boy to turn his gilet inside out on dark, winter afternoons and evenings, and still be highly visible to others. This is particularly useful when the wearer is playing out near roads carrying heavy traffic. This type of gilet is especially effective for increased visibility when there is snow on the ground, and the traditional earthy colours of a gilet might be missed. Reversible boys' gilets also have the added advantage of lasting nearly twice as long as their single-sided counterparts.
Pockets
At a minimum, a boys' gilet should feature two external pockets, ideally with zippers or Velcro fastenings. A boys' gilet may also feature vertical, zipped, external pockets on either or both breasts. Many boys' gilets also have inner pockets to allow the boy to carry essential, everyday items securely. These, too, may be zipped or sport Velcro-type fastenings. Before purchasing a gilet with zipped pockets, inspect the zippers, if possible, to make sure they can handle the often rough use a boy will subject them to. As a general rule of thumb, the larger and heavier a zipper looks, then the stronger it generally is.
How to Buy from eBay
As with most items available on eBay, it always wise to allow plenty of time to see just what is on offer. Rather than just buying the first boys' gilet that appears at the top of a listing, you should always scroll further down, onto other pages, if necessary, to see the whole range. There is also the question of size. If your boy is ten years old, then you should look to buy a gilet suitable for a boy of twelve or above. Because a gilet doesn't have sleeves, there is less of a problem of him growing out of it too quickly, in the same way he would a normal coat or shirt; thus, you have a little leeway. It bears repeating that, when purchasing a gilet that features movie or cartoon characters on it, what is popular with a child today may not be popular in another year or even months or weeks down the road.
Conclusion
Buying the best boys' gilet needn't be as difficult as the buyer might think. A gilet can be seen as a purely functional piece of clothing, in that it will certainly keep its wearer warm, or it can be a fashion statement, or a combination of the two. A gilet offers a boy extra movement in his arms which is essential for many outdoor activities, such as cycling or other sports, but also offers him a range of both exterior and interior pockets, both zipped, and fastened with Velcro. Gilets are now offered with hoods to further keep out the cold, and many designer labels are now offering junior-sized gilets that are direct copies of their adult ranges, so a boy can look just like his father or other parental figure. Made with today's modern fabrics and man-made linings, they are now easy to keep clean, and with a wide range of colours and styles on offer, a gilet can be seen as an essential part of any boy's wardrobe.