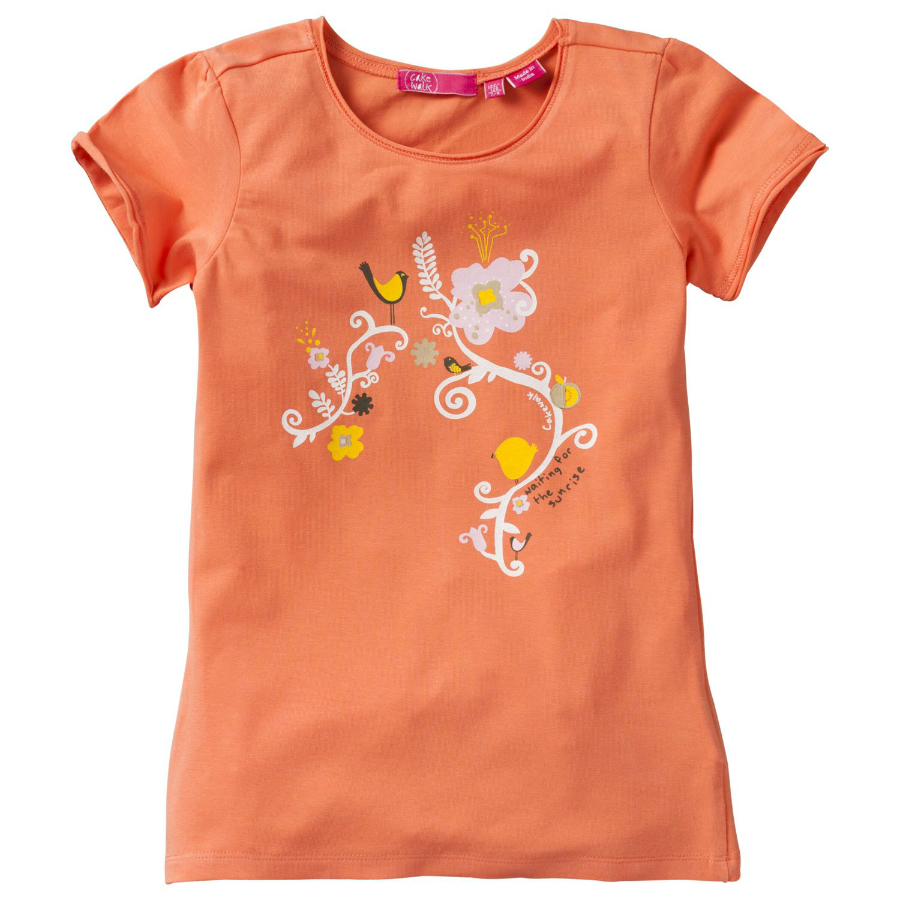 T-shirts are one of the most worn articles of clothing in the world. A t-shirt's most defining characteristic is the 't'-shape that the shirt sleeves and body form. There are so many different t-shirts out there that picking the best girls' t-shirt may seem like an overwhelming task.
When it comes to t-shirts for girls, there are a variety of styles to choose. They can come in solid colours or sporting patterns or graphics. There is also the material to consider, which ranges from pure cotton to poly cotton blends. While traditionally t-shirts are short sleeved, a buyer might want to consider buying a long sleeved t-shirt for those cool summer evenings. The lengths of t-shirts can vary quite a bit and range from those that end at the waist, to long t-shirts that fall almost to mid-thigh and can be worn with a belt like a short dress.
Most buyers will hit the high street shops in search of a summer t-shirt, but the inventory tends to be seasonal and can be quite limited. For a wider selection of t-shirts for girls, at prices better than retail, a shopper should consider beginning their search on eBay.
A Brief History on T-Shirts
T-shirts started off as a one-piece suit called a 'union suit' that was worn as an undergarment during the early 1900s. Eventually they cut the underwear into two pieces, a top and a bottom. The top later became what we now know as the t-shirt. The t-shirt or 'tee', first became popular with the miners and dock workers because of how convenient it was to use as protection for hot work places.
With all this said, why buy a t-shirt? The t-shirt first became popular among workers and the military, particularly among the navy and the marines. Its popularity skyrocketed, especially in the fashion world, in the 1950's when Marlon Brando wore one in the movie 'A Streetcar Named Desire'. This is what some may call the epic moment when t-shirts broke into the fashion industry and when the t-shirt went from just merely being an undershirt to a fashion statement all on its own. Today, one could safely argue that there is at least one t-shirt in every chest of drawers in the world. And every girl has at least several.
How to Choose the Best T-Shirt
With endless possibilities, choosing the best girls' t-shirt can be rather difficult, but not impossible. Take into account her fashion sense and the buyer is one step closer to choosing the best summer t-shirt. Better yet, a parent should include the child when browsing for summer t-shirts. This is as easy as sitting down together in front of a computer and going onto eBay.
While the choice of the right shirt will be a personal one, the buyer will also need to consider the appropriate size, material, length, sleeve, and neckline.
T-Shirt Sizes
T-Shirts come in a wide variety of sizes. Adult sizes range from extra small (XS) to double Extra Large (XXL), and in some cases even bigger. A slightly fitted t-shirt is good as an undershirt or as is. Many favour more fitted shirts. For those influenced by hip hop fashion, a very loose t-shirt is often the choice. The right size is all dependent on how the girl wants to wear it.
T-Shirt Materials
T-shirts have always been made using 100 percent cotton. As of late, manufacturers have started making t-shirts with polyester or a blend of cotton and polyester. Some stretchable t-shirts are made of knit fabrics. A few examples include jerseys cotton (popular because it is comfortable, inexpensive and versatile), rib knits and interlocking rib knits, which consist of two interlocking fabrics. Many high-end designer t-shirts are made of strong interlocking rib-knits and jersey cotton. These t-shirts are stretchable because they have one less seam, but for a tighter fitting t-shirt, a rib-knit fabric is the better choice. Just remember that some materials when worn on hot summer days will cause the wearer to expire. A nice breathable fabric like cotton is always a great choice for summer t-shirts.
Length of the T-Shirt
T-shirts usually extend to the waist and were almost always tucked inside the pants. Thanks to the fashion industry, we now have many variants of the t-shirt and one of the many ways by which t-shirts vary in style is by their different lengths. There is the 'normal' length, which as previously mentioned, goes down to the waist. There are t-shirts that go all the way down to one's knees. This has been hip hop's contribution to the evolving t-shirt fashion. These are called 'long-t's'. T-shirt lengths can vary from too long to too short.
T-Shirt Necklines
What started off as a simple crew neck has evolved into different cuts for the neck. The crew neck still remains the most common cut and is characterised by a rounded neckline that is cut just slightly below the throat. Now, the crew neck has other siblings. The scoop neck, like the name says, is a neckline that is cut low below the clavicles. The v-neck is a neckline that is in the shape of a 'V'. The square neck is a neckline that is cut with sharp angles, with the bottom edge meeting the two side edges at an almost 90-degree angle and is usually cut low to expose the upper chest of the wearer.
Sleeve Length
As the years passed, the t-shirt underwent different changes in terms of design, but the tried and true design features have endured. Besides having different necklines, t-shirts now offer different sleeve lengths. Because of this sleeve transformation, a different offspring came from the original t-shirt.
One of the few popular t-shirt offspring is the tank top. A tank top or sleeveless shirt is just that: a shirt with no sleeves or has the sleeves cut off leaving a thin fabric, about an inch wide that holds the rest of the shirt up by the shoulders. If the leftover material is thinner, it's called a spaghetti strap.
Another popular offspring of the original t-shirt is the surf shirt. Also known as a wife beater or cap sleeve. Basically, the sleeves cover only the shoulder and do not extend down the arm. Its cousin, the half sleeve, has sleeves that go down to the elbow. And then there are the long sleeved t-shirts. These are t-shirts with sleeves that go all the way down to one's wrists.
T-Shirts Designs, Prints, and Colours
Prior to 1950, all t-shirts were white or came in a few solid colours. Afterwards, thanks to a resort company that first printed its name on a t-shirt as a form of advertising, things really started to turn around even more for t-shirt fashion. Companies, like Coca-Cola and Disney, started printing their logos on t-shirts. In the late 1960s, the ringer t-shirts started appearing. At almost the same time, tie-dye shirts started coming out and screen printed t-shirts became wearable art.
With so many designs, prints and colours to choose from, having a single shirt is, oftentimes, not enough. Some t-shirts come with few buttons or a pocket here and there. A t-shirt design is only limited by one's imagination. For the creative ones, it's easy enough to print their own design or statement. It's also very easy to search for companies that would print or create personalised t-shirts.
Nowadays, choosing and buying a t-shirt is not as simple as choosing a particular style or colour. One can take their pick not only to make a fashion statement, but also to make other forms of self-expression, from wearing a t-shirt with one's favorite movie, characters, sayings, sceneries, to political beliefs and other affiliations.
Finding T-Shirts on eBay
Being the most used article of clothing, a search for 't-shirt' on eBay, will definitely result in hundreds if not thousands of hits and with a wide variety of prices. If you know which kind of shirt you are looking for, adding those keywords in your search would ensure more specific search results.
Keywords such as 'tie dye' or 'graphic tshirt' and so much more, for example, would yield multiple results. You can further hone your search for the best summer t-shirt by choosing the size, design, colour, and more, but always be aware that even with the best deals it is always a very good idea to make sure that you also have a good and trusted seller.
Looking at the seller's customer feedback and the length of time he or she has been selling on eBay is one way of finding out how reputable the seller is. The number of repeat customers and what they all have to say about the seller are very good signs. Of course, always make sure that the seller has a good return/exchange policy, most preferably a policy that lets you have enough time to actually be able to return the t-shirt you bought.
Conclusion
From being part of a full body undergarment, to being part of a uniform, and then evolving into wearable art, the best summer t-shirt is out there. T-shirts for girls come in a variety of styles and colours. With so many different styles to choose from, when purchasing the next summer t-shirt, knowing her size is always a good place to start. The rest will simply fall into place. A versatile summer t-shirt is one that can be mixed and matched with a variety of items in a girl's wardrobe. From a tie-dye shirt with a pair of jeans, to a long shirt working as a dress, the combinations as to how she can wear her new summer t-shirt have the potential to be endless. Of course a girl should never be limited to just one t-shirt. Her drawers should include several short sleeved t-shirt with various necklines. The most versatile shirts will be the ones in solid colours, but a girl will need shirts that have graphics and patterns to help her express her individual sense of style and her personality. Regardless of the style of summer t-shirt, a shopper is surely to find it on eBay.