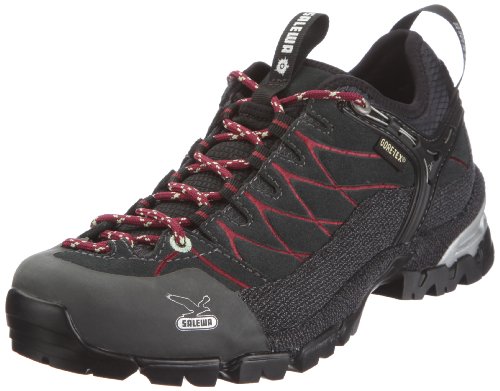 Get out and experience Mother Nature first hand by hitting some hiking trails. But first, women are going to need a comfortable pair of trainers for the great outdoors. The best trainers for hiking depend on a variety of factors such as the climate and the type of trails. While the traditional hiking boot is ideal for women carrying heavy packs through unstable terrain, lightweight shoes provide enough support for day hikers. For even less coverage, hikers may want to opt for a hiking sandal, especially if they plan on getting their feet wet trampling through streams. Hiking trainers also come in a variety of materials, leather, canvas, and nylon being the most popular; each option has its benefits and drawbacks. Gore-Tex and other waterproof materials are a must for trainers worn in cold temperatures with snow and cold rain. Women can find the best hiking trainers to fit their preferences at outdoor specialty shops and online websites such as eBay.
Styles of Hiking Trainers
Hiking boots are available in several attractive styles, but the buyer's priorities should be climate and comfort. It used to be the case that all hiking boots were heavy duty with thick tread and high ankle support, and they all looked nearly identical. Hiking trainers now come in high tops and low top models, and women should have an idea of how much coverage they want. The sections below describe the four styles of hiking boots.
High Top Trainers
High tops are ideal for women who are going on lengthy and difficult hikes. High tops are typically made of leather or other stiff materials. They offer superior ankle support and have thick treads that help wearers grip unstable surfaces. High tops are preferred by hikers carrying heavy backpacks since they offer stability.
Hiking Shoes
Hiking trainers are the next step down from high tops and resemble cross trainer shoes. They are lightweight and their sole is less rigid; this makes them much more comfortable than stiff leather boots. The collar of the trainer usually rests level or just below the ankle. Hiking shoes are great for women on moderate trails, without steep inclines and rocky terrain. While regular nylon hiking trainers are not water resistant, women can opt for Gore-Tex to protect their feet.
Hiking Sandals
Hiking sandals are barely there footwear; some have exposed toes, while others have protective, hard rubber toe guards. They are comfortable for light hikes in warm weather and made of quick-dry materials. Women who wear hiking sandals do not have to worry about crossing streams and muddy puddles. One shortcoming of this option is that the tread is often weak and prone to slipping.
People interested in hiking sandals should research a few brands to rate their tread.
Hiking Trainer Materials
In addition to choosing the style of hiking trainer, women will also have their preferred material. Leather has earned the reputation for being the most durable and stiff material; they insulate the feet in cooler climates and offer the most ankle support. Heavy canvas is a less expensive alternative to leather. Lightweight hiking boots are made of nylon; they offer less support, but are tough enough to make it through some tough hikes. Hikers in need of a waterproof boot need would benefit from Gore-Tex. Buyers should note that not all types of trainers are available in the four most popular materials.
Leather
Leather hiking trainers are sold in three different options: full-grain, nubuck, or split grain. This material is used because it is the toughest available material for trainers. It is durable, stiff, and water-resistant. Leather trainers hold up during tough conditions without much general wear and tear. Once the hiker has broken in the leather, these trainers are comfortable and form fitting. But if women are planning on wearing leather trainers on long hikes, they will need to work on softening the stiff leather by wearing them on a non-hiking day or short hike. New leather hiking trainers are notorious for causing blisters until they are broken in. Leather is typically the most expensive material used, but they are well worth the investment once they fit the wearer's feet.
Nylon
Nylon is the material most often used to construct lightweight trainers. Nylon hiking trainers are sold in an array of fun colors as well as modest neutral tones. This fabric allows for maximum breathability, but the downside is that it does a poor job keeping water out. The most common nylon trainers are worn with socks, and wearers will want to stick to drier climates. Some nylon hiking trainers are designed to be porous and quick-dry; these models are perfect for women on trails that cross streams or are prone to puddles.
Canvas
Heavy canvas trainers are a less expensive option to leather ones. Canvas trainers offer adequate ankle support for moderate to strenuous hikes. They typically do not have the water resistance capabilities of leather, but are much easier to break in. Canvas hiking trainers are typically made in high-top and low-top options and in an array of colours, such as black, brown, and grey.
Gore-Tex
Gore-Tex fabric has become synonymous for water-resistant, breathable material. Hiking trainers made of Gore-tex protect the wearer from water getting in, but unlike leather that also traps in moisture, Gore-Tex is breathable. Gore-Tex hiking trainers are either available in lightweight models or are sometimes paired with leather for a more sturdy boot.
Tips for Buying the Best Trainers for Hiking
Besides having an awareness of the styles of hiking trainers and common materials, women should employ the following tips when looking for an awesome fitting shoe:
Look for treads designed to release mud
Buy trainers with replaceable soles, and purchase aftermarket inserts for added comfort
Wear thick socks with boots that are just a tad too big
Purchase trainers with a snug heel fit to prevent blisters.
If hiking long distance, buy larger instead of smaller
Nylon is ideal for warm conditions
Leather is best in cold climates and conditions where toes need to be protected
If purchasing from a shop, women should bring the pair of socks they will be wearing while hiking to get the best fitting trainers. If buying online, then shoppers need to research the brand and see how true to size they run; additionally, women should find out if the online seller allows for exchanges if the trainers do not fit.
How to Buy the Best Trainers for Hiking on eBay
Once you have determined the style and material of your perfect hiking trainers, you are ready to begin your search on eBay. If you cannot find a pair of trainers to your liking in the auction, be sure to check out eBay's sellers' stores. Type in 'hiking trainer' to see all of eBay's available options. Keywords will help you narrow the focus of your search. For example, 'Hi-Tec hiking trainer' is a good search, and 'Hi-Tec grey hiking trainer' is even more specific. For more help optimising your search results, have a peek at eBay's Search Tips page.
With so many shoe companies manufacturing trainers geared toward hikers, eBay makes finding the right pair a breeze. Custom sort your results by what matters most to you. Find the least expensive trainers by sorting from lowest to highest price; when eBay lists results, shipping costs are factored in to get you the best deal. Shoppers can also sort by highest to lowest price, time left in auction, and distance from seller.
After you have found a pair of hiking trainers that suit your style and budget, read the entire listing, including the terms and condition, before bidding or purchasing to understand what you will be purchasing. Should any part of the listing seem unclear, do not hesitate to Ask a Question to the seller. Next, take a moment to check the seller's history on eBay to see how transactions have been handled in the past. Look at the seller's approval rating and feedback, and only buy from those with a high rating and positive comments. If you have any issues regarding the seller or item purchased, you could be protected by the eBay Buyer Protection agreement.
Sellers with a long history of excellent customer service and satisfaction are bestowed eBay's top rated seller status. Look for the top rated seller icon next to the his or her username.
Conclusion
Women should choose a pair of hiking trainers based around the type of hiking they will be doing and the local conditions. Leather boots are mandatory for cold weather hikes, but they would be too hot in tropical conditions. Hiking sandals and quick dry nylon low tops are essential if hikers are crossing streams. Gore-tex is available to hikers who want to keep their feet dry in wet and muddy conditions. Leather hiking boots offer superior ankle support and are a sound investment for women lugging burdensome gear or on uneven trails. Women must also buy a pair of trainers that fit properly. If they are too small, they can cramp feet, numb toes or cause blisters; trainers that are too big will cause the foot to slide, which also causes blisters. Knowing how and where the hiking trainers will be worn will help women make the most informed decision when buying at outdoor shops and online marketplaces such as eBay.