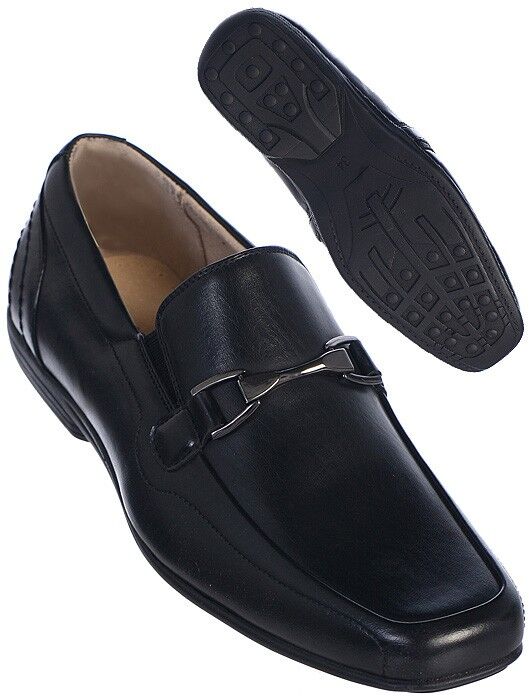 Most men look at dress shoes as a way to make a fashion statement. They are more concerned about how a pair of dress shoes look than dress shoe performance. This has been the case throughout history, from the time when dress shoes became a part of Ancient Egyptian attire, to the sleek dress shoes worn by contemporary royalty. However, a good pair of men's dress shoes should do more than look good. Men's dress shoes need to provide foot and ankle support, cushion between the bottom of the feet and the ground, and the capability to absorb and expel moisture. In other words, men should strive to buy the most comfortable pair of dress shoes.
Men can find comfortable dress shoes in the men's section of large department stores, although they have more dress shoe options if they shop at men's clothing or formal wear shops. Buying men's dress shoes requires men to try on the shoes before they buy them. Therefore, most dress shoe experts encourage men to buy dress shoes at brick and mortar stores, rather than shop for them online. Nonetheless, eBay provides men with a convenient way to shop for dress shoes, if they receive enough time to ensure the shoes comfortably fit. Before buying dress shoes, men should learn about the factors that influence dress shoe comfort, the types of comfortable dress shoes, and comfortable dress shoe features.
The Factors That Influence Dress Shoe Comfort
Most men know right away if a pair of dress shoes provides comfort, but very few men understand the factors that influence the level of dress shoes comfort. Men should consider the four factors that determine dress shoes comfort.
Dress Shoe Style
Dress shoes come in two basic styles, with a number of sub-styles falling within each of the two primary styles. Men choose either dress shoes that require laces or dress shoes that simply slip onto the feet. Dress shoes that have laces allow men to adjust how snug the shoes feel. This style of dress shoe envelopes the entire foot and provides little foot wriggle room. On the other hand, slip on dress shoes allow the feet more motion freedom. Each style of shoe can create discomfort. Tie up shoes may feel too tight, while slip on shoes can be too loose. The advantage of the lace style of dress shoe is that men have more control over comfort levels.
Dress Shoe Interior Construction
The thickness of a dress shoe pad significantly influences comfort. Thin pads cause quick wearing around the heel that runs to the rubber part of the sole. Shoe manufacturers provide information about the interior construction of a pair of dress shoes. Arch support is another facet of a dress shoe's construction. Some men possess flatter, or deeper, arches than what is typical for their size of foot. Men must try on dress shoes to ascertain if the shoe's arch support provides comfort.
Dress Shoe Heel Height
Like sole pads, dress shoe heels help the feet absorb constant pounding. Higher heels create more cushion for the feet. However, the height of dress shoe heels influence leg and back discomfort. Dress shoes that have higher heels cause leg and back muscles to work harder to sustain correct body posture. Men determine proper dress shoe height by standing still in a pair for a minute or two to see how the heel works the leg and back muscles. Dress shoes that possess low heels should have thick sole pads to cushion foot-to-ground impact.
Dress Shoe Size
Dress shoe size is the paramount consideration for ensuring comfort. Know the width of your feet to prevent buying dress shoes that are too tight or too loose. Most shoe sizes are constructed to fit average width sizes. Men pay more for customised shoes that adapt to irregular width sizes, but price consideration should be secondary to comfort. Remember that UK shoes vary in size from American shoe sizes by a half size.
Types of Comfortable Dress Shoes
Every man should have at least one of the three types of comfortable dress shoes in their closets. Each dress shoe type provides comfort in formal social settings, job interviews, and business meetings. Learning about each type of comfortable dress shoe makes the dress shoes buying process much simpler.
Oxford
Known as the Balmoral in the United Kingdom, the Oxford style of dress shoe originated at Oxford University. Contemporary Oxford dress shoes have become the standard in men's formal footwear because of the shoe's sturdy leather vamps that provide strong arch support. Manufacturers typically construct Oxfords with clean lines and continuous pieces of leather. Some dress shoes contain leather segments that require extra stitching, which leads to rubbing on the feet. Because of the treated leather, Oxford dress shoes provide men with a high level of moisture evaporation.
Blucher
Blucher dress shoes were designed by a Prussian Field Marshal to provide more comfort to his soldiers during the Napoleonic Wars. Since then, this dress shoe has undergone numerous design changes to further improve its comfort level. The open-lacing design and eyelet tabs that are stitched on top of the vamp allow the shoes to breathe. Most Bluchers are constructed with supple leather that does not chafe feet during strenuous use. Bluchers have become popular for wearing to work on casual attire days.
Loafer
This slip on shoe makes it easy for men to give their feet a reprieve from the constant pounding of a typical work day. Men can kick off loafers just about anywhere to allow their feet to air out. Most loafers are made with pliable leather that conforms to varied foot lengths and widths. Loafers provide more air circulation than laced shoes, but the lack of ankle support can be a problem if the shoe is worn for long walking distances.
Features of a Comfortable Dress Shoe
Each of the three types of comfortable dress shoes share many characteristics. Starting with the material used to make comfortable dress shoes, manufacturers also focus on the toe design, sole, and broguing.
Dress Shoe Material
The material used to make a pair of dress shoes determines shoe comfort levels. Leather is by far the preferred material to use for constructing dress shoes. Treated leather absorbs more moisture and then releases the moisture faster than other materials. Leather dress shoes also allow feet to push out on turns and sudden stops, without causing chafing or bruising. Some men opt for cheaper synthetic dress shoes and the consequences of that decision are sore feet.
Toe
Foot blisters form in dress shoes that have too much room between the toes and the tip of the shoes. Some shoe designers add wriggle room that can lead to blisters and even toe sprains. Dress shoes that have rounded tips tend to protect against toe injuries. Consumers can also opt for square-tipped dress shoes if that style is preferred.
Sole
The sole is the cushion between the foot and the ground. Not only are thin soles a sign of cheap dress shoes, they are also the cause of sore feet. Dress shoe soles should be at least 0.5-cm thick to absorb the constant pounding from walking on street pavement to navigating the hallways of a large office building. Moreover, leathers soles are preferable to rubber soles.
No Broguing
Broguing is the practise of adding decorative stitches to a pair of dress shoes. The stitches are typically perforated and serrated. Fashion experts believe broguing diminishes the value of dress shoes by artificially embellishing their appearance. The stitches can also cause foot discomfort by irritating the skin. Avoid dress shoes that have any broguing to ensure foot comfort.
How to Get a Comfortable Dress Shoe Fit
Men need to obtain an accurate dress shoe fitting to assure they receive maximum comfort. While a dress shoe sales representative provides the most accurate foot measurement, men can do some things that ensure accurate foot measurements. They should shop for dress shoes after they have been on their feet for an hour or two. A nice walk before shopping for dress shoes increases the likelihood of receiving an accurate foot measurement.
Shop for dress shoes that use the Brannock foot measuring device. Since the right foot is usually longer than the left, be sure to use the right foot for measuring dress shoe size. Allow 1.25 cm between the tips of your toes and the top of the dress shoe. Dress shoes should never be tight on the ball of the feet. Wear the same type of dress sock that you plan to wear with the dress shoes. Finally, dress shoes should fit the instant you put them on. Some men have the misconception that dress shoes require a breaking in period.
Buying Comfortable Dress Shoes on eBay
eBay offers men a convenient way to choose from a wide selection of dress shoes. The question is can men determine the comfort level of dress shoes sold through eBay auctions or eBay seller stores? Men should look for sellers who have return policies that provide them with enough time to determine the comfort level of a pair of men's shoes. eBay's Top-Rated Sellers typically offer generous return policies that allow men enough time to determine a pair of dress shoes' comfort level. Top-rated sellers have also established a record of running fair auctions and selling high-quality products.
Men can use eBay's search engine to reduce the number of search results. The first keyword to search should be "men's dress shoes". To reduce the number of search results, type specific search keywords, such as "leather Oxford dress shoes" or "men's black slip-on dress shoes". Once you find a seller that meets your shopping criteria, click on the seller's product page link to review delivery terms and accepted payment methods. You can also view an enlarged version of the dress shoes photograph. Seller product pages also include customer feedback, which gives you another tool for choosing a seller. Look for sellers who have received positive feedback over the past year and preferably have experience selling men's dress shoes.
Conclusion
There are three types of dress shoes that men should consider buying. Manufacturers make Oxford dress shoes with a continuous piece of leather to prevent loose materials from rubbing the foot or ankle. Blucher dress shoes have superior breathing properties. For men who want to give their feet some air, loafers are a great choice at work or at a formal gathering. Regardless of the type of dress shoe a man wants, he should look for features, such as thick soles, ample space between the toes and tips of dress shoes, and leather constructed shoes that allow for more bone and joint flexibility.
Men who are unsure of their foot size should seek the expertise of a dress shoe sales representative. During measurement, they should wear the dress socks they plan to wear with the shoes and make sure the sales representative uses the Brannock foot measuring device. Above all, men must walk in a pair of dress shoes before deciding on making a purchase. While this is not possible on eBay, men can still determine the comfort level of a pair of dress shoes if they buy from eBay sellers who offer generous return policies.