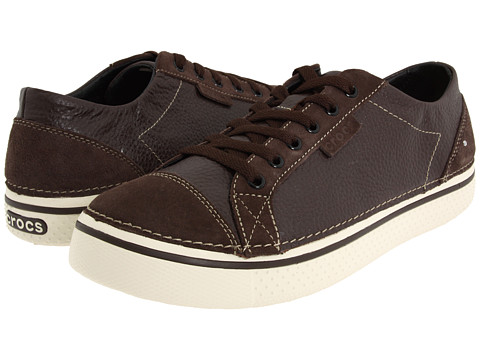 While many men like to take pride in not having many pairs of shoes, it has become a fact of modern life that there are many shoes for many different purposes. Men are generally required to wear dress shoes to the office, athletic shoes when on the football field or basketball court, and casual shoes for every other occasion. While there are many varieties of casual shoes, finding some that are at once fashionable and comfortable can prove to be a quite daunting task. Casual shoes are found in shoe stores, clothing stores, and online through venues such as eBay with many different options available. However, with an understanding of the varieties of casual shoes that are available, along with a brief understanding of what is currently fashionable, men can find the perfect pair of casual shoes. Once those shoes have been pinpointed, focusing in on both comfort and style is the final step.
Men's Casual Shoe Styles
Casual shoes can be loosely defined as those that can be worn during everyday types of activities. They can be worn during a brief walk, when enjoying time around the house, or for almost anything aside from work or a highly specialised athletic event. Since these shoes can be used for such a wide variety of activities, there are many options one might be able to choose from.
Sneakers
Sneakers are by far the most common form of casual shoes. Sneakers have thick soles, and are designed to be comfortable for the wearer, while possibly in the midst of vigorous activity, such as Converse. For the most part, casual shoes are worn as a fashion choice rather than as a practical one. Sneakers come in a variety of styles and colours, but they all offer men a shoe that resists wear, tear, and scuffing while providing ample foot support.
Sneakers that are used for sports or other athletic pursuits tend to wear out faster over a period of time. For this reason, it may be helpful for men to purchase a pair of sneakers or athletic shoes that are only used for athletics, and another pair to wear as casual shoes. These practices will help both pairs of shoes to possibly last longer.
Sneaker/Dress Shoe Hybrids
There are shoes that are a combination of both, sneakers and dress shoes. These shoes are considered casual shoes in the sense that they may not be the right fit for every workplace or formal occasion yet still maintain a certain aura of class and sophistication. For the most part, these shoes resemble a dress shoe but have a thicker sole and more traction. This means that they are better equipped than regular dress shoes to survive a long walk , and do considerably better in snowy or icy conditions. Hybrids are often heavier than other shoes and carry the characteristics of both sneakers and dress shoes.
Loafers
Loafers are perhaps the ultimate standard in casual shoes. Loafers do not have laces and if they are just slightly larger than a wearer's regular shoe size, they can be slipped on and off with ease. Loafers come in a variety of colours and styles. They can be made from leather, synthetic materials and even more uncommonly used materials, such as canvas. Loafers are not designed to be worn for sports, or even for a long walk as they can become worn and lose their shape over time. Some loafers appear more like dress shoes than other shoes, but they should generally not be worn for formal occasions.
Hiking Shoes
Hiking shoes and hiking boots have become a very common type of casual shoe. City dwellers who have never set foot on a hiking trail can still wear these shoes without making any social missteps. Hiking shoes, generally wear fairly well and can last for a long time even if they are worn every day. They have thicker soles and are often made of waterproof or water-resistant materials. They are usually comfortable, even when worn over long periods of time, making them an economical choice for a man who only wants one pair of casual shoes. Hiking shoes and boots are considered quite fashionable for informal situations, but are frowned on when worn to work..
Boat Shoes
Boat shoes are similar to loafers in that they do not have laces and are easy to put on and remove. Boat shoes are designed to help wearers maintain traction on the slippery deck of a boat, but they can realistically be worn anywhere. It should be noted that boat shoes, while comfortable, are not necessarily very sturdy and may not be the best choice for long walks and other athletic endeavours.
Fashion Tips for Men's Casual Shoes
While casuals shoes come in a wide variety of styles, materials, and colours, there are a few general rules regarding casual shoes and fashion that should be noted when buying these shoes.
Avoid Visible Socks
While most casual shoes are worn with socks, boat shoes being a common exception, it is widely considered a minor fashion faux pas to have socks that are clearly visible. When worn with trousers of the proper length, this should not be an issue. The problem mainly arises when shorts are worn with casual shoes. The solution, therefore is to wear shorter socks that do not rise above the shoes. This is much easier with hiking boots and high-top sneakers than with loafers or hybrids.
Casual Shoe Colours
When buying casual shoes, it is helpful to find a pair that will coordinate well with the average pair of trousers. One common rule of thumb for men is that shoes should match the shade of the trousers or be darker. For this reason, casual shoes that are dark or brown in colour are generally more acceptable in fashion terms, although white sneakers tend to be an exception to this rule.
Casual Shoe Sizes and Fit
One of the most important rules relating to buying any kind of shoes, is that the sizing for one pair of shoes may not work for another pair of shoes. At the same time, some casual shoes, such as loafers, may be made more comfortable if they are worn slightly larger than would be appropriate for other shoes, such as dress shoes or specialised athletic shoes. When buying casual shoes on eBay, it is important to know beforehand, what size will be the best fit. The best way to accomplish this task is to measure the foot, using a piece of paper to mark the location of the back of the heel and the end of the toes. Then, measuring the distance between the two points can be used to determine shoe size. Another option is trying on shoes in a store, then, once the most comfortable sizer is discovered, this information can be used to make a purchase on eBay.
Shoe Width
Not all shoes have the same width. Even shoes that are the same size may not have the same width when compared to one another. For this reason, it is important to determine if a shoe will be wide enough or narrow enough for a given foot. There are shoes that are designed to be wider for those with wider feet, and special shoes for those with overly narrow feet. This is usually mentioned along with the size when a shoe is sold.
Buying Men's Casual Shoes on eBay
Casual shoes, in a number of sizes and varieties, can be found in clothing stores and shoe stores around the world. However, buying shoes in a store may be more costly, and options may be limited in terms of style and designer. Occasionally, a shoe store may not have certain sizes in stock as they are more common and are therefore purchased more frequently. Buying casual shoes on eBay may allow men to discover sizes and styles that they may not have been exposed to otherwise. Finding the right pair of casual shoes on eBay is as simple as entering a search term such as: "Men's Casual Shoes", into the search bar on the eBay home page. This search can be further narrowed by adding additional search terms such as those relating to size and style. With the right search, it is easy to find any shoes to meet the appropriate attire. Alternatively, it might be worth searching a contemporary brand for shoes, such as Yeezy by Kanye West.
Conclusion
Casual shoes are an important part of a wardrobe for many men because they allow for comfort while an individual is engaged in activities like walking, and relaxing. Casual shoes should be something apart from the shoes used for work or specialised sports. There are many different styles available for casual shoes that include: sneakers, loafers, boat shoes, hiking boots and shoes, and even hybrid shoes that are a mixture of sneakers and dress shoes. When buying casual shoes, looking fashionable is always key, and there are a few rules for fashion, such as not to wear visible socks and to wear shoes that coordinate with a pair of casual trousers. Finally, finding a pair of casual shoes that is the right size is an important step to take prior to making a purchase. With the right information, finding the right pair of casual shoes is possible for anyone.