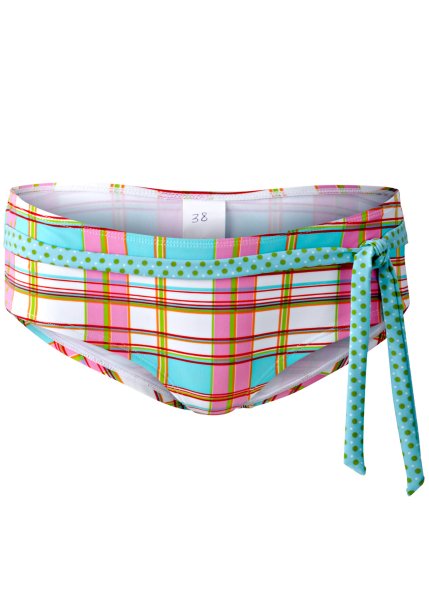 Every year when the weather gets warmer, women begin to worry about their figure and finding a bikini that they will not feel self conscious in. It is an intimidating process that usually ends up as several hours spent at the shop trying on every single swimsuit. Many ladies will not even look for a bikini until they have gone on a diet, spent time at the gym, or gone tanning. However, rather than shaping a body to fit the suit, it is much easier to shape the suit to fit the body. This is particularly true with bikini bottoms. Most women find that the bikini bottoms are the most frustrating part of the swimwear to shop for. Women looking for flattering bikini bottoms should consider their body type as well as the styles of bikini bottoms available in order to overcome their fear of bikini bottoms and find the ones that complement the shape of their body.
With the right bottoms that flatter the waist, buttocks, and thighs, women can once again enjoy the warm weather and the water rather than sit inside and watch the summer months go by.
History of Bikinis
Although many people think of bikinis as being immodest in ancient years, the skimpy swimwear has actually be seen as early back as 286 - 305 AD. Sicily created a mosaic on the floor of Villa Romana del Casale that depicts several women engaging in various exercises while wearing bikini-like apparel. Despite this, though, swimwear was widely seen as immodest until the mid 1900s. In 1907, an Australian swimmer was actually arrested for wearing a form-fitted swimsuit on the beach. Despite the public's rejections, one-piece, tighter swimwear became acceptable by 1910.
The beginning of Bikinis started when Carl Jantzen designed a two-piece swimsuit that consisted of form fitted shorts and a short sleeved top. As 1930 rolled around the sleeves were taken off, the fronts dropped, then the backs dropped, and eventually all that was left was the bra-shaped swimsuits that we are familiar with today.
How to Find Flattering Bikini Bottoms
The key to finding flattering bikini bottoms is balance. The majority of women want an hourglass figure with a small waist and hips that are proportionate to the chest. In order to do this, the bottoms need to balance out the hips and buttocks.
Body Types
Before determining which bikini bottoms work best, women have to know what their body type is. This will help them choose bottoms that enhance their figure rather than take away from it. The following are the five main types of figures.
| Body Type | Description |
| --- | --- |
| Apple | These women have wider shoulders, a large chest, and smaller hips. This is often referred to as a V shaped figure |
| Circle | Circular women have a midsection that is larger than the upper and lower body |
| Hourglass | Those with an hourglass figure will have the easiest time selecting a bikini because they have a small waist and a chest and hips that are proportionate |
| Rectangular | Rectangular women have a small upper body and lower body with few curves |
| Triangle | These women tend to carry their weight in their hips, thighs, and buttocks so their lower body is proportionately larger than their upper body |
Some women may be in between body types. If this is the case, they can simply decide what figure type they most want and then determine how their lower body needs to look to meet that goal.
Types of Bikinis
Before discussing which bikini bottoms are flattering, it is important to first understand the types of bottoms to select from. These are the main styles that are available.
| Type of Bikini Bottom | Description |
| --- | --- |
| | These bottoms resemble daisy duke shorts that are made with swimsuit material. They are low riding and cover up the entire buttocks |
| | These bikini bottoms reach up to the belly button |
| | Hipsters have a waistline that falls between the hips and the belly button with high cut leg holes |
| | These bottoms rest on the lower waist |
| | These have regular bottoms that are covered by a mini skirt |
| | String bottoms are typically skimpier and they tie together on the side which makes them more adjustable |
| Traditional | Traditional bikini bottoms are more rare now. They are shaped like classic underwear and they cover a large portion of the buttocks |
Bottoms also come with various embellishments and features such as wrapped waists, ruffles, and folded over waist bands that resemble belts.
Selecting Flattering Bikini Bottoms
The way to flatter a figure with a bathing suit is finding the right shape and style that will complement the body. Here are a number of ways to manipulate a figure with bikini bottoms. All women have to do is choose the effect that they want.
Create a Bigger Butt
Avoid any bottoms with a lot of material and stick with the skimpier ones. Choose low waisted bottoms that rest on the hips to emphasise them and look for bottoms with ruffles or horizontal stripes that add volume. Skirts and wraps will also add volume.
Create a Smaller Butt
Avoid the skimpy bikini bottoms and opt for more material to cover the surface of the hips and buttocks. Stay away from patterns as well as stripes and choose darker coloured bottoms. Skirts will help cover up the buttocks and hips but may add volume.
Emphasise the Butt
To emphasise the buttocks, wear bottoms that tie on the sides and have minimal fabric. These will show off curves and maximise them.
Create Longer Legs
Wear high waisted bottoms with high cut leg holes and thin sides. Avoid anything that sits low on the hips such as boy shorts.
Create Shorter Legs
Opt for bottoms that rest on the hips and select wraps, skirts, and boy shorts for the best effect.
Create a Longer Torso
Wear low-waisted bottoms and look for features such as a princess seam line and thin sides. Vertical stripes on the bottoms will also add the appearance of a longer torso.
Create a Smaller Waist
To cinch in the waist, emphasise the hips and rear. Look for ruffles, a skirt, or princess seaming. Also avoid anything with a high waist.
Hide the Love Handles
Love handles are difficult to hide with a bikini because anything that presses in on the sides will make the love handles more noticeable. Stick with the bottoms that have thin sides and tie together. They can be loosened if need be and there is less material to press in around the back and hips.
How to Shop for Bikini Bottoms on eBay
Now that you know what to look for, the last step is to start shopping for the bikini bottoms. Remember to measure thoroughly so that you know what sizes to look for before starting. Luckily, bikinis give women the ability to order tops and bottoms in different sizes. To start browsing through a large selection of bikini bottoms, go to the eBay website and type what you are looking for into the eBay search bar. Enter in keywords such as "Bikini Bottom", "String Bikini Bottom", or "Blue Bikini Bottom". Once you have completed the search, you can customise it by editing your preferences. For example, select your size, whether you want a new or used swimsuit, what brands you like, and what your price range is. This will narrow down the products show so that you can find what you want faster.
To save time, add all of the suits that you like to your Wish List. Anything added to your Wish List will show up on your My eBay page for you to look at any time. This will allow you to compare everything you like without losing track of what you are doing. As you shop, be sure to look at all the product pictures and read the full description. Not all the pictures are exactly what is being sold. Sizes and colours tend to vary so it is important to be fully aware of what you are ordering.
The seller's feedback is particularly important because it will give you a good indication of whether or not their past customers are satisfied with the seller's performance and the product they purchased. However, if the seller has a Top eBay Seller rating, then it is less necessary to check their reviews because eBay has already classified them as a good seller.
Conclusion
It is difficult to fully enjoy warm weather without the ability to throw on a swimsuit and lie out in the sun or jump in the water. Swimming is the classic summertime activity that people from around the world look forward to. Its a way to cool off and soak up the sun at the same time. Rather than avoiding the fun altogether, women can simply find a pair of bikini bottoms that they feel comfortable and attractive in. Keeping in mind the different types of figures, the styles of bikini bottoms, what kind of bottoms flatter each body type, and where to find thousands of bikini bottoms to browse through, there is no longer any need for women to feel intimidated or overwhelmed when it is time to find a new bathing suit.