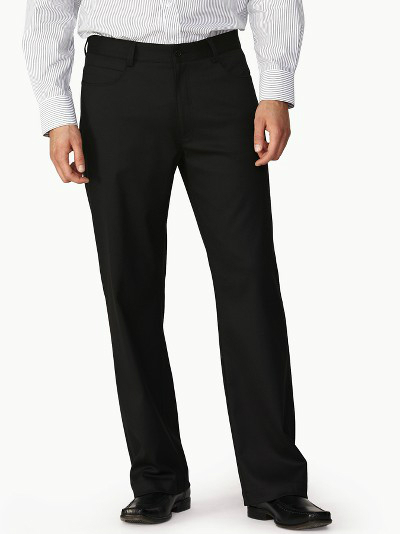 Trousers are one of the most basic elements of a man's wardrobe. While it may be acceptable in some communities to venture out without a pair of trousers, it behooves you to keep a pair of stylish trousers to be worn when the occasion calls for more than the faded denim jeans you have had for years. Your trousers say a great deal about your personality and lifestyle. Purchasing the appropriate pair of trousers for a given situation, or style, can be daunting, whether purchased from a department store or from online auction sites, like eBay. However, there are a few basic elements of trousers that you can consider before purchasing which can make for more rewarding purchases. When selecting a pair of flattering men's trousers for purchase, pay attention to the style of the trousers, how the trousers are intended to be worn, the fabric from which the trousers are sewn, and the sizing of the trousers.
Styles of Trousers
While trousers have been a predominant feature of men's wardrobes for centuries, the aesthetic design and fabrication associated with trousers has not been idle; there are any number of style changes and additions to what can be considered acceptable trousers. For simplicity's sake, you can eliminate some of the more bizarre or archaic cuts and focus on a few core elements.
Formal or Pleated Trousers
Often the first thing that comes to mind when contemplating trousers, pleated or formal trousers are the staple of office men and professionals. Pleated trousers are usually distinguished from other trousers by the presence of pleats, tiny double folds near the waist of the trousers; creases, a long fold in fabric that runs the length of the legs; and cuffs, the folded fabric at the termination of the leg. Pleats, creases, and cuffs all mean there is a bit more maintenance involved to make sure a pair of trousers flatters your body type and style.
Chinos
Chinos have become one of the most defaulted articles of clothing in a man's wardrobe, and for good reason. A solid pair of cleaned and prepared chinos, that is, either pressed, ironed, or hung such that the crease and pleats are maintained, can go a long way in making a positive first impression, without seeming ostentatious or stuffy. Chinos share many of the attributes of formal trousers, but blend them with more relaxed cuts, and casual appearances.
Cargos
Cargos ccan be summed up as trousers with pockets, pockets, and more pockets, and are usually instantly notable because of the pockets sewn into the thigh of the leg, just above the knee. If you need to have your electronics, tools, keys, wallet, and a bottle of water on your person at all times, but just cannot be bothered with a sack or bag, cargo trousers may be for you. Because the only distinction that defines cargo trousers are the supplemental pockets, they can be found in a variety of styles, and lack many of the unifying features that other trousers claim. This is to your advantage, as it allows you to wear cargo trousers that are suited to your tastes, whether you are more fond of looser fits or straighter legs.
Casual Trousers
Casual trousers are not necessarily the only trousers you can wear for casual encounters, however, they are uniquely suited to less-formal occasions, and they represent a style associated with them that remains distinct from other trousers. So-called casual trousers are characterised by their relaxed nature, and include many sport elastic waistbands, or drawstrings, as opposed to belt loops and badges. Casual trousers frequently also lack pleats, or creases, increasing the casual appearance and feel of the trousers.
How to Wear Flattering Trousers
While the style of the trousers presents their basic form, each style has a number of features which affects how the trousers are worn, and how you look wearing them. Many trousers are marketed with certain key phrases, like relaxed, classic, or straight, which normally indicate the fit of the trousers. Because the trousers are cut to these standards, you can usually expect to find leg and waist styles matched to each other, however, they are occasionally mixed.
Where the Trousers Sit
Regular trousers are designed to fit at the waist, often with the aid of a belt to correct for minute differences found between the waist measurement of the trousers, and your actual waistline. These are typically found in formal trousers and chinos, and less commonly in cargo or casual trousers. The latter two styles often feature a relaxed waistline, designed to hang from the waist, rather than fit to it.
The Trouser Legs
Regular or straight trouser legs are worn just as they sound: straight. The length of the trousers should match your inseam almost exactly, accounting for thick or thin shoe soles as necessary, so the cuffs or end of the trousers rest just above, or at, the ankle. Relaxed baggy trouser legs, often rest below the ankle line, and usually include a great deal of extra fabric, sometimes giving the impression of an oversized garment.
Fabrics of Flattering Trousers for Men
The fabric from which your trousers are sewn determines how the trousers look immediately after purchase, and after several weeks of ownership. The fabric also plays a part in determining how comfortable the trousers are, and how you must care for them, so choosing the appropriate fabric for your needs is of paramount importance. As a result of modern fabrication techniques, almost all of the fabrics are available in a wide range of colours; however, you should use caution when branching out into unfamiliar colour territory. One of the most popular trousers in the world are known as khakis, a name derived from the colour of the fabric from which they were originally sewn.
Wool Trousers
Wool trousers are usually associated with professionalism, and are often paired with a suit jacket to make the most of an outfit. If your intent is to be as professional as possible, a good place to start is with a pair of properly fitted wool trousers.
Cotton Trousers
Because chinos, also called khakis in other parts of the world, derive their name from a fabric of spun cotton worn by the military in antiquity, most cotton trousers fall into this category. However, cargo trousers and a few other varieties of trousers are made from cotton, favouring the advantages of cotton over other fabrics.
Linen Trousers
As a material for trousers, linen deserves special consideration. While you are able to find dress quality trousers made of linen, most linen trousers fall squarely into the casual trousers section, sporting relaxed fits, drawstrings, or elastics.
Sizing Flattering Men's Trousers
Finding the correct waist measurements for trousers is a relatively simple process. The waist size of the trousers you choose are likely to be slightly under the actual measurement you take from your waist; however, because of the nature of online purchases, you may wish to purchase at your waist measurement, and shore up the differences with a stylish belt . The length of the trousers should be a measure of the top of the fabric to the bottom, and is typically the measurement from where the trousers fit, or rest, at your waist to where they terminate, usually near the ankle.
How to Buy Flattering Trousers for Men on eBay
Your first step in purchasing a pair of trousers is to define your search by the type of trousers you want to purchase. For example, if you need a pair of chinos to help you convey a modestly professional appearance, beginning with a simple search for "men ' s chinos" takes you a long way to finding the most flattering pair of trousers. Once you have a decent sampling size of trousers, you can begin to narrow your selection down by adding other keywords to modify the search. One final common practice that can make searching for your ideal trousers easier is including the size of the desired garment in the search terms. For example, if you need a pair of trousers with a 36-inch waist, you may search for "men's trousers 36 waist&". As with any eBay purchase, you should double-check the seller's rating before making a purchase, as well as the post and parcel conditions and terms.
Conclusion
You must know by now that every man needs a pair of trousers that complements his style appropriately, whether that man strives for stark professionalism, or a more relaxed and casual tone. To that end, there are a wide variety of styles and materials from which to choose when selecting your ideal pair of flattering men's trousers. Of particular note to trouser selections are the wide variety of trouser styles available, like chinos, khakis, cargos, or the more formal trousers. Selecting the style that most appropriately fits your personal style and needs is of great importance. Beyond the style, you should be familiar with how the pair of trousers are to be worn. Choosing the right fabric ensures that you are also comfortable while looking your best, and finally, and maybe most importantly, selecting a pair of trousers sized to fit you correctly prevents your attempts at fashionable dress from being met with comical, or unflattering results.