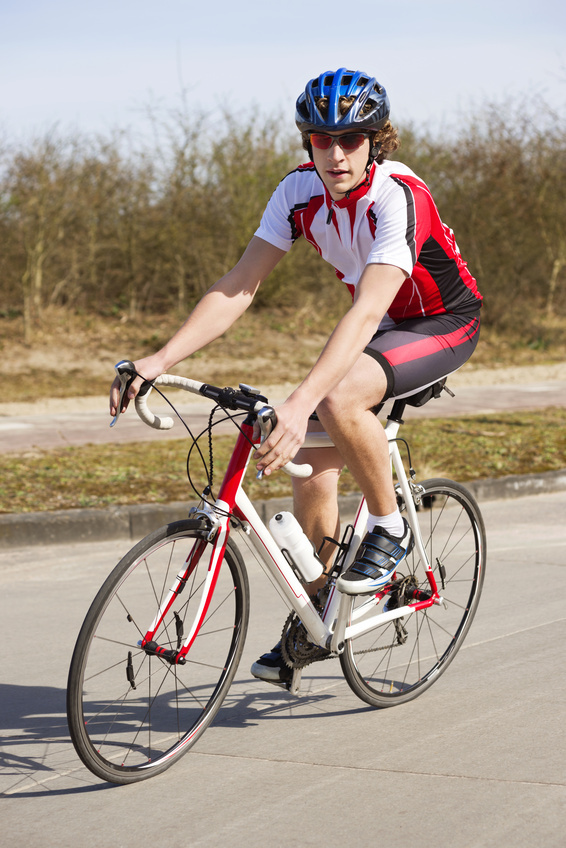 Skinsuits are a form of cycling clothing worn by cyclists competing in a criterium or time-trial. Skinsuits are used as opposed to cycling jerseys and shorts, or other tights combinations, as they give cyclists the best aerodynamic performance possible. Skinsuits are perfect for any buyers wishing to improve their speed, and are used in practice time-trials around the world. However, there are a number of factors to consider when searching for skinsuits, including the sleeve length and size, and it's important for buyers to be aware of these.
Although there are plenty of bike shops and specialist stores that sell skinsuits, all buyers are advised to search for these garments on eBay. The site has an unmatched selection to choose from, at prices much lower than those found elsewhere. The following guide shall examine some important skinsuit factors and will explain how to find these garments on eBay.
What Is a Skinsuit?
A skinsuit is a one-piece form-fitting garment designed for use in competitive cycling races. These races are known as criteriums, and involved multiple laps around a short course usually within a city. Whereas marathons require stamina and endurance, criteriums focus on speed. Because of this, the rider's equipment must be as light as possible. Skinsuits are the best choice for this type of cycling and act as a second skin, reducing air drag and enhancing aerodynamic efficiency. Amateur cyclists use skinsuits for practice sessions and to try and improve their speed in time trials.
Long or Short Sleeve Skinsuit
Although this may seem like a minute detail to first time buyers, choosing one or the other can make a big difference in speed racing. The reason there are two options is so cyclists have a choice of suit depending on the temperature of the area they are riding in. Skinsuits are used in competitive racing where micro fractions make the difference between first and second place, and feeling too warm or too cold can affect this.
| | |
| --- | --- |
| Long Sleeve Skinsuit | Cyclists wear long sleeve skinsuits in cold temperatures. This helps to trap body heat and keep it evenly distributed around the body. Wearing a long sleeve skinsuit in low temperatures will greatly benefit a cyclist. This option should also be worn at higher altitudes where the air is cooler and has less oxygen. Long sleeve skinsuits worn in warm temperatures will cause the cyclist to over-perspire and dehydrate, leading to a loss in speed. |
| Short Sleeve Skinsuit | As with the long sleeve option, it is important to wear short sleeve skinsuits in the appropriate temperature. These should be used on warm to hot days, and will help keep the cyclist cool. Wearing a short sleeve skinsuit in colder weather can cause numbness and a reduction in speed. |
Most skinsuits extend to just above the thigh, but it is possible to buy some that extend down to the ankle.. These models are less used for speed racing and more for long distance cycling.
Which Is Faster?
This is a very important question, as the point of wearing a skinsuit is to improve speed through the reduction of drag. Although every cyclist has his own opinion in regards to this, it is generally accepted that long sleeve skinsuits are the faster option. This is because more of the body is covered by the skinsuit. However, this is only true if the skinsuit fits perfectly, and any ripples or wrinkles in the fabric will counteract its purpose. If buying a long sleeve skinsuit try to get one that will fit as tight as possible. If unable to do so then it may be of more benefit to buy a short sleeve garment.
Skinsuit Sizes
Skinsuit sizes will vary from brand to brand, so it's important for buyers to find out what the sizes are for any skinsuits they are thinking of buying on eBay. Usually this information can be found in the 'Description' box on the item page, but if it is missing these details then use the 'Ask A Question' feature to request the size. Wearing a correctly fitting skinsuit is the key to improving speed, so it's important to make sure it fits. Wearing a skinsuit that's too tight will restrict movement, and wearing one that's too loose will cause air drag and a reduction in speed. Below is a general sizing for men and women's skinsuits.
Men's
| | | | | | |
| --- | --- | --- | --- | --- | --- |
| Chest | 34 – 35" | 36 – 38" | 39 – 41" | 42 – 44" | 45 – 47" |
| Waist | 27 – 29" | 30 – 32" | 33 – 35" | 36 – 38" | 39 – 40" |
| Size | XS | | | | |
Women's
| | | | | | |
| --- | --- | --- | --- | --- | --- |
| Chest | 32 – 33" | 34 – 35" | 36 – 37" | 38 – 39" | 40 – 42" |
| Waist | 27 – 28" | 29 – 30" | 31 – 32" | 33 – 34" | 35 – 36" |
| Size | XS | S | M | L | XL |
Skinsuit Material
Lycra is the chief material used in the manufacturing of skinsuits. Unlike cycling jerseys and shorts that are made to combat various weather conditions to promote extended cycling sessions, skinsuits are made mainly for racing and time-trials. Because of this, Lycra is the best option to use. This material is extremely tight fitting and very light, minimising weight and adding the aerodynamic element to the cyclist. The majority of skinsuit manufacturers develop and use their own special brand of Lycra, and the best way to find out how these suits cope on the road is by reading up about them on cycling forums.
Buyers may also find that a number of skinsuits have a second material such as nylon or polyester. These can help with moisture absorption and sweat wicking, and are ideal for use in hot climates or during summer seasons.
The Chamois
The chamois is the piece of extra padding sown into the bottom of the skinsuit, and acts as a buffer between the cyclist and the saddle. It is important for buyers to choose a skinsuit with a strong chamois, as the style of cycling involved in criteriums and time-trials can be very harsh on the lower back. A chamois will help distribute stress evenly along the backbones and will encourage the cyclist to sit correctly. The chamois also transfers sweat and moisture away from the body keeping the cyclist cool. Chamois tend to be made from polyester and an anti-bacterial gel or foam sponge.
Other Types of Skinsuit
Although skinsuits are mainly used in criteriums, some cyclists use them in other forms of competitive cycling and it is possible to get skinsuits more suited for these styles of racing.
| | |
| --- | --- |
| Triathlon Skinsuits | Skinsuits are very popular for use in triathlon races, as they mimic the effects of a wetsuit and keep the participant moving at optimum speed. Skinsuits made for use in triathlons have added insulation to protect against cold water and also have very fast drying properties. |
| Distance Skinsuits | Similar to the clothing worn by long distance road cyclists, distance skinsuits are much lighter and can increase speed and promote longer cycling sessions. |
| Velodrome Skinsuits | These are used in velodrome competitions or for track cycling, and usually use a combination of Lycra and nylon. |
Skinsuit Prices
Brand new skinsuits can be very expensive and most start at around £100, but it is very easy to find much lower priced skinsuits, and some of the garments for sale on eBay are priced as little as £40. However, buyers should be aware that in the case of performance clothing like this they get what they pay for. The less expensive skinsuits will not have the same performance capabilities as those sold for £250 or more.
Conclusion
Skinsuit cycling jerseys are excellent garments to wear if practicing time-trials or taking part in a competitive race. Skinsuits are one-piece jerseys that reduce air drag to improve speed and help a cyclist reach their optimum pace. Skinsuits are generally made from Lycra,, but some manufactures include a second material such as nylon into their garments. Buyers should always check the size to make sure the skinsuit will fit properly, as this is the whole point of this type of cycling clothing.
All buyers are advised to search for skinsuits on eBay, as the site has a selection at prices that cannot be found anywhere else. Keep in mind that the lower the price, the lower the capabilities. All buyers should spend some time browsing through the various skinsuits for sale on the site, and think about how often the garment will be used before making a purchase.