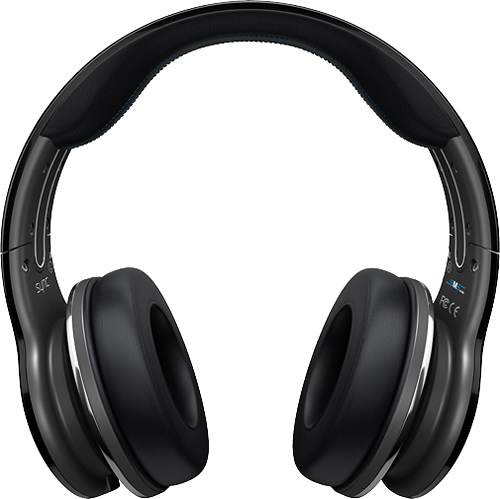 Choosing a pair of headphones for your PC, MP3 player, or TV is important because it allows you to listen to music or watch movies at any volume you want without disturbing the people around you and without being disturbed by the ambient noise. In addition to that, the quality of sound you can obtain from headphones is often higher than that provided by PC speaker systems.
The number of brands and styles of headphones has exploded over the years and they are not simple tools for listening to music anymore. They have become fashion accessories and objects of desire in which many people choose to invest. There are two main types of headphones, in-ear and over-the-ear styles, both coming with both advantages and disadvantages. By learning more about the characteristics and technical specifications of different types of headphones, you can be well prepared when it comes to buying the ultimate pair of headphones.
Types of Headphones
Used at home to listen to music or watch TV or on the go with digital music player or portable DVD players, headphones have become a must-have accessory. They are available in all sizes and forms and choosing the right style is a matter of taste. You should consider some aspects when it comes to choosing your ultimate pair of headphones, including the way you intend to use them and the devices you plan to connect them to.
Earbud Headphones
Earbuds are some of the most common types of headphones and they are worn at the entrance of the ear canal. This is the type of headphones that often comes with music players. You should note, however, that many manufacturers choose to provide entry-level headphones, which may not provide an excellent sound quality. Many users choose to replace them with a pair of high-quality earbuds upon the purchase of the player. These headphones do not seal the ear completely, which means that some of the audio may leak and sounds from the outside can still reach the ears. If you are looking for a pair of headphones that allows you to lose contact with the environment, you may want to look into noise cancelling models.
In-Ear Sound Isolating Headphones
In-ear headphones offer better sound isolation than earbuds and they have several other advantages on top of that. Most models are equipped with a silicone nozzle that fits into the ear canal. This system is ideal for those who want to isolate the outside noise, but not completely. Complete isolation is potentially dangerous, for example when it comes to cyclists who can no longer hear the sound of car engines. On the other hand, these headphones allow users to enjoy their music on a train or plane without too much distraction, thus being ideal for commuting.
Noise Cancelling Headphones
Noise cancelling headphones block the sounds of the outside world by inverting them and summing them with the signal received from an audio source. This results in an almost complete cancellation of the ambient noise, allowing users to enjoy their music to the fullest. Some models require batteries for the noise cancelling mode, while others do not. These types of headphones are ideal for users who wish to enjoy their audio signal in loud environments such as train or planes, or simply to block out the sounds in their office while focusing on their work.
Wireless Headphones
Wireless headphones are only intended to be used at home. The sound quality may not be up to the standard of their wired counterparts. The technologies that transmit the sound from the source to the headphone may differ, the user being able to select from radio frequency, Bluetooth, or infrared. These ways of transmitting sound may be cause for numerous disturbances and thus reduce the quality of the sound. The main advantage of purchasing a pair of wireless headphones is the fact that they can be used while performing various activities around the home, such as gardening for example.
Open Back vs. Closed Back Headphones
Open back headphones feature small holes that allow some of the sound to leak to the outside. On the other hand, the sound is trapped when it comes to closed back headphones. Many high-end headphones are open, mostly because it is rather difficult to reproduce a high sound quality with closed back styles. Some of the best audiophile headphones, for instance, are open back styles. The only downside of using open back headphones is the fact that the sound may leak from them, especially when listening to music at high volumes, and can be heard by other people nearby. Moreover, open back headphones are not suitable for listening to music in very loud environments because they lack isolation from external noise. If you are looking for the ultimate pair of headphones to use in spaces where sound leaking may be a problem, such as offices or libraries, you should choose a closed back style of headphones.
Choosing the Best Headphones for Specific Use
There is more to choosing a pair of headphones than their style. The way you intend to use them is an essential factor to take into account as well, as not all styles are suitable for all kinds of activities. Some of the most common reasons for which people are looking to buy a high-quality pair of headphones are sports, travelling, and home use.
Sports Headphones
Many people who enjoy an active lifestyle choose to take their favourite music with them when they work out. Even though it is possible to use the typical earbuds provided by the manufacturer of your player when working out, you should know that there are plenty of headphones intended for sporting. Some of the most important features that make a pair of headphones suitable for sporting activities include resistance to sweat, secure fit on head and ears, as well as a reasonable level of sound isolation. This means that your sports headphones should allow you to work out without distraction from people nearby at the gym, but provide you with safety when using them in the outdoors.
Travelling Headphones
A pair of high-quality headphones is ideal for zoning out from the noise around you. Whether you are commuting daily or are simply looking for headphones for leisure travelling, the best type of headphones for this kind of activity is one that reduces the noise around. You can choose from noise cancelling or in-ear isolating headphones, depending on your preferences. Noise cancelling headphones are ideal for airline flights because of the high level of noise involved, but many people choose sound isolating in-ear headphones due to the increased level of comfort.
Home Use Headphones
When it comes to headphones for home use, you should consider a pair of closed back headphones, which allows you to block the outside world completely and immerse into your favourite movies or music. Because you use them at home, you should not be worried about the size of the headphones. However, if you are planning to use them for extended periods of time, you should look for a lightweight pair of headphones.
How to Find the Ultimate Pair of Headphones on eBay
The multitude of headphones available on the market may make the choice of the right pair a very difficult one. With so many factors to take into account, you may find yourself at a loss when it comes to shopping for headphones. Fortunately, you can make your quest for the ultimate pair of headphones much easier by choosing to shop for them on eBay.
The good news about shopping for headphones on eBay is the fact that it is very easy to locate the pair of your dreams. All you need to do is type the words 'headphones' into eBay's search bar and you immediately get several pages of results from a variety of sellers. As the results may prove to be overwhelming, you can easily narrow them down by type, colour, price, brand, and more. Make sure you read all the information provided by the seller before committing to buy a certain pair of headphones.
When shopping for the ultimate pair of headphones on eBay you can choose from both new and used devices. In addition to that, you can save some money by choosing to buy from a seller located in the area you live in and collect the item in person if possible.
Conclusion
Whether you are looking for a pair of large headphones to use with your home PC or want a new pair of earbuds to enhance the way you listen to music on your portable digital music player, the choices are countless. Choosing a pair of headphones that suits you well is both a matter of taste and budget, so you should do your research accordingly. Most types of headphones come in various budget ranges, so there should be something for everyone regardless of the style you are interested in.
There are numerous places where you can shop for high-quality headphones, but the largest selection is certainly available online. eBay is a good place to start your quest. The website offers a user-friendly search system as well as a large selection of headphones, so chances are you can find the ultimate pair of headphones with as little hassle as possible.