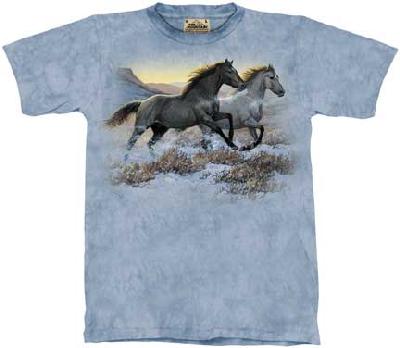 Originally designed to be worn as an undergarment, it is only in the last five or so decades that the thin, cotton chest covering known as the T-shirt has come to be an acceptable form of attire for outside wear, for both men and women. Though the T-shirt is still sometimes worn as an undercovering or as part of a layered look, most often it is simply a cool solution to staying comfortable during the hot months of summer.
Modern T-shirts typically feature no collar, short sleeves, and a round neckline. However, there are long sleeve T-shirts as well as those which feature collars, buttons, v-necks, and multiple other variations of the original. T-shirts are usually inexpensive to make, but highly customisable. As a result, they are frequently used for marketing. Screen printed T-shirts first became popular in the early eighties, today the options for printing words and a design on T-shirts is near infinite.
Finding T-Shirt Style and Size Options that Suit Any Figure
T-shirts suggest a breezy, go-anywhere attitude. They are frequently sold as gender-neutral, shapeless "for fun" clothing at events like carnivals, concerts, and other community and private functions. However, there are also many manufacturers producing stylish, quality T-shirts that provide a flattering fit for people of all sizes, ages, and genders. Even top-notch designers tend to have a few T-shirts on the line each year, as the casual piece of attire has becoming increasingly trendy.
Anyone can wear a T-shirt, regardless of their gender, age, or body shape. However, the trick to looking good in a T-shirt is a bit more complex. Available in an ever-growing variety, there are some styles of T-shirts that are made to accommodate one type of body over another. Just as is the case with any other type of clothing.
Male vs. Female
Today there are T-shirts cut to accommodate the variables in shapes between the genders. Men's T-shirts tend to be boxy, even slightly baggy. As a result they do not fit the female form quite the same way as they would the typical male form. Female T-shirts are lighter, cling more, and feature an indent where most female waists go in ever so slightly. This nod to the feminine curviness lends itself well to the common, womanly figure. As a result, it is smart to purchase T-shirts that feature a gender-friendly cut, including options which are slightly fitted to accommodate the female form.
The Size
T-shirts lose their appeal when they are ill-fitting, particularly when it comes to the female shape. However, wearing a T-shirt well means finding the right size and fit, regardless of gender. Purchase T-shirts only in an appropriate size, but also an appropriate length. Taller individuals need to look for shirts that feature a long-cut or those that are marked as "tall". The standard T-shirt is likely to fall too high on the body, leaving an exposed midriff. If this is the look that one hopes to achieve, then that is just fine, however many people feel sloppy and out of sorts with their stomach showing and some cuts of T-shirt are simply not meant for this style.
The Scoop on Necklines
Though most T-shirts have a round-shaped neckline there are other options. Finding the right style of neckline goes a surprisingly long way toward ensuring a good fit and can make all the difference in how the shirt looks and feels. Though they are somewhat stylish and look fabulous on many people, not everyone's body type lends itself to the extremes of a v-neck. While they are common and considered standard, there are also some body types who should stay clear of the classic crew-cut neckline.
Read the chart below to find out more about the differences in T-shirt necklines as well as the pros and cons of each style to determine what options are best suited for a specific body type.
| Style of Neckline | Description | Style Guidelines |
| --- | --- | --- |
| Boatneck | Features a wide-cut, barely resting on the shoulders | Balances wide hips, but may also exaggerate broad shoulders |
| Cowl-neck | Features an additional, thin flap of fabric surrounding the neckline, particularly in the front | Great for increasing the bustline of the small chested, but may also detract from the naturally busty |
| Crew neck | The standard, round-cut style of T-shirt meant to fall right at the base of the neck | A classic option, the crew will fit many body types well but it has a way of exaggerating a large bust, short neck, or double chin |
| V-neck | The cut of the neckline is shaped like a "V" rather than a circle | The v-neck T-shirt is widely believed to be acceptable for all shapes, though a too-deep cut may lead to a saggy looking bust or simply too much skin |
| Scoop neck | A round-shaped neckline, option has a larger "scoop" than the standard crew neck | Accents the collar bone and lengthens the neck. Best avoided by those with overly-round faces or broad shoulders, as it may exaggerate these features |
Purchasing the right style of T-shirt helps to move the standard T-shirt from frumpy to fashionable. Looking for shirts that fit one's body shape and accentuate the positive, while detracting from negative features, is a good fashion move. Wearing clothing meant to accentuate the positive aspects of one's body type boost confidence and improves presentation. Finding the right T-shirt is no exception to this rule.
Proper T-Shirt Care and Maintenance
Proper care of T-shirts helps to extend the life of the soft, cotton fabric, as well as any words or images imprinted on the piece of clothing. With T-shirts being such a huge part of modern attire, it is important for all consumers to be aware of the common tips for handling the cleaning and maintenance of the standard T-shirt.
Laundry
Though most T-shirts are labelled for cold-water wash cycles, experts claim that detergent works more effectively at warmer temperatures. Since hot water can lead to shrinkage, it is best to stick with a safe, moderate solution in the form of a warm wash. It is best to maintain a fairly gentle cycle, as T-shirts can rarely withstand too much of a beating without beginning to fall apart. Keep T-shirts with like colours, particularly if cleaning a load of white. Adding in additional colours to a white load will most assuredly lead to staining.
Once it is time to dry, stick with either a line dry or use the permanent-press cycle. If a white T-shirt did end up getting washed with a red sock and bleeding has occurred, try using a toning agent in the next wash, to help reduce to effects of the staining.
Though most T-shirts are iron-safe, ironing a shirt will lead to faster wear and tear. For this reason the action should be done sparingly. Also, it is important to avoid ironing over emblems or other printed portions of the T-shirt.
Storage
It is best to hang up or fold the T-shirt as soon as it comes out of the dryer or off the clothesline. Though T-shirts can be ironed, to do so will wear down the delicate fabric of the shirt faster, especially if starch is used.
When placing a T-shirt on a hanger, go from the bottom up with the hanger, so as not to stretch out the neck. Also avoid pulling on the shirt or pulling your arms through it when being worn.
Finding T-shirts on eBay
eBay offers a great opportunity for consumers of every size and gender to find the ultimate T-shirt for their needs. To uncover an unbelievable amount of options simply type the phrase "T-shirt" into the search bar located on eBay's home or fashion page. To make for a more manageable collection of listings, try something more specific like "women's scoop neck T-shirt small" or "long sleeve T-shirt red". The more specific your keywords, the smaller the listing will be, but with T-shirts there may still be a lot to sort through. You can use the various refinements offered by eBay to narrow them to better fit your search criteria.
Get to Know the Seller
Getting to know the eBay seller is a relatively simple task thanks to the availability of eBay feedback profiles. These profiles, which you will find for every seller on eBay, feature ratings from previous clients, as well as information about the seller's whereabouts and an option to send a private message with any questions or concerns that may come to mind.
Conclusion
The T-shirt was once a form of undergarment, originally designed from splitting long underwear in half to make a top and bottom piece. Today the once-taboo undercovering, used by both genders, is an exterior form of gender-neutral clothing.
Though many people still opt to wear T-shirts under their sweaters and golf shirts, the option is easily one of the most popular forms or outer garments on the planet. Inexpensive to make and easy to print on, the standard T-shirt is a popular choice for school, club, and marketing attire.
As the T-shirt has exploded in popularity over the last few decades, so have the design options. Several different styles of T-shirt exist today, each offering benefits to certain body types. Finding the right type of T-shirt for one's body type is a great way to add this comfortable, frisky type of outerwear to one's everyday wardrobe.