Boys grow considerably fast during their formative years, requiring a new set of clothes every now and again. Buying a boys' coat requires that you pay to its style, because what he does not like, he might never wear. Besides, factors like functionality and durability should not pass a buyer's attention in the hunt for affordability.
Boys' Coat Type

If you expect your son, grandson, or nephew to snowboard, sledge, or ski, choose a good boys' ski jacket that can deal with extreme weather conditions. While typically expensive, you can find affordable options with used coats. A good extreme weather coat is waterproof, comes with insulation, and offers sufficient breathability. A boys' winter coat with down insulation is ideal for cold weather. Genuine down is more expensive and hard to maintain, and people looking for affordable alternatives are better off looking at synthetic down variants. Boys' three-in-one coats for winter sell with zip shells and detachable liners, and a boy can wear such a coat in different weather conditions. He can wear the fleece layer on cool days, the shell when mild and wet, and both together for warmth as well as protection from rain.
Size
Ill-fitting coats are not comfortable, and a boys' coat should be comfortable and allow for maximum movement because boys are typically active. A well-fitting coat should offer a snug fit and leave room for an added inner layer in the form of a jumper. Shoulders should not be cramped, sleeves should cover wrists, and the length should not be constrictive. People who plan on buying larger than required coats to postpone buying the next should avoid doing this, not only because of the comfort factor, but also because there is no telling how quickly or slowly a boy grows.
Is One Enough?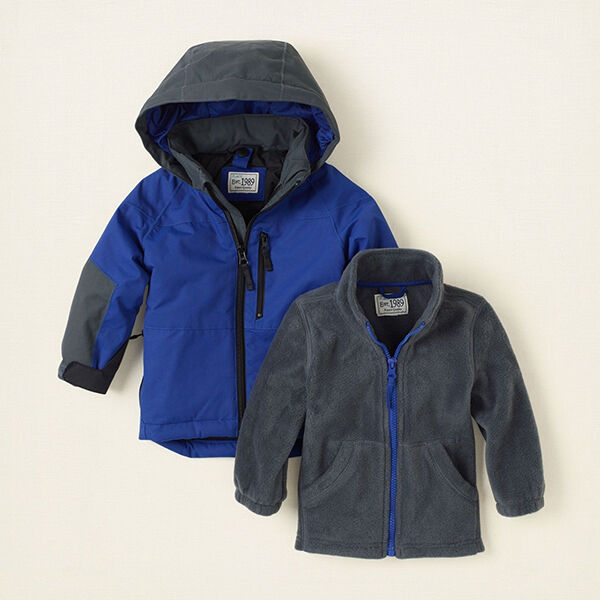 Ideally, a boy should have two coats, one that he can wear in the winters and one in the spring. While a two-in-one or a three-in-one jacket does serve the purpose when dealing with this scenario, a boy might want two or more just for variety.
Buying Used Coats
Buying a used boys' coat gives you the means to afford high quality boys' designer coats. However, as with any other used item, pay attention to the condition. Check for wear and tear in the form of discolouration or fading, split seams, frayed cuffs, broken buttons, and damaged zips.