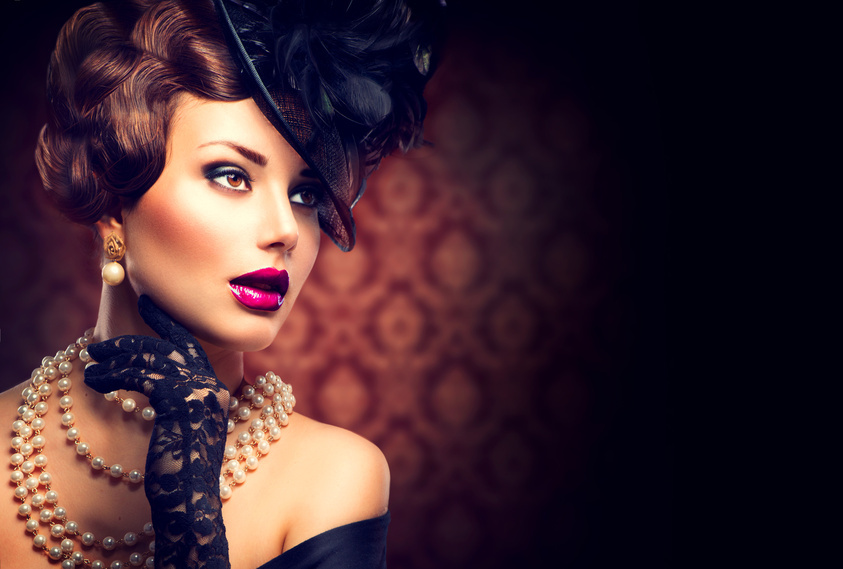 Antique pearl earrings are not just beautiful heirlooms; they are a welcome addition to any modern wardrobe. The beauty of vintage pearl jewellery never goes out of style, and a special pair of antique pearl earrings is perfect for a wedding or other special occasion. Choose the right pair of antique earrings with pearls for you based on your aesthetic preference and budget, and add glamour to any look in an instant.
Earring Style

Though all pearl earrings have a certain classic beauty, there may be a style of earrings that appeals to you more than others. The most popular type of antique pearl earrings is drop earrings. Drop earrings dangle from the earlobes, adding drama to any look. Delicate and feminine, pearl drop earrings come in two distinct shapes: teardrop-shaped pearls, which have an elongated look, or the traditional sphere of round pearls. Some vintage drop earrings include filigree leaf or flower details for decoration. Common earring materials include bronze for a vintage look, gold, or silver. Some drop earring styles incorporate more than one pearl for longer, flashier earrings. Another popular style of antique pearl earrings is pearl studs. Simple and sophisticated, vintage pearl studs come as single pearls, or they have adornments like the tiny gold bows that adorn pearl studs of the Edwardian era. Double pearl studs were popular during the Art Deco period. Pick pearls with standard closures or clip-on styles.
Faux or Not
Though most antique pearl earrings are real, you may come across antique faux glass pearls from time to time. There is a price difference, so you must decide whether you wish to own faux pearl earrings or genuine pearl jewellery. Faux pearls are costume pieces that may not last as long as the genuine article. Some pearl earrings include gold plating instead of actual gold. Determine your budget before you shop, to see if you wish to purchase pure metal earrings with real pearls or simply pieces of vintage costume pearl jewellery. Real pearls do vary in colour, especially vintage pearls, so do not be surprised if your pearl earrings are more cream coloured than white.
Pearls and Stones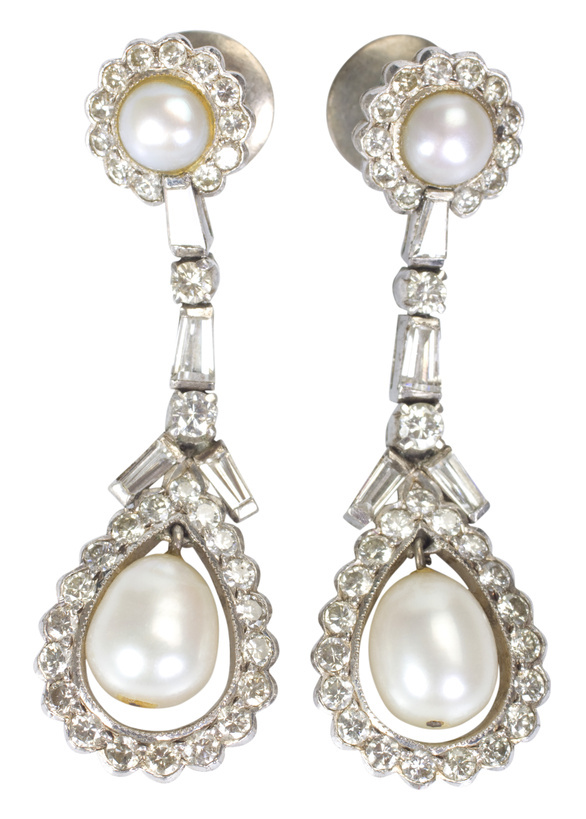 A popular look for vintage pearl earrings is surrounding the pearls with other precious gemstones. Choose pearl studs surrounded by sparkling diamonds, or pearl drop earrings with dangling sapphires or amethysts hanging from the pearls. Some Edwardian styles feature agate stones and dangling pearls. Art Deco pearls combined with amber glass make a stylish statement. Choose Victorian pearl earrings with tiny turquoise details or mixed with sparkling coloured crystals. Chandelier pearl earrings that include diamonds are another lavish option, or choose subtle cameo earrings with dangling pearls. Complete your look with an antique pearl ring, bracelet or necklace.