There should always be a few garments in your wardrobe that look equally good in formal and casual settings. Long skirts are comfortable, stylish, and suitable for numerous occasions. They are made from variety of materials and come in several patterns and designs. You should choose long skirts that flatter your body shape.
Long Skirts for Hourglass Figures
If you have an hourglass figure, you should choose maxi skirts that complement curvy hips and larger thighs. Skirts in dark colours, such as brown skirts, made of loose, flowing fabrics are ideal. Flat fronted skirts that have a close-fitting waistband highlight a slim waist, while drawing attention away from wider hips. If you enjoy wearing long patterned skirts, ensure that the dominant design has vertical lines that add length to your figure.
Long Skirts for Petite Figures
Petite women run the risk of looking frumpy in longer garments. To avoid this, you should choose slim skirts with high waists to lengthen your frame. A skirt that fits snugly around the hips and thighs provides a sleek line, and solid colours streamline the body. Patterns should not be too busy because they can make the frame appear smaller. You should ensure that the skirt just reaches the ankles because longer garments make you look shorter.
Long Skirts for Apple Figures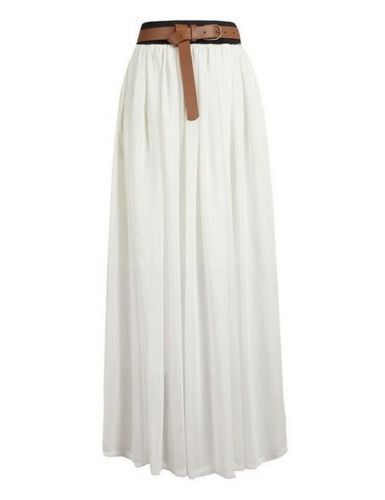 Women with apple figures have rounder stomachs and bottoms. You should avoid long skirts that have tight fabric at the top that accentuates the roundness of the midsection. Instead, choose a drawstring skirt with a waistband that adjusts easily. Skirts made from flowing fabrics, such as chiffon, with flared hem lines draw the eye downwards, away from the stomach. You should wear solid colours on the top half of the skirt, but if you choose patterns, the dominant design should be towards the lower half of the garment.
Long Skirts for Tall, Slim Figures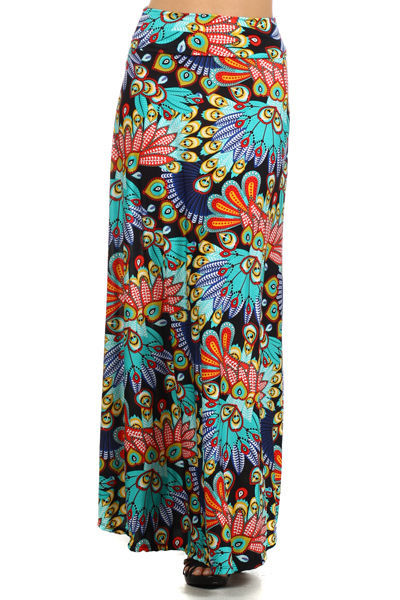 Women with tall, slim figures often require skirts that add more volume to their lower body. Ruffled designs made of chiffon and gypsy skirts add the illusion of curves. Long pleated skirts add more shape to the hips, while garments without an elastic waistband disguise a short midsection. Skirts in two colours help to shorten a frame, and multiple layers of fabric offer a boost to boyish straight figures.