Dr. Martens shoes incorporate a whole subculture that started with youth trying to look and behave differently than their parents. These shoes are bold-looking and best for individuals who dare to be rebellious, expressive, and free-thinking and are available for both men, women and kids. When you put on a pair of Dr. Martens shoes, you are making a statement and a pair of vintage-style Dr. Martens adds to that.

Features of Dr. Martens Shoes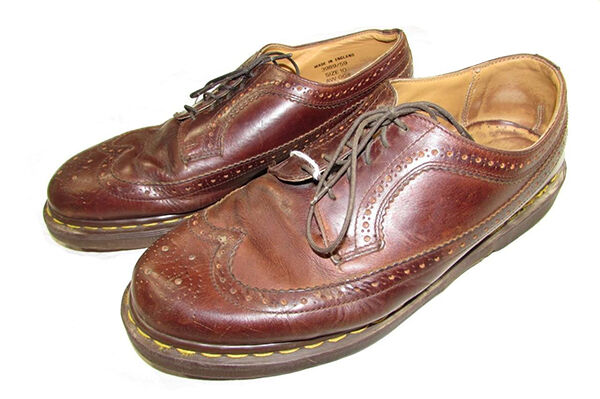 Some features of Dr. Martens have stood the test of time and you can find them on vintage models. The classic stitch for the shoes is the Z stitch, which is typically a yellow stitch that connects the welt, insole, and upper. However, the stitch could also match the colour of the shoes or be hidden. In addition, the traditional method of shoe construction, stitchdown, includes stitching and cementing the upper directly onto the sole without using a welt. A typical welt, the PVC edging on the upper that joins the insole and the upper as well as provides a base for the sole, is the Z welt that uses yellow stitch or self stitch. In case of plain welt the stitching is hidden, while notched welt has decorative notching and grooved welt comes with grooving detail.
Dr. Martens Materials
The most common upper material for a pair of Dr. Martens is leather, more specifically, durable and strong full grain leather. The leather can be natural grain, which has many of the characteristics of natural leather, such as colouration and texture. The leather can also be corrected grain leathers with a more even surface thanks to wax and polishes. Traditionally, the sole of Dr. Martens shoes features a PVC compound that resists oil, petrol, fat, alkali, and acid. Blown soles use the same material as PVC soles, but they also include some air that makes the soles lightweight.
Popular Vintage Dr. Martens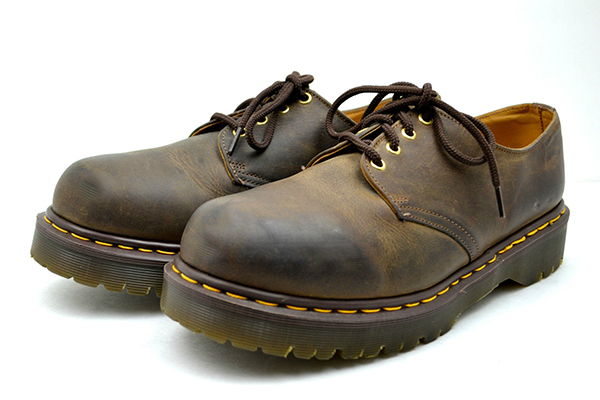 The most iconic Dr. Martens boots and shoes include Vintage 1460, Vintage 1914, Vintage 1940, and Vintage 1461. These models have stood the test of time. The leather for all of the vintage models is Quilon leather, a reissue of Dr. Martens' classic leather. It has a smooth finish and is durable. The 1460 are ankle boots with heat-sealed upper and sole as well as Goodyear welt. This is the direct replica of the very first boots that came out from the factory back in 1960. The classic 1461 shoes from the Core MIE (Made In England) collection come with three eyelets and use classic leather with a smooth finish. The Vintage 1914 is a lace-up boot with 14 eyelets, while the Vintage 1490 comes with 10 eyelets. All the vintage boots come from the original factory and use the same time-tested construction techniques.