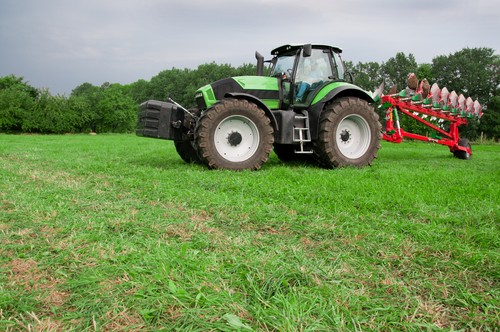 Tractors used in an agricultural setting offer exceptional features that help individuals and businesses who use this equipment get their jobs done faster and safer. Sometimes, with the right features, a tractor can almost drive itself. Built to haul farm equipment and provide heavy traction at a slow speed, tractors power a wide variety of farm implements through the equipment's Power Take Off (PTO). Some features, such as an on-board computer interface, allow further interaction with implements. One example includes inputting the spacing on rows when using seed-planting equipment.
While tractors and agricultural equipment often can sometimes cost a lot, farmers have some options for cutting those costs when purchasing items. These options include keeping the features down to a minimum and buying used or refurbished agricultural equipment, as opposed to new. Shoppers can find a variety of new, used, and refurbished farming items online at eBay. Before making a purchase, though, make sure to find out more information about tractor types, implements, and features, as well as how to cut the costs of agricultural equipment on eBay.
Types of Agricultural Tractors
Modern agricultural tractors offer users the best in technology. When trying to cut costs with a piece of agricultural equipment, shoppers need to know for what specific purposes they need the tractor for and then select the best tractor for the jobs at hand. The following table details some of the different tractor types available, such as farm, garden, and utility tractors.
| | |
| --- | --- |
| Agricultural Tractor Types | Description |
| | Used primarily for the pulling and operation of farming implements; modern farm tractors have enclosed compartments |
| | Smaller than a farm tractor; used primarily in a domestic setting for tending smaller gardens and fields |
| | More of a workhorse type tractor; used for more mundane tasks, such as towing various equipment; various attachments available |
| | Tractors allow for the attachment of a variety of equipment; some engineering tractors have tracks for better traction |
| | Combines serve the purpose of harvesting crops; allows for the quick processing of crops and can separate out the junk in the crop |
After determining the tractor that best fits your needs, next decide which features and implements to buy in addition to the tractor. The various features and implements affect the final price paid for agricultural equipment and play a large part in the type of tractor that shoppers can afford.
Types of Farming Implements
Working the fields on a farm involves a lot of hours using various pieces of farming equipment. Luckily, farmers have a variety of implements to help them while working, including various tractors, ploughing implements, seed planters, and more. The table below contains a variety of details on some of the more common implement types.
| | |
| --- | --- |
| Farming Implements | Description |
| | Used to plough the ground; can come in either a three-point hitch or wheel mounted hitch type plough |
| | Disc ploughs allow for the cultivation of a wider area of soil; also useful for chopping up old crops and weeds |
| | Plants seeds in the rows when dragged across a field by a tractor; most contain from two to 48 rows of seeds; farmers can adjust spacing |
| | Plants and covers the seeds once placed into the ground; also makes ditches for the planting of seeds |
| | Sprays chemicals onto crops to remove unwanted pests; also useful when watering crops or spreading other liquids |
Shoppers can find a variety of other implements at various farm supply shops or online. When purchasing implements, shoppers should make sure they fit the tractor that they own, as some tractor brands have equipment specific to their use.
Features Available for Modern Tractors
When shopping for a tractor, shoppers have a wide selection of features available. Most often, shoppers must choose between the features they want and the tractor's cost. Keeping all of these considerations in mind, they should compare what they want to the set budget. The section below details some of the more common tractor features, including GPS, auto steering, and load-sensing technology.
| | |
| --- | --- |
| Tractor Features | Description |
| | Gives users the ability to farm at any time of the day or night; saves farmers money; can tend fields in inclement weather |
| Telematics | Allows the tractor to communicate problems to the farmer or dealer; remote diagnostic also possible |
| On-Board Computer | Farmers can program the tractor in the field; allows for the setting of various tractor equipment clearances and heights |
| Auto-Steer System | Uses GPS to guide the tractor along straight rows; Once the tractor needs to make a turn, the driver takes over |
| Load-Sensing Technology | Load sensors help save fuel by providing horsepower when needed; allows tractors to use larger attachments |
| Power Take Off | Also known as the PTO; powers the various tractor attachments; power provided via a shaft turned by the power of the engine |
While some tractor features, such as PTO, come standard on most farm tractors, shoppers can find other features, such as GPS and auto-steering, on more modern tractor models. Always make sure that any tractor purchased has the most important features sought, as this ensures that the tractor can perform the functions the owner needs most.
How to Cut the Costs of Agricultural Equipment on eBay
Agricultural equipment can sometimes get expensive. Farmers looking to save money when purchasing tractors and the implements that go with them have a few options to consider. The sections below give information on ways shoppers can cut costs when buying agricultural equipment, including only selecting necessary features and buying used or refurbished equipment.
Fewer Features
One way to reduce the cost of a tractor, implement, or other piece of farming equipment involves limiting the features available. A barebones tractor costs less than one with an on-board computer, auto-steering system, load-sensing technology, or a GPS system. If shoppers feel that a certain feature is necessary, they should compare various tractor models to find equipment with a price that fits within their budget.
Used
Another option, buying used tractors and equipment, allows for a less costly alternative to buying new items. Agricultural equipment remains durable for years after purchase. When properly cared for, this time frame increases to decades. Shoppers need to keep this in mind when purchasing used equipment. They should also look at any maintenance records if available. This allows shoppers to see just what mechanical work the piece of equipment has had performed on it.
Refurbished
Refurbished tractors and equipment provide shoppers even another alternative to purchasing new items. With refurbished items, manufacturers replace worn and damaged components with new parts. This can make many refurbished pieces of equipment almost as good as new. For shoppers wanting items better than used, but not at the price of new, should consider refurbished agricultural equipment.
Increased Budget
One area that shoppers might not think of involves the budget itself. Can they increase the budget in any way? Maybe shoppers can forgo a more expensive implement that they have their eye on to allow for the purchase of a more costly tractor with some of the features that they want.
Considerations When Purchasing Older Equipment
When buying older, used, and refurbished equipment, shoppers need to keep in mind the added cost that such equipment can bring. While the initial costs of buying used or refurbished equipment are lower, the long-term use of such equipment can cost more in other areas. The following section details some of the pros and cons of buying older equipment.
Repair Costs
As machinery ages, repair costs increase. Even with refurbished equipment tends to break down more than a newer item. As long as equipment owners take into account these extra costs, purchasing used or refurbished agricultural should present a good deal for the money a shopper spends.
The Changing Costs of Machinery
One thing to keep in mind is that interest rates run higher with new equipment. This rate diminishes over time leading to a better long-term investment. Repairs can replace this cost to some degree, but for the most part, machinery should last for decades, especially if properly maintained by the owner.
Popular Brands of Modern Tractors
While most tractors and other farm machinery operate in the same fashion, shoppers can find a variety of different brands online. The following section contains a listing of some of the more popular brands of farming equipment.
Allen
Bamford
Case
Claas
Ford
Howard
JCB
Kubota
Massey Fergusson
New Holland

Find Modern Tractors on eBay

To find a modern tractor or other accessories and components on eBay, just enter keywords into the search box on any eBay page. Use terms like "chain harrow" or "farm tractor", for example, to begin your search. After viewing the results, you can narrow the choices by clicking on the categories options to display only the listings for particular items. eBay's search tips page gives more advice on searching for tractors with keywords, and eBay shops also feature product options.

Buying products online at eBay provides shoppers with a quick, secure, and proven way to find quality products. Many top sellers on eBay even offer free shipping for some products. When browsing a seller's product page, make sure to take notice of the product's condition, size, colour, and other specifications. Contact the seller if you have any more questions. Just click the Ask a Question link on the seller's listing page and ask a question. Sellers typically respond within 24 hours.

Before purchasing a product, browse the seller's feedback rating, which provides valuable information about the seller's past sales performance. Ratings include information about product quality, shipping, and customer service.

Conclusion

For those individuals or businesses using tractors in an agricultural setting, make sure to find equipment that features the specific equipment necessary to get the job done. From load-sensing technology, to GPS, to Power Take Off, utilize the necessary features, but do not go overboard if the set budget is limited. Also, consider cutting the cost of agricultural equipment by buying used or refurbished tractors. Doing so can save money up front. And with manufacturers making products that last much longer than in the past, even a used or refurbished tractor can run for years and even decades.

So whether buying a farm, garden, utility, or other tractor, remember to assess the other implements needed, like a row planter or a seed drill. And remember that shoppers can find a variety of new, used, and refurbished farming items online at eBay, where sellers offer high-quality and reasonably priced equipment, including modern tractors.