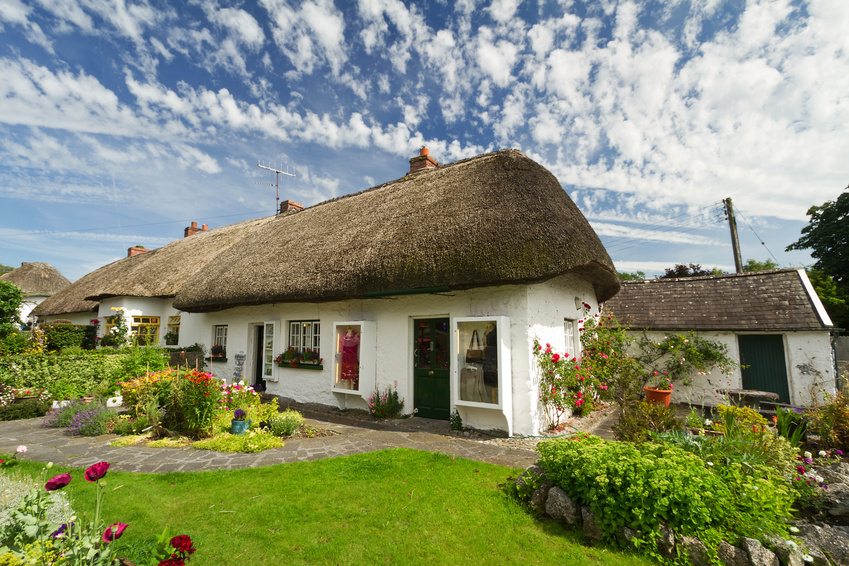 Beautiful, emerald coloured fields, rolling hills, and hospitable accommodations await the family lucky enough to holiday in Ireland. Planning for a fun, economical trip requires a bit of forethought. Tourist attractions to visit, mode of travel, budget, and sleeping accommodations should all be planned well in advance of the journey to ensure a better price and reduce the stress related to trying to do everything at the last minute.
Most families have strapped budgets when it comes to yearly holidays. However, Ireland can be an affordable and family-friendly option, as long as one puts in the effort to plan ahead and find discount deals. Putting some thought into details such as the destinations the family wants to visit and the preferred types of accommodations is part of the planning process. Additionally, finding the right source for making travel arrangements is also important, and therefore having an awareness about the various options available is helpful.
Accommodations
Finding the right accommodations on holiday is often the foundation for the entire trip. It is important to select a comfortable, safe place that is family friendly. Since accommodations take up much of a family's holiday budget, it is also important to choose an option that is reasonably priced.
There are different types of lodging in Ireland. With hotels, bed and breakfasts, campgrounds, hostels, guesthouses, and more, it is easy to find the right place that meets the family's tastes and interests. The wide availability of sleeping arrangements also makes it easy for families to find accommodations that fall well within the budget, regardless of how big or small.
Hotels
There are many benefits to staying in hotels. Generally a hotel features a small bathroom and bedroom, as well as possibly, a mini kitchen. Often, this type of lodging is accompanied by a diner, pool, or other on-site amenities. Hotels are meant to be a veritable home away from home, with many even allowing pets. Parents can obtain adjacent rooms for children or deluxe suites that are set up with two separate bedrooms like a small apartment. Families with small children often find that cribs are available upon request, saving them the hassle of having to tote one from home.
Castle Hotels
Castle hotels are a unique family friendly holiday accommodation available in Ireland. They are great for the family that is interested in experiencing a bit of history. While some castle hotels, like the Dunloe in Killarney, overlook the ruins of castles from the past, others, like the Ashford Castle, actually feature rooms within the walls of a still-standing 12th century castle.
Both the Dunloe and the Ashford, as well as other five star castle hotels, offer special treats, such as customised teddy bears and robes, for children who are guests. The Ashford also offers on-call babysitting services, allowing parents an opportunity to sneak out for a romantic evening on the estate.
Bed and Breakfast
Bed and breakfasts are similar to hotels but more low key. They are often found in large residential homes that the owners have converted to take in travelling boarders. The name is derived from the fact that these locations offer in-room, home-made breakfasts every morning. Bed and breakfasts are commonly located on idyllic pieces of rural property, with plenty of surrounding beauty to explore. Some bed and breakfasts provide private bed and bath for every visitor, while others may have shared bathroom arrangements in addition to communal quarters like the lobby or kitchen. Generally, bed and breakfasts are more adult-oriented, with guests typically being couples. However, some are designed expressly to accommodate families.
Campgrounds
Ireland is surrounded by natural beauty, making it a prime location for camping out under the stars or travelling by recreational vehicle. Not surprisingly, a number of campgrounds can be found on the island. Choosing to camp out not only saves money, but it also provides a high level of freedom and plenty of opportunity to connect with nature. Children enjoy the experience, and parents do not feel as pressured to keep children from making a racket or running about. During spring and winter solstices each year, thousands of people camp out along the coasts and at campgrounds near ancient, historic monuments such as the passage tombs at Newgrange and Knowth.
Hostels
Hostels are a great option for budget travel. They are especially popular with students and backpackers. Most hostels offer very basic, but safe living arrangements in exchange for certain duties. For example, guests may have to spend a few hours a day on cleaning or cooking duties. Bathrooms, living rooms, and kitchens are almost always communal at hostels. Bedrooms may also be shared by more than one guest. Some hostels are are gender-specific. It is always important to get the details before planning a trip that includes staying in a hostel, especially if it is a family holiday in which small children are included. Many hostels do not have the necessary accommodations for families.
Self-Catering Home Rentals
Short-term rentals are available for guests who want a private home away from home. A home rental may be a flat, chalet, or a single-family house. These are sometimes referred to as vacation homes and often have a minimum stay requirement, though it is less than a week in many cases. Commonly available for lower prices, these fully furnished spots are perfect for long holidays as well as business trips. They offer complete privacy and a home-like environment for the weary traveller.
Must-See Destinations
Of course, the destinations that a family plans to visit while on vacation plays a key role in determining the accommodations. Not all of the options detailed above may be available in each location. Ireland is full of must-see destinations, from stone castles to ancient tombs. The natural beauty and hospitable culture is in itself a tourist attraction. Some of the memorable places to visit in Ireland are detailed below.
Trim Castle
Trim Castle is a large brooding Anglo-Norman castle in Ireland. It was constructed over a 30-year period by Hugh de Lacy and his son Walter. The central stronghold of the castle is a massive, three-storied keep, the construction of which began in 1172.
Guests are encouraged to arrive to Trim Castle early, especially during peak summer months. The castle has thousands of visitors every year, and guests are allowed in on a first come, first serve basis until capacity is reached. Guided tours are available for individuals wanting to learn more about the historic landmark.
The nearby Trim Castle Hotel offers excellent accommodations for families, including plenty of leisure activities. Other nearby points of interest include Talbot Castle, Sheep's Gate, and St. Patrick's Cathedral.
The Passage Tombs at Newgrange and Knowth
Older than both Stonehenge and the Great Pyramid of Giza, Newgrange was constructed more than 5,000 years ago. As a whole, the Bru na Boinne monuments are one of the most visited sites in Ireland. Although the giant mound-shaped structure is classified as a passage tomb, it is more of a temple. A centre for astrological, religious, and ceremonial happenings, Newgrange temples were of great value to the ancient inhabitants of this fair island.
Visits to the large Newgrange, Knowth, and Dowth mounds, as well as the 35 smaller surrounding mounds are restricted to guided tours. The only time direct public access is available to Newgrange is during mornings surrounding the winter solstice. The rest of the years, visitors must take a shuttle bus.
Visitors to the tombs can stay at the economical Newgrange Lodge Campsite for a night under the stars or opt for one of the many hotels and bed and breakfasts located in the Meath and Newgrange area.
The Cliffs of Moher
The Cliffs of Moher are an iconic part of Irish culture. Jutting far into the air, featuring flat tops, and overlooking the sea, they are a beauty to behold. The Cliffs of Moher reach 214 meters in height. They are one of the island's top tourist attractions and a definite must-see. As a natural attraction, tourists are freely allowed to hike the cliffs. However, careful ecotourism is encouraged. Guests should minimise the effect of their visit, leaving behind no trace they were ever present.
Nagles Camping and Caravan park offers both caravan and tent camping overlooking the Cliffs of Moher in nearby Doolin. This is a great way to get in touch with nature while experiencing the fantastic beauty of this place.
Finding Family Friendly Holiday Accommodation Packages on eBay
eBay offers many routes for securing family-friendly holiday accommodation packages to Ireland. Plane tickets, lodging, and more are available through many sellers on the website. Additionally consumers may search eBay for the supplies needed, such as backpacks, luggage, travel games, camping supplies, and seasonal clothing, to make their Irish holiday a success.
To begin a search on the website, simply enter the search term related to what you are looking for in the eBay search bar. The website then provides the listings that are applicable to your search. For example, search terms such as "Ireland hotel" or "self-catering home Ireland" give you the listings of hotels or self-catering homes available through the website. You can then use the filters, such as the desired price range, that eBay provides to narrow your choices and get closer to what you are looking for.
To learn more about the person or company offering Irish holiday accommodation packages on eBay, visit the seller's feedback profile. From there, you can read more about the seller, including testimonials from previous clients. You can also send a private message to the seller to to obtain clarifications.
Conclusion
Ireland offers both natural splendour and historic landmarks. The country is home to some of the most well preserved historical landmarks in the world, with many dating back thousands of years. Progressive small towns like Dublin provide a mix of the old and new in a way that is unique to the island. Much of the monuments and tourist attractions in Ireland are family friendly. For example, guests of all ages can enjoy the awe-inspiring Cliffs of Moher. Children and parents alike have fun on exciting guided tours of the Bru na Boinne monuments.
Accommodations for families visiting Ireland are as unique as the brood. While some opt for stay at castle hotels or bed and breakfasts in serene locations others may choose to spend time camping in nature. No matter what the preferences of the family, one can find accommodations that suit the tastes and the budget on a website such as eBay.