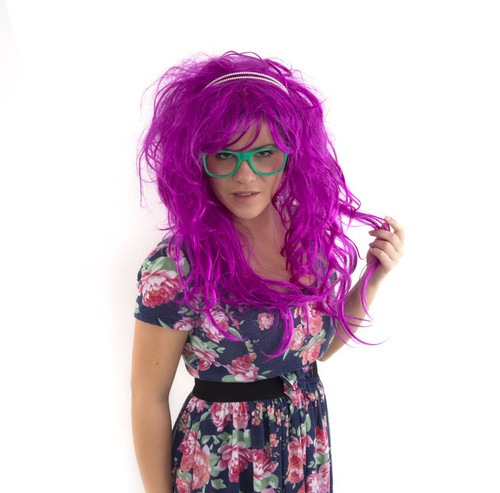 In ancient times, wigs were a symbol of status. Parties, balls, and gatherings were a chance for the rich and privileged to show off the latest in wig fashion. Today, fancy dress wigs find their place in fancy dress parties, night outs, and onstage performances such as plays or concerts. Performers, such as actors or dancers, might also prefer specific wigs in order to complete a look, as well as to help the artist embody a specific persona.
Whether you are looking for a fancy dress wig for a stage play, a dance performance, or a big fancy dress party, you can find fancy dress wigs online at venues like eBay. There are many different fancy dress wigs for all sorts of occasions, and the variety online can prove overwhelming. There are different kinds of wig materials available. A purchase of a wig might also necessitate the purchase of accessories, such as a wig cap, which keeps both the hair and wig in place. Different wig materials will call for different wig caps as well.
What Kinds of Wigs Are Available?
Fancy dress wigs can act as accessories to fancy dress costumes, and for artists, they can complete a look. Wigs can even change a daily look and turn a boring getup into an interesting one, with a great deal of flair. There are many different kinds of wigs available, and these can be grouped according to their style and the materials used to make the wigs.
Period Costume Wigs
Hairstyles have changed dramatically across the centuries, and it is not uncommon for fancy dress party-goers, artists, actors, and even dancers and singers to shop for wigs that fit a specific time in history.
For instance, Roman women wore their hair in elaborate braids and stiff curls, and often incorporated jewellery into their locks. Roman senators, on the other hand, had a rich head of hair that stuck closely to the scalp, while Roman generals or even emperors had a full head of hair that could be crowned with golden laurel leaves. These varying hairstyles likewise need their own sets of wigs.
Another common costume wig is the Marie Antoinette wig, or even powdered wigs for men. These gigantic hairpieces tower over the head and are often decorated with ribbons and jewellery. They are most often seen in stage plays and even operas.
Coloured Wigs
Fancy dress wigs can also come in a wide variety of colours, including the deepest black, the brightest blonde, the clearest white, and even the craziest pink or green. These different colours can set off a look. Black hair can provide a startling contrast to white or pale skin. Blonde hair can be useful for a movie or costume get-up for Halloween, and neon-coloured hair can be great for a night on the town or a big party.
Rocker Wigs
Punk rock calls not only for costumes and musical instruments, but large wigs as well. Punk rocker wigs can often appear as though the hair is sprouting out from a person's scalp. Other rocker wigs might come in a variety of colours and lengths. These rocker wigs can be useful not only for parties and plays, but for rock concerts as well, especially for show bands that want to show off how well they can imitate a particular rocker's style.
Celebrity Look-Alike Wigs
A Hollywood celebrity might be known for her luscious golden locks and tight curls, while another Hollywood celebrity might be known for her deep, dark locks of straight hair. Celebrity look-alikes are always a hit at Halloween fancy dress parties, and can even make a gathering more interesting and exciting. Celebrity look-alike wigs can also be used for stage plays, operas, or even dance concerts, where a particular celebrity has to be channeled by the actor performing an imitation.
Halloween Costume Wigs
Halloween parties would not be complete without dressing up, often very precisely, in order to look like a particular Halloween monster. For instance, the Frankenstein monster might require just a tiny head of hair, while the bride of Frankenstein might require a head full of it. A vamp look can be achieved with long, dark hair, setting of white makeup and bright red lipstick.
Synthetic Fibers
Synthetic fibers can be applied to fancy dress wigs. They will appear like real hair, but they might feel rough and even itchy. Synthetic fiber wigs are also relatively affordable. Although they are inexpensive, synthetic fiber wigs are sensitive to heat and can melt, and they can make the wearer's scalp sweat.
Soft Fibers
A soft fiber wig will be less stiff, more smooth, and even less itchy than synthetic fiber wigs. Soft fiber hair looks just like real hair, although such wigs might not feel like real hair. Soft fiber wigs are slightly more expensive than synthetic fiber wigs.
Real Hair
Salons, parlors, and even barber shops might donate their wigs to charities for cancer patients, and some of these hair fibers find their way to real hair wigs. Because these wigs are made from real hair, they will appear like real hair, be as soft as real hair, and will not have the itch that comes with synthetic hair wigs. Real hair wigs are quite expensive, but they are often used by those who are trying to achieve realistic and natural looks, for instance, in a play, a dance concert, or even a masquerade ball.
The following table lists the many different considerations when choosing a fancy dress wig, along with possible events that might require a dress wig be worn.
| Event | Wig Colours | Wig Styles | Possible Period Wig Requirements |
| --- | --- | --- | --- |
| Costume Party | All colors (the crazier the better) | Period costume wigs, rocker wigs, celebrity look-alike wigs, and Halloween costume wigs | Synthetic wigs, but soft fiber wigs preferred |
| Play or Opera | Dark or blonde for younger characters, white hair wigs for older characters; use colour to suit period | Period costume wigs, celebrity look-alike wigs | Real hair or soft fiber wigs |
| Dance or Rock Concert | All colors, but usually bright | Depending on performance; may include period costume wigs, rocker wigs | Synthetic wigs |
| Everyday wear | Everyday hair color (natural colors) | Might include celebrity look-alike wigs, depending on appearance | Soft fiber and real hair wigs preferred |
This table is not meant to be an exhaustive list of the different events that fancy dress wigs can be worn for, and it is not meant to list all the different types of fancy dress wigs that might be worn for such events. Nevertheless, it can still be used as a guide to which fancy dress wigs should be considered.
Before buying fancy dress wigs, the shopper should determine what wig will fit his or her features, suit the theme of the fancy dress party, and fit in his or her budget. Once the person buying the fancy dress wig knows exactly what he or she wants, then he or she should go to a brick and mortar store and try wigs on. Finally, once there are a few candidate wigs, then a search online is in order.
How Should You Buy Fancy Dress Wigs on eBay?
Visit the main eBay site. In the search window, type 'fancy dress wig' or 'fancy dress wigs'. You can also start supplementing the search query by using specific colours, in case you already have a colour in mind. You might also try supplementing the query with a specific wig length. For instance, you can try 'fancy dress wig black long hair'.
When you reach the search results page, you can further narrow your search down. You can select from several menus and specify whether you want a men's or ladies' fancy dress wig. You can also specify whether you want costume wigs, wigs that are merely used as accessories, or even dance accessory wigs. You can also specify the particular color or length that you want. You can also set your price range and specify whether you want to buy a new or used fancy dress wig.
Remember that different computer monitors display colours differently. You should discuss a seller's return policy with them before you go through with the purchase. This is in the event the colour of the fancy dress wig you receive does not match the photos of the wig posted in the item listing. You can contact the seller by going into their member profile and clicking on the contact link.
Conclusion
Fancy dress wigs can be used for a dance recital or concert, a play that requires getting into elaborate or character-specific costumes, a fancy dress party, or even just a fun night on the town. A fancy dress wig needs to be made of strong, durable, but natural-looking materials. It must also fit the features and budget requirements of the person wearing the wig. All these factors go into making a decision on which kind of fancy dress wig to purchase online.
There might be many different choices of fancy dress wigs online, and the eBay marketplace can provide all these choices, as well as the means to sort through these choices quickly. With a set budget, as well as knowledge on what the wig is to be worn for, you will be able to find the fancy dress wig that you need. If Halloween is looming or you have a fancy dress party coming up, makes sure that you don't leave your online purchase for the last minute. Consider that it could take up to a fortnight for the fancy dress wig you bought on eBay to arrive by post.