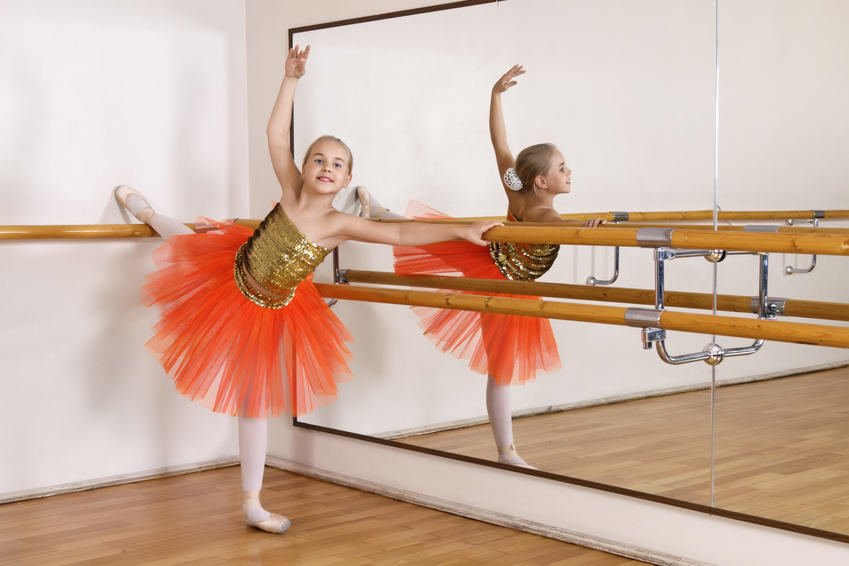 Buying ballet clothes for a girl might be stressful if you have never bought them before. However, with the right tips, you can easily buy the right sizes and styles for your little dancer. Dance clothes have to be fitted, stylish, and comfortable, which usually means buying professional dancewear rather than regular gym clothing.
Girls' Ballet Clothing Sizing

It is very important to buy dance clothes of any kind based on the measurements rather than a label size because sizes vary from brand to brand, and sizing standards differ between countries. Many tutus, leotards, and ballet dresses have a great deal of stretch, which means that they fit little girls for longer periods of time than regular, non-elastic clothing does. However, you should check the minimum and maximum size ranges and then try to buy towards the bottom of the range to give the girl room to grow. Most manufacturers of ballet clothing use the small, medium, large, and extra-large sizing format, or use standard children's sizing labels. For example, a kids' ballet dress might have a size for the age of the child, a standard such as small, or based on waist size, but it is most important to purchase according to the measurements.
Girls' Ballet Clothing for Practice
The ballet clothing that girls need most often is their practice clothes. Depending on the age of the girl, this might include a simple leotard, leggings and a tank top, or a full leotard or tights with a tutu. Younger children usually wear body suits with tutus to add more appeal to the dance, while girls who are 12 or older usually just wear the fitted clothing without the tutu. For older girls, a simple set of solid colour tights and leotards is usually more than enough, although some girls might also require training bras for dance as well. Good basics include several dance tops, bodysuits, or camisoles, several pairs of leggings, dance shorts and a tracksuit or hooded sweater to wear before and after dance. Younger girls usually prefer more colour and different types of outfits such as ballet tutus and tights and ballet dresses, but some dance schools do have specific uniforms or regulations, which you should adhere to.
Formal Girls' Ballet Clothing
Buying for a formal or specific dance is usually a little bit more complicated than buying practice dance clothes because you likely need specific items. For example, the ballet outfit for 'The Black Swan' is quite specific, and requires you to buy a specific costume. Some ballet schools have their own costumes, but otherwise you might have to buy according to a specific list of items such as specific tutus and shoes. You can use the same size guidelines for formal clothing as for casual and practice ballet clothes.