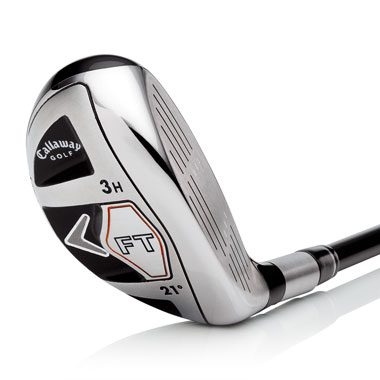 For a beginner golfer, buying a set of golf clubs has the potential to be a confusing and frustrating experience if you are unsure about what to look for. eBay offers thousands of golf products, equipment and clothing all at prices that won't break the bank. They also give great advice on how to buy and sell confidently. This guide will give a simple outline to beginner's golf clubs, the things that should be considered before searching and some quick tips of what not to do.
What is a Golf Club?
A golf club is used as the instrument in which to strike the golf ball in a game. Golf clubs come in many different styles, materials, lengths and with different purposes. Each club is composed of a shaft, a grip and a club head. Golfing rules state there should be no more than 14 clubs in any set, and they will be either right or left handed depending on the player's preference. 'Game improvement clubs' are commonly clubs with low centres of gravity and high moments of inertia.
Golf Club Requirements
Purpose
It is firstly important to assess an individual's dedication to the game. If already a golf player, but are planning on just playing casually, the odd weekend or over the holidays with friends, perhaps it would wise to look at buying a smaller set of clubs to avoid splashing out on extra clubs and accessories that might never be used.
If a complete beginner but are inspired to start playing seriously, perhaps consider taking golf lessons first, and then likewise investing in a smaller set to begin with whilst weighing up the options on whether or not to continue golf long term.
Maybe if you've played a little, but are confident of playing the game long-term? In that case, it is worth investing in a full beginners set of golf clubs, but first get accustomed to the types of shaft, various clubs, and what they are used for before beginning to shop.
Budget
Decide how much money that can be spent one the purchase before the searching phase commences. It is easy to get carried away or persuaded into buying clubs that never get used.
Do research; and set a limit on expenditure, especially if not sure whether or not this is a long-term golfing decision.
Consider the commitment to the game and whether or not there are more inexpensive clubs that are just as affective.
Nearly new
Think about nearly new golf clubs,, there are plenty of beginners golf club sets well within budget that may offer a more cost effective alternative. However, be careful to ensure the golf clubs that are being considered are still of good quality. The club grips are easily worn down and the last thing to do after purchasing the new clubs is to get them repaired. Don't be afraid to raise any concerns to the seller. Remember looking online for such items could be a great option, eBay have a huge range of golf club sets at prices that won't break the bank.
How Do Golf Clubs Differ?
Shafts
The shaft of the club is the longest part, the solid straight that runs down to the club head, they can range from 86cm – 112cm and can weigh from anything up to 150g. Club shafts composition will fall into two categories, steel or graphite. It is important to take note of the composition of the shaft, and the 'shaft flex' (how much the shaft bends during the swing).
Graphite is typically the most popular since it is lighter and durable. It is best used with women and seniors for its effortlessness swing. A younger, or particularly strong individual may be best with steel, as it offers a stiffer alternative to the graphite but can improve performance for some. Bear in mind however that most golf teachers say people use shafts that are too stiff.
Clubs
The Wood is the most powerful club and has the largest head. It is typically used for long distance and speed; the 'driver' is counted as a sub class of woods and other types of woods are often referred to as 'fairway woods'. Woods are 3, 5, 7 or 9 which denotes the loft angle on the club, or the angle of the club head. In recent years 3 and 5 have become the most popular and 7 or 9 rarely seen in a 14 club set. Historically woods are made from a persimmon wood, and can be laminated or left bare, in more recent days they are made from various materials including steel, carbon fibre, titanium and scandium. They are called woods to denote the shape of the head and their purpose, not their composition. A wood is an essential part of a beginners club set.
An Iron club is an all metal head, which can commonly be a little heavier. Originally made from forged iron, and now composed from a steel alloy, or 'investment cast', that allows higher moments of inertia and longer distances. The iron clubs are incredibly versatile and can be bought in a number of different shaft lengths, and loft angles (the angle at which the head tilts) allowing the player to use the iron not only on the fairway, but on the rough and in varying tricky situations. They are numbered 1-10 according to their relative loft angle, 3-9 being the most commonly used. The iron is an incredibly helpful club and is considered integral in playing effective golf.
The Wedge is a specific type of club that characteristically allows the player to get onto the course from a difficult position. There are various wedges with a range of loft angles, depending on the position, including, a 'pitching wedge', 'gap wedge', 'sand wedge', 'lob wedge' and 'ultra lob wedge'. This club is not essential to beginner's golf, but could be a worthwhile purchase if golf becomes a common and enjoyable activity.
The Hybrid club is a cross between a wood and an iron. It allows the player to cover long distances common to the wood, and keep the familiar swing of the iron that they would be most accustomed to using. The head is wood inspired, but often smaller in size. Any hybrid club is usually bought after the player has become used to the feel of the wood and iron so they can understand how they might benefit from a hybrid option.
A Putter, by Golfing standards, is the only club allowed to have special features. It is used only on the course from a certain position to the cup. It is of paramount importance since it is integral to the success of the game and features such as bent shafts, hosels, and two striking faces are added primarily to aid the player in his or her game.
Club fitting
Getting the right sized clubs is paramount to the quality of a golfer's performance, especially since clubs will not only vary to a player's height but also to gender and dexterity (right or left handed). Any regular club will be fitted for a 5ft 10" male, so if you are approximately this size, it is more than likely a standard club will fit correctly. However, if considerably shorter, taller or left handed it would be wise to go and get a club fitting at the local course. They can not only find the appropriate clubs for a player's height, but they can also assess ability and swing to ensure there are no mistakes and the selection of the right clubs matches the individual's game.
If unable to get to a golf course, or prefer to take your own measurements follow these instructions:
1. Stand straight with feet slightly apart (not quite hip distance).
2. With the non-writing hand, bend it at the wrist, and mark where the crease is.
3. Put hand back to the side of body, and point fingers to the floor.
4. Find a partner to measure from the mark where the crease lay, to the floor, this will be the length of the desired shaft.
5. If a player's height is unknown, then quickly take these measurements by standing up against a wall. Then have a look at the golf club length chart below.
Here is a table of standard club lengths for men. Once measured, translate the table beneath this one, and apply to the standard club length table. For example, a 5ft 6" woman with wrist to floor measurement of 38" would follow the column marked '5ft 7"' and scroll down to 38" and find that for her appropriate club she must add 1" to the standard golf club shaft.
Standard Club Lengths

Club

Steel Shafts

Graphite Shafts

Driver

44"

45"

3 wood

43"

43.5"

5 wood

42"

42.5"

7 wood

41"

41.5"

9 wood

41"

41.5"

1 iron

40"

40.5"

2 iron

39.5"

40"

3 iron

39"

39.5"

4 iron

38.5"

39"

5 iron

38"

38.5"

6 iron

37.5"

38"

7 iron

37"

37.5"

8 iron

36.5"

37"

9 iron

36"

36.5"
Wrist to Floor Measurement

Height

Wrist/Floor

<5'0"

to 5'2"

to 5'4"

to 5'7"

to 6'0"

to 6'2"

to 6'4"

to 6'7"

>6'7"

40"

+2.25"

+2.25"

+2.25"

+2"

+2"

+2"

+1.75"

+1.75"

+1.5"

39.5"

+2"

+2"

+2"

+1.75"

+1.75"

+1.75"

+1.5"

+1.5"

+1.5"

39"

+2"

+2"

+2"

+1.75"

+1.75"

+1.75"

+1.5"

+1.5"

+1.5"

38.5"

+1.5"

+1.5"

+1.5"

+1.5"

+1.5"

+1.5"

+1"

+1"

+1"

38"

+1.5"

+1.5"

+1.5"

+1"

+1"

+1"

+1"

+1"

+1"

37.5"

+1"

+1"

+1"

+1"

+1"

+1"

+0.5"

+0.5"

+0.5"

37"

+1"

+1"

+1"

+0.5"

+0.5"

+0.5"

+0.5"

+0.5"

+0.5"

36.5"

+0.5"

+0.5"

+0.5"

+0.5"

+0.5"

+0.5"

+0.25"

+0.25"

+0.25"

36"

+0.5"

+0.5"

+0.5"

+0.25"

+0.25"

+0.25"

+0.25"

+0.25"

+0.25"

35.5"

+0.25"

+0.25"

+0.25"

+0.25"

+0.25"

+0.25"

Standard

Standard

Standard

35"

+0.25"

+0.25"

+0.25"

Standard

Standard

Standard

Standard

Standard

Standard

34.5"

Standard

Standard

Standard

Standard

Standard

Standard

-0.25"

-0.25"

-0.25"

34"

Standard

Standard

Standard

-0.25"

-0.25"

-0.25"

-0.25"

-0.25"

-0.25"

33.5"

-0.25"

-0.25"

-0.25"

-0.25"

-0.25"

-0.25"

-0.5"

-0.5"

-0.5"

33"

-0.25"

-0.25"

-0.25"

-0.5"

-0.5"

-0.5"

-0.5"

-0.5"

-0.5"

32.5"

-0.5"

-0.5"

-0.5"

-0.5"

-0.5"

-0.5"

-0.75"

-0.75"

-0.75"

32"

-0.5"

-0.5"

-0.5"

-0.75"

-0.75"

-0.75"

-0.75"

-0.75"

-0.75"

31.5"

-0.75"

-0.75"

-0.75"

-0.75"

-0.75"

-0.75"

-1"

-1"

-1"

31"

-0.75"

-0.75"

-0.75"

-1"

-1"

-1"

-1"

-1"

-1"

30.5"

-1"

-1"

-1"

-1"

-1"

-1"

-1.25"

-1.25"

-1.25"

30"

-1"

-1"

-1"

-1.25"

-1.25"

-1.25"

-1.25"

-1.25"

-1.25"

29.5"

-1.25"

-1.25"

-1.25"

-1.25"

-1.25"

-1.25"

-1.5"

-1.5"

-1.5"

29"

-1.25"

-1.25"

-1.25"

-1.5"

-1.5"

-1.5"

-1.5"

-1.5"

-1.5"
Once the measurements have been calculated for one or two of the woods and irons, it will be easier to be able to transfer measurements to another, should the inclination to purchase a wedge or putter later in the golfing journey.
What Should I Do Next?
Decide on the purpose of the game. Is it to play casually with friends? Or making a more long term commitment to playing golf? The answer will likely affect the amount of clubs that are purchased, whether or not to consider lessons and the budget to set for your purchase.
Think carefully about budget and try not to be persuaded by deals or cheaper beginners golf set options. Buying a cheaper lower range 14 club golf set could be less beneficial to a golfer's game than buying 4 or 5 quality clubs at the same price.
Find out what sized shaft is needed, and write it down before going shopping or looking online.
Talk to others who play golf and try out a few of their clubs, get a feel for the sizing and style of the clubs before setting out to buy some.
Ask advice from golf equipment shops, but don't be lured into buying a set. Make notes about what they say, and take them home to consider what and where to buy the clubs.
Look online for Beginners golf clubs or sets. There are thousands of products, new or nearly new, which offer the same quality at a price well within budget. Buying online is a much more cost effective alternative.