The Nikon 1 is a high speed, mirrorless camera that can be mixed and matched with different lenses and other accessories to create a capable photography machine. Which one should you be looking for? Read on to find out.
Nikon 1 Cameras
The Nikon 1 Model Series
Nikon J1
Nikon V1
Nikon D1
Nikon F1
Nikon FT-1
Lenses For Your Nikon 1
The Nikon is an excellent choice in cameras, both for the beginner and the professional. Finding the right one, on the other hand, can take time and patience, but spending time to know what you are looking for in the first place can help you get a great deal on an otherwise-unattainable camera.
---
The Nikon 1 Model Series
The Nikon 1 line is made up of plenty of great choices for a photographer. This mirrorless setup is available across a number of models, each built for a slightly different type of photographer, but you can be sure that one of them will be perfect for you.

---
Nikon J1
The Nikon J1 is the perfect choice when you are looking for a smaller camera with a similarly small lens that will remain unobtrusive until you take it out. When you do, you will find that the J1 snaps great pictures and video with its 13-megapixel sensor. On top of that, you have the option to save all of your photos on extremely fast SDXC and SDHC cards, something that many other camera options don't offer.
---
Nikon J2

The new contender to replace the J1, this camera adds a longer zoom and a few other features to the J1 that it replaced. While they are very similar options, many of the questions that consumers had about the J1 were answered with the Nikon J2 model.

The LCD display has been bumped up to 3 inches and additional zoom has been added, but otherwise the J2 is an incredibly high-end camera that's been made available at a great price.



---
Nikon V1
What the J1 and J2 lack in a viewfinder is made up for in the V1. A slightly different body, the Nikon V1 offers some of the same high performance with a viewfinder, and the addition of features like GPS and a larger internal battery to allow for longer shooting sessions without a recharge. If you are looking to spend a bit more money, then the V1 is a great option.
---
Nikon D1

When compared to some of the point and shoot cameras described above, the Nikon D1 is very much a prosumer camera. This camera is much larger, almost impossible to put into a pocket (unless it's a cargo pocket), and made for someone who is looking to modify everything in the quest for a perfect photo.

If you are looking for a beginner DSLR that will let you step up into a much more expensive option down the line, then this is it.
---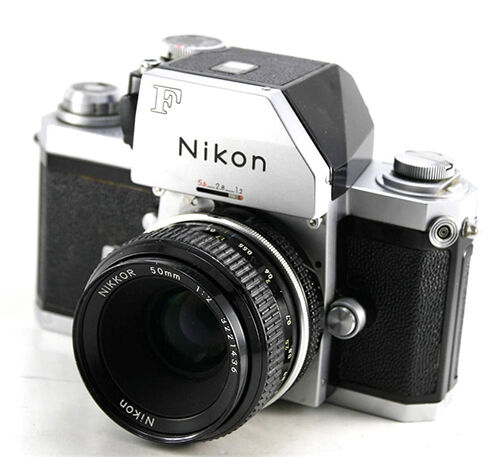 Nikon F1
The Nikon F1 is a much older line of film SLR cameras that first debuted in 1959, but is one of the last models standing for a reason. If you are looking to experience photography the way that the masters did, then this is a great option for you.

It will help you do everything from getting the perfect shot to develop your own film, all while retaining much of the vintage point and click operation that we have come to know and love. A great gift for any photography buff.
---
Nikon FT-1

One of the best things about using only Nikon cameras is the ability to change lenses. If you have a number of F-series lenses, then switching to a 1-series camera might spell the end of your older lenses.

When you purchase a FT-1 mount, this isn't the case. This mount is the only thing that you need to convert any F-series Nikon lens into one that is usable on the 1-series camera models, and it will make your life significantly easier than if you had to sell and re-buy your lenses online.
---
Lenses For Your Nikon 1
When you are trying to find a lens for your new camera, there are a few things that must be considered. The first is the type of camera that you are using. For this example, let's say that you are considering the Nikon J1 and need lenses to support your shooting.
Your first consideration would be the type of lens that you need. For the most part, the only thing that you need to think about is the distance that you will be shooting from. For up-close shots, a smaller 30mm lens will do well. For medium shots, you might need to go out as far as 110mm. For longer shots, you could need as much as 300-400mm on your lens.

Fortunately, most shooting situations will use anywhere from a 30mm to a 110mm lens, and Nikon has created the perfect option for you. An adjustable 30-110mm lens that will fit your J1 is the perfect option for you. Not only will you be able to capture close up shots, but you will also have the necessary distance for those longer photographs that just need to be taken.
The Nikon line of cameras and lenses has distinguished itself by being synonymous with quality photography for years, and these cameras are a way to start or continue your photography career or hobby. Choose a Nikon camera today and invest in a few quality lenses, and they can last you for years (if not generations).