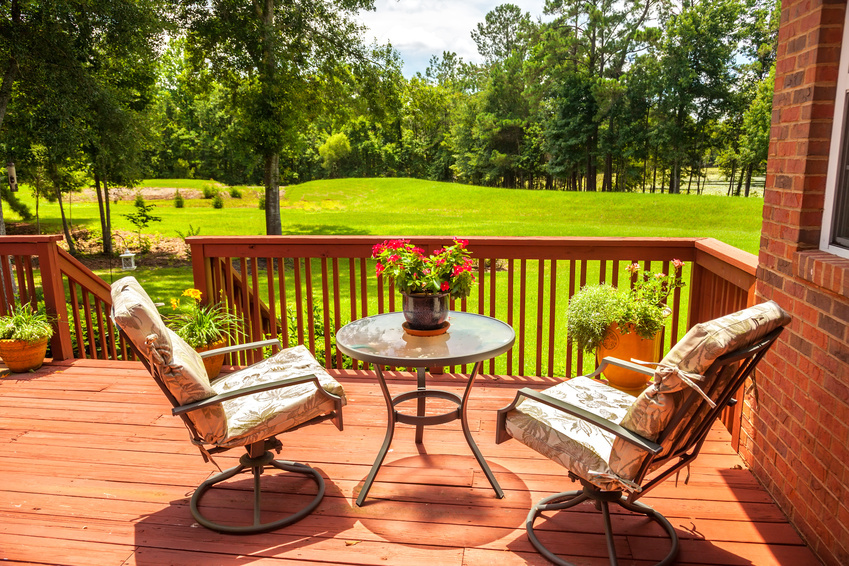 Patio furniture is a great way to liven up your home's exterior while adding a comfortable space to relax and chat. Outdoor furniture is available in a range of materials and looks, so you can create just about any atmosphere you want on your patio. Before you purchase a set of patio furniture, consider exactly what pieces you need and the materials you would like. You may also want extra pieces like umbrellas to prolong the life of your furniture.
Plan Your Patio Space

Before you shop for patio furniture, measure the dimensions of your outdoor space. Plan what pieces will fit in the area and how you will arrange them. In addition, consider the conditions where you live. If the climate is often stormy or snowy, or if you have pets, choose a durable material. Plan accordingly if you plan to use the furniture for raucous parties or quiet get-togethers.
Types of Patio Furniture

Patio furniture ranges from tables to sofas, so you can purchase just about anything. Sofas are great options for those hosting large parties and are available in love seats and full-sized versions. Tables, both coffee tables and dining tables, make great centrepieces for your patio. Some of these tables even spin for convenience and have an umbrella holder. Aside from regular chairs, consider making your patio interesting with Papasan chairs or hammocks. For a poolside scene, invest in reclining chairs for sunbathing.
Patio Furniture Frame Materials
When considering materials for the furniture's frames, always check for water- and fade-resistant qualities, or rain and sun damage could quickly ruin your pieces. Also, keep in mind that different materials create different looks. Materials generally include metals, woods, and plastics. Buyers on a budget might lean toward easy-to-clean plastic furniture. However, aluminium frames come in different washes and colours while also being light and highly durable. Steel and iron frames, on the other hand, are heavy and strong enough to withstand windy areas. Wood frames, such as cedar, wicker, and bamboo, require more upkeep but you can find them more moderately priced than metal materials.
Accessorise Your Patio
Once you have your basic furniture, decorate and organise the area with a few extras. A deck box is an excellent way to add storage space. Some of these boxes double as tables or seats. Get creative with chair and sofa cushions, which change the entire look in a moment. Choose cushions that are fade- and mildew-resistant, washable, and waterproof. If you cannot find a design you like, sewing patterns are available online to make cushion covers yourself. Outdoor rugs and colourful plants are easy ways to decorate as well. Increase your furniture's lifetime and protect it from the weather with furniture covers and an umbrella.