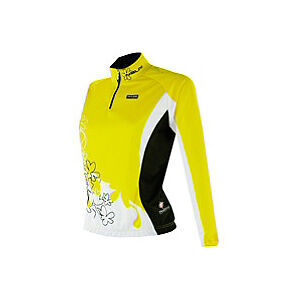 Cycling is a popular sport enjoyed equally by professionals and amateur riders. Regardless skill, the type of clothing worn will require some attention. Appropriate clothes that facilitate the sport or leisure activity are essential for every rider.
More often then not, time and energy is given to picking thebike and bike accessories, but not what to wear. This guide will showcase some of the vintage cycling jerseys that are available on the market and where to purchase them. eBay is an excellent choice for both research and purchasing goods, as it offers a wide selection of jerseys with affordable options for all budgets.
What Is a Vintage Cycling Jersey?
A vintage cycling jersey is a jersey that was designed and manufactured before 1980. Jerseys designed over the decades can depict the history of cycling. The particular cut or style of a jersey will point towards the fashion of the period of time that it was made.
Collecting vintage cycling jerseys is a popular hobby. Some hobbyists collect the garments for display only, whilst others collect and wear them. Depending on the year the jersey was manufactured and the amount of wear it has already had will depend on the suitability of riding. It is also possible to purchase replica vintage cycling jerseys.
What to Look for When Purchasing a Vintage Cycling Jersey
When looking for a vintage cycling jersey it is important to address the following questions to ensure that the jersey is right for you. This is particularly true if purchasing the jersey for wear.
Is the jersey breathable? Does it allow air to pass through the material to cool the body as you ride? This will be evident from the material the jersey is made out of. Some materials will be more breathable then others.
Does the jersey 'wick'? Wick in a cycling term that means the jersey will not only assist in absorbing sweat, but also remove it. This is an important factor to take into consideration – most normal materials will eventually get 'wet', causing the jersey to stick to the rider's body.
Address the zipper. Is it full length? Is it visible or invisible? What is important to you the rider?
Does the jersey have pockets? If yes, are they at the back or the front of the jersey? How much are they likely to hold?
What is the cut of the jersey? A good jersey will fit well and hug to the shape of the body. Vintage jerseys will vary in their cut depending on the era in which they were manufactured.
Is the garment an original vintage? There are lots of different companies that produce replica vintage jerseys. Depending on what is wanted will depend on the type purchased. For example, if it is the vintage look being sought, then a replica may be the best way forward. This will ensure that it is a new product and will offer more wear then an original vintage.
What to Wear With a Vintage Jersey
What to wear for the remaining part of the outfit alongside a vintage jersey is very much open for personal taste. Of course, it is extremely important to always wear protective gear including a helmet. There are other items of cycling vintage wear available on the market.
The first and foremost factor to take into consideration is what type of ride is being taken (i.e. professional, leisurely, exercise ride) and how comfortable the clothes are. Another contributing factor will be the length of ride; if just nipping out to the shops then not as much time will go into the decision as a daylong cycle. Depending on where the rider is going will impact on the outfit.
Here is a basic over view of suggested clothing to wear for specific bike riding expeditions:
| | |
| --- | --- |
| Road Cycling | Most road cyclists will have a specific outfit of bespoke items. This generally includes lycra shorts with additional padding and support and a jersey made out of similar material. Sometimes the outfit will be all in one with a zipper that can be opened at will to provide airflow. It is not uncommon to also wear cycling underwear which offer additional support and padding to the lycra bike shorts. |
| BMX Riding | BMXing tends to be a more rigorous activity, as a rider is more susceptible to stacking or falling off the bike. As a result, the rider will wear longer clothes, like a full-length suit and more protective gear. A BMX helmet is different to a road helmet. It offers further protection for the face as well as the head. In this case, it would be best to purchase a long-sleeve vintage jersey. |
| Mountain Bike Riding | Most mountain bike riders will dress with a mixture of the above. For frequent riders it is important to look at padded bike shorts to help with chafing and add extra comfort and support. However, these types of shorts are often worn underneath existing shorts, rather then on their own. This is because speed is not of the same importance as for a road rider. |
There is a long list of additional clothing items and accessories that can improve a rider's performance. These items include: gloves, shorts, jerseys, sunglasses, underpants, socks, jackets and caps.
What to Wear in Cold Weather
Like most sports, cycling is enjoyable all year round, but some changes are required to adjust to the varying degrees of weather. In the winter months it is more likely for the weather to be cold and wet, meaning additional clothing will be required. Your vintage jersey may not be suffice in this weather.
Some great additions for cooler weather include: riding gloves, long sleeve jerseys and socks.
It is important to remember that even though it is colder, by doing exercise you will warm up. Make sure that the choice of vintage jersey reflects this and it allows for you to cool off as you ride. A great way to do this is with a zip that can be adjusted when required, during a ride.
How to Purchase a Vintage Cycling Jersey on eBay
eBay is the world's largest auction site. It houses literally hundreds and thousands of cycling products, including vintage cycling jerseys. As a result, it is a great place to shop.
But how do you find the product you are looking for? This can be done a number of different ways. The easiest is via the key-word search function found at the top over every page. A search term or word can be placed in this box. eBay will then scourer the site and bring up all the matching products to the search for the user to browse through and then purchase. If the exact product is known, it is possible to skip directly to an advance search (found to the right of the key-word search box).
By following the prompts, this will offer a more detailed selection of the exact product being looked for. If both of these searching options do not appeal, it is possible to search by categories. eBay have divided all items into broad category terms that will further divide into sub-categories for easy perusal.
When an item is chosen, it is time to buy. But before you do this, it is advisable to check the description of the product and photograph first. This will be provided by the seller and offer a detailed overview of the condition and features of the product. Make sure to use the photograph to cross reference the description. If more information is needed don't hesitate to ask the seller.
Once all checks have been completed, it is time to address the selling method. A product will be sold one of 3 ways, which are: Bid, Buy It Now or Best Offer. Once this is clear, you must follow the process to make the purchase.
The transfer of the funds can be done via a number of different methods including debit and credit cards or PayPal. PayPal is perhaps the safest choice of payment. As a third party the company will facilitate the monetary exchange. Be careful to observe the postage and packaging costs, as this will be in addition to the price of the product.
If any more information is required on how to use the site, eBay offer a Buying Tips page that covers the basics and more. You will find all frequently asked questions here. It is also worth noting the website's Buyers Protection Programme, which offers support in the unlikely event of a dissatisfied customer.
Conclusion
Irrespective of the type of cycling that you enjoy, whether it is professional or not, the most important factor that the jersey is comfortable. Whilst the look of the garment will play a role in the decision-making, it is important that you feel comfortable and free to ride unobstructed. A vintage cycling jersey can help any fashion enthusiast look stylish whilst riding.
With an excellent range of literally hundreds of different products available at any time, and a large number of different types of vintage cycling jerseys, eBay should be the first stop. Being able to shop from the comfort of a home environment adds to this ease, and the home delivery service makes it a stress free shopping experience.