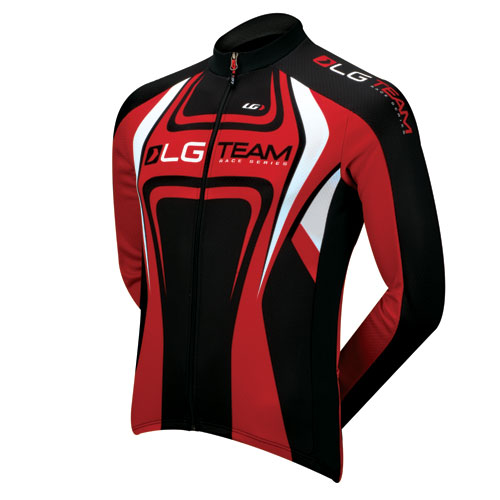 Whether you are a professional rider or enjoy cycling in your leisure time, you will get the best out of your sport when wearing the correct gear. A well-fitted long-sleeved bicycle jersey will assist in the performance of any rider, offering support, ventilation and comfort on both long and short rides.
There are myriad of places to buy good quality and affordable biking products and accessories. This includes shops on the high street, as well as online shops and auctions sites. eBay is one such auction site that offers value for money as well as excellent choice.
This guide will offer practical advice on what to look for when purchasing a long-sleeved bicycle jersey.
The Benefits of a Long-Sleeved Bicycle Jersey
The benefits of a long-sleeved bicycle jersey are numerous. They include:
The majority of designs have a full-length zip that can help control the temperature of the rider.
The jerseys are made out of a moisture wicking fabric that helps to reduce the amount of moisture when sweating by moving it away from the body of the rider or directly absorbing it.
Additional temperature control mesh panels are located underneath the arms for ventilation.
Most designs will come with pockets. These pockets are secured with zips and can store items like food and supplies.
Long-sleeved jerseys are fitted to the contours of the body via soft elastic on the hem. Often they will have a full-length zip to assist with getting the garments on and off quickly and easily.
Wearing a long-sleeved bicycle jersey offers protection from the elements, whether that means the sun, rain or wind. This includes UPF 50+ protection, which also protects form UVA, and UVB rays.
Due to the fabrics the jersey is made out of it is quick drying. This is great for not only washing, but also wet weather and sweaty bodies.
The fabrics are easy to care for, making them a low maintenance item of clothing.
Ladies Long-Sleeved Bicycle Jerseys
Generally speaking, a ladies jersey will be designed to fit a feminine body shape. Women have a much shorter torso then a man and this is reflected in the jersey. Alongside this, a women's jersey will be cut to fit a women's bust, waist and hips.
It is important to know the different measurements for the jerseys so one can be aware of what is the right size for them.
Ladies sizes generally go by the following chart (please note: this may vary depending on brand, design and country):
| | XS | S | M | L | XL | XXL | 3XL | 4XL |
| --- | --- | --- | --- | --- | --- | --- | --- | --- |
| Chest | 84 | 90 | 96 | 104 | 114 | 122 | 127 | 132 |
| Waist | 62 | 72 | 82 | 92 | 99 | 106 | 110 | 116 |
| Hips | 82 | 92 | 102 | 110 | 117 | 124 | 130 | 134 |
Men's Long-Sleeved Bicycle Jerseys
As a man's body shape is different to a women's, this needs to be reflected in the design and shape of a man's jersey. A man's jersey is designed to fit the torso of a male body. The major difference is that a women's jersey will have additional panels in the design. This is due to the fact that a man's jersey does not need to be tapered to accommodate for breasts, hips and waists, whereas a women's does.
Sizes for men's long-sleeved bicycle jerseys are generally to this measure (as with woman's sizes, this may vary depending on country, design and brand):
| | XS | S | M | L | XL | XXL | 3XL | 4XL |
| --- | --- | --- | --- | --- | --- | --- | --- | --- |
| Chest | 90 | 96 | 104 | 114 | 122 | 127 | 132 | 138 |
| Waist | 72 | 82 | 92 | 99 | 106 | 110 | 116 | 120 |
| Hips | 92 | 102 | 110 | 117 | 124 | 130 | 134 | 142 |
Materials and Fabrics
Generally speaking, the materials used to produce fabrics for a long-sleeved jersey are tough, durable and comfortable. They are a lightweight material, which directly reflects the type of exercise being undertaken.
It is worth looking at a jersey that uses a fabric infused with antistatic and antibacterial agents. This will help to stop uncompromising smells and odors caused by bacteria.
A good jersey will be moisture wicking, which basically means it transfers all of the body's moisture away from the rider. It will also have additional panels out of a different mesh fabric to offer ventilation and help control the rider's temperature.
It is possible to purchase a jersey that has been made out of fabrics that have been sourced from fair trade providers. A good fabric will not itch the skin of the wearer.
What to Look for When Purchasing a Long-Sleeved Bicycle Jersey
There are many different points to assess when purchasing a long-sleeved bicycle jersey. The easiest way to do this is by asking the following questions before purchase:
What fabric is the Jersey made out of?

Different fabrics will offer different degrees of support, padding, temperature control and wicking. Depending on the type of riding being undertaken will determine the best type of material.

What cut jersey do you want?

This again will be determined by a few factors. The starting point will be:

· Are you a male or female? Different body types will require a different cut.

· What type of cycling do you do? This will showcase the best designs for the type of riding.

What weather are you cycling in?

Again, the easiest way to address this is by asking a few questions, namely:

· What season are you looking to purchase a jersey for? Often a long-sleeved jersey suitable for winter months will differ from a jersey suitable for the summer months.

· What is the typical climate of the area being cycled in?

Does the jersey have reflective panels?

Riding can take place in a number of different terrains. One thing that is common in most of these areas is traffic. It is vital that as a rider you remain visible at all times. This will not only ensure your safety, but also the safety of others who share the road with you.

Do you like the look of the jersey?

Whilst the practicality of the jersey will take preference when looking to purchase, the general look is important too. Do take time to look at the aesthetic of the jersey and compare colours and patterns. After all, a good purchase will last for a long time. It is better to be happy with the product then not, and the general look plays a large role in this decision.
Novelty Long-Sleeved Jerseys
For fun loving cyclists, it is possible to purchase a jersey with a novelty picture or theme. This can enhance a professional or amateur rider, offering a bright and alternative pattern or picture for amusement or to help them stand out in a crowd.
How to Purchase a Long-Sleeved Bicycle Jersey on eBay
Because eBay offer a wide selection of cycling goods, including vintage jerseys, short sleeve jerseys and bike riding pants, it is the perfect place to shop for all cycling goods. The wide selection of choice means there is something for every shopper and budget.
To search for a product on eBay, simply follow the search function pathways. This can be done via a key-word search using the bar visible at the top of every page, an advance search (to the right of the key-word search bar) or via the categories pre-produced by eBay. Each search will bring the user to a collated page of products that match the search word. This page of goods can then be browsed at the shopper's leisure, as well as honed down even further by advance search options.
When an item is chosen, it is time to look at how it is being sold. This is predetermined by the seller and will be one of the following: Bid, Buy It Now and Best Offer. Before making the purchase, be sure to check the seller's description of the product and photograph to make sure it is a) exactly what is wanted and b) in the condition the seller says it is. If in doubt, or if you have any further questions, ask the seller for the answers before buying.
When a purchase is ready to go, a debit card, credit card or PayPal can be used. PayPal is a third party site that offers a safe and secure platform to transfer money between parties. Be sure to check out the Buyers Protection Programme to make sure you are aware of your rights as a buyer.
If in doubt about anything or further questions remain outstanding, have a look at the Buying Tips page. Here more information is given as well as answers to frequently asked questions.
Conclusion
Whether it is an occasional ride or a part of a daily cycling routine, a long-sleeved bicycle jersey will help to protect, support and offer comfort for all riders in all terrain. This guide has offered a few tricks and points to look out for when in the market for a new jersey. Whether you are a first time buyer or seasonal professional it is important to continue to go back to basics to ensure the correct jersey is purchased first time round, every time round.
eBay is a great place to purchase a jersey, as well as many other cycling products and accessories. Who could pass on being able to shop from the comfort of their own home? Furthermore, budget is also not a problem on eBay, with literally hundreds of choices at different prices. As such, the site will have something for everyone.