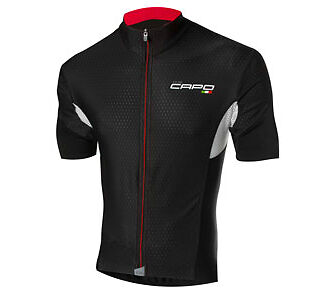 Cycling enthusiasts will know the importance of a bicycle jersey when it comes to competitive cycling. They are specifically designed for comfort and convenience when cycling, whilst also minimising wind resistance. There are plenty to choose from, whether it's being purchased for a competitive purpose or simply as a replica of famous teams or events. There are even differences when it comes to the type of cycling – downhill short-sleeved jerseys will differ from time trial or cross country ones, with each being carefully crafted to maximise performance.
eBay offers plenty of choices when it comes to short-sleeved bicycle jerseys, as well as a plethora of other sporting goods. This guide aims to outline some of the key features associated with cycling jerseys, as well as how the features of eBay's site make purchasing one easy.
Features of Short-Sleeved Bicycle Jerseys
When purchasing a bicycle jersey for practical use, there are a few key features to be aware of. Buying one that is incorrect may hamper performance, or at least restrain the user from reaching their full potential. It is not only the jersey that needs to be considered either, as the whole cycling outfit needs to be up to scratch. Here are some key features to look out for:
Size
Buying the correct size jersey is essential. Too small and it may restrict movement and be uncomfortable, but too large and it may increase the wind resistance the cyclist encounters. Both will contribute to slowing the rider down. Often replica jerseys will be a one size fits all affair, but these are mostly for display or to show support for a favoured team. Standard jerseys tend to range from small (sizes 8-10) to X Large and larger. Sizes will differ slightly between genders, but the key factors are chest and waist size. Below is a table showing some of the different sizes available:
| Size | Chest (inches) | Waist (inches) |
| --- | --- | --- |
| S | 32-34 | 28-30 |
| M | 34-36 | 30-32 |
| L | 36-38 | 32-34 |
| XL | 38-40 | 34-36 |
Although the above table is a rough guide, different manufacturers may have slightly different sizing, so it's important to check this. When it comes to finding a jersey that is the right fit, it should be snug to the body whilst leaving enough room to comfortably move.
Brand
There are plenty of brands available, and a certain amount of the process will be determined by personal preference. However different brands may have different sizing and production values, so it's worth researching which best suits your needs. Some popular brands include:
Different brands may specialise in different types of cycling jerseys. Troy Lee, for example, tends to produce a lot of mountain biking and free riding jerseys, whilst Altura favour the road racing variety. It is worth checking out the ranges that the major manufacturers offer to see how they differ.
Zipper
Most long-sleeved jerseys tend to be zip up, but for short-sleeved ones there are those that zip and those that don't. Again this comes down to personal taste and comfort – some prefer to be able to adjust the zipper whilst riding, whilst for others it's a hindrance. If unsure, try a couple on for size to see which works best.
Colour
Whilst it may seem like a superficial aspect, the colour of the jersey can matter. Personal taste plays a certain part, whether vibrant or muted colours are preferred, but if competing in a race or tournament, specific colour schemes may be required. It is important to check this and then dress accordingly.
Weight
The density of the material will also affect the purchase. Lighter garments are perfect for summer cycling, as they are breathable and cooling, whilst in the winter a thicker fabric will be required. It is possible to search for either, but it is advisable to research which is best for any given situation.
Additional Garments
Once a jersey has been sorted, other items of attire may be necessary. Cycling shorts will likely be required and it is possible to purchase these as a set with the jersey. Depending on the weather, an outdoor jacket will also be required, and these tend to be lightweight and waterproof. Socks & Warmers will again be necessary depending on the season, whilst high visibility or reflective equipment is always a prudent choice. The important thing is to assess the conditions that you will be cycling in and ensure that the correct attire is worn. All of the additional items mentioned can be found on eBay, along with plenty of other cycling gear.
Buying Considerations
Once the major decisions have been made about the requirements of the garment, there are a few other factors that should be considered when purchasing a short sleeved bicycling jersey:
Cost
There are thousands of products available when it comes to cycling jerseys, so it's important to have in mind what sort of budget is going to be spent on equipment. It is possible to find more affordable jerseys that are of a basic quality but will be useful for those just starting out or as gear to practice in. However there are also more professional types of garment that can be towards the top end of the budget. A wise idea is to research the different prices ranges and what they can buy, and then come up with a budget that matches the needs of the user. If a jersey seems initially out of a price range, it is certainly possible to save towards a goal and get the necessary equipment. Bear in mind that a jersey will likely need to be accompanied by other gear, so having an overall budget is also a good idea. On eBay it is possible to use the sliding price bar to set different prices or a range of prices.
Condition
On eBay there are a number of different types of short-sleeved jerseys available in different conditions. There are plenty of jerseys that are new with tags, meaning that they are in the same condition as shop bought ones. It is also possible to get those that are new without tags or those that are new with defects. This could mean that they were ex-display models, or that they were unwanted gifts. Either way it is often a more affordable way of getting a new jersey, but be sure to fully read the product page to understand what is being bought. Finally, it is possible to get used jerseys. This again presents an affordable way of buying a high-quality jersey, as often people will sell their used jerseys if they no longer fit or they are themselves purchasing a new one.
Buying a Short-Sleeved Bicycling Jersey on eBay
When it comes to buying a jersey, going online will offer a huge range of products. Sites such as eBay specialise in bringing together the widest range of items, and their Sporting Goods page has plenty to offer. Once arriving on this page, navigating to the cycling section of the site is easy. There are thousands of items here, so eBay has some useful features built in to help you find the perfect items:
Refinement
It is possible to use the left-hand column to narrow down to the results desired. Features such as item type, suitable for, size, brand, colour and condition are all available, as well as price and format. Multiple refines can be applied at once, and the search bar can be used to search for relevant keywords. This allows for a more specific set of results to be displayed.
Product Pages
Once the refinements or search has been made, a list of all the relevant items will remain. This list can be sorted by a number of different parameters. By clicking on one of the products, the product page will be navigated to. This page will show further information about the particular product, such as a description, image gallery, and seller name and delivery/purchase options. This is handy when researching whether a product is relevant or a good fit.
Seller Information
By clicking on the seller name, their profile page will load and their vital stats will be shown. Their track record will be measured by the feedback and comments that previous customers have left, and details of their delivery and returns policy will be included. It will also be possible to contact the sellerto ask any questions that there may be surrounding a particular item.
Auction or Buy Now
There are two different ways to purchase on eBay. Some listings will be auctions, where bids (or maximum bids) can be placed during the time limit with the highest bid winning. Bids can be replaced if someone else places a higher bid. Other items will be labelled as buy it now, where the item can be purchased directly without having to wait for a time limit to expire. Either is a valid and useful way of shopping on eBay.
Conclusion
This guide has shown some of the key features to look out for when purchasing short-sleeved bicycle jerseys. There are plenty of options to choose from and it really comes down to the type of cycling that is going to be done as to what size, material and additional equipment will be needed. Shopping on eBay is easy and intuitive, and with their buyer protection policyit possible to feel secure when using the site to make purchases.