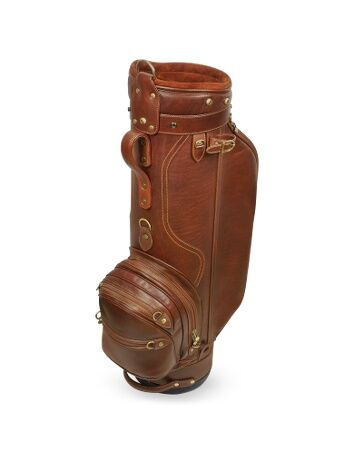 Golf is a popular sporting activity played all over the world. Associated with golf is a unique range of accessories and clothing. Vintage golf bags are an excellent addition to any golfers collection. Owning such a luxurious item will add charm and enthusiasm to any player's game.
Vintage Golf Bags are available from a number of different outlets and shops. Some may be found on the everyday high street; however, online sites like eBay offer a wide selection of vintage golf bags that will be affordable to any budget.
Due to the demand for vintage golf bags, often shops will sell replicas. This guide will provide a detailed overview of how to purchase an authentic vintage golf bag.
What Is a Vintage Golf Bag?
It is estimated that golf as a sport has been around for at least 500 years, possibly longer. The use of the word 'vintage' when referring to a golf bag indicates that it was made in a certain era of history. Most vintage bags were made pre-1950, however, some experts advise that the most valuable bags are pre-1930.
It is also possible to purchase vintage golf bags from the turn of the century. Some people consider vintage to be associated with a later time period (1950 through to 1985) with pre-1950s being 'antique'. The term is often used loosely, with the definition meaning different things to different individuals.
Generally speaking, the materials will be of a very high quality, generally leather and in the case of 1900s bags will also use horsehair. Due to the quality and craftsmanship of the bags made pre-1950s, most vintage golf bags come with a lifetime warranty.
There are many companies today who look to replicate the vintage design and craftsmanship. Therefore it is extremely important that as a buyer you are clear on the desired product you are after. Searching for a replica will be different to looking for an authentic vintage golf bag made in a specific era of history.
Why Buy a Vintage Golf Bag?
Collecting vintage golf bags, clubs and accessories is a popular hobby for both players and golfing enthusiasts. Many collect because they have a love of the vintage products; some enjoy the thrill of the hunt and purchase. Others collect to re-store and then re-sell the product.
Vintage golf bags, just like vintage golf clubs and accessories, will appreciate in value over time. This appreciation will be influenced by the era made, history of the item and the craftsmanship.
What to Look For in a Vintage Golf Bag
Vintage golf bags are not dissimilar to normal golf bags. They must still fulfill the requirements that are asked of them. Therefore it is vital that the buyer addresses the functionality of the bag. This functionality includes:
| | |
| --- | --- |
| Weather Protector | Does the bag have an adequate cover to protect it and its contents in wet and windy weather? |
| Type of Bag | Golf bags come in a variety of different styles. Typically vintage golf bags available are: Vintage Tour Golf Bag,, Vintage Cart Golf Bag and Vintage Golf Carry Bag. |
| Condition of the bag | Unless you are an expert in restoring vintage golfing equipment, it is advisable to assess the condition of the bag. Make sure all areas of the bag are checked thoroughly and a purchase is only made if the 'imperfections' are repairable or manageable. |
| Accessories and storage | It is advisable to address the space in the bag. Some vintage bags will not have as much space or pockets as a more modern design. To ensure the bag is suitable for your needs, check that all your golfing accessories and equipment can fit inside it. |
| Stand | A sturdy stand is considered the mark of a good golf bag, so If the bag does have one, be sure to check the mechanics of this, as the quality will vary from model to model. This is likely to be the part that will break or malfunction first. |
Vintage Tour Golf Bags
Tour golf bags are traditionally used for professional or regular players. They will hold up to 14 golf clubs as well as accommodate additional accessories, gear and everyday items. Due to their size, tour golf bags are generally very heavy. Most professional players will employ a caddy to assist with carrying the bag. Leather is the material used to make tour golf bags and due to the size and additional features this bag comes in at the top end of price range.
Vintage Cart Golf Bags
Cart golf bags are designed to fit comfortably into the back of a cart. They are smaller than the tour bags, but offer less room to store clubs and equipment. They are excellent for the golfer who only carries around 4 to 5 clubs at any one time and requires a lighter bag.
Vintage Golf Carry Bags
Vintage golf carry bags are designed to be carried by the player. As a general rule, vintage golf bags will only have one strap meant to be placed across one shoulder, as this was the most common strap design of early golf bags. Double-straps, which enable the player to carry the bag on the back like a backpack, are a relatively new invention not always available on the vintage bag. It is possible to purchase a newer strap that will convert the bag to dual straps. However, this may ruin the look of the bag.
Where to Buy a Vintage Golf Bag
There are many places to search for a vintage golf bag. Due to the nature of looking for something 'vintage' it is possible to find them at non-conventional shops like garage sales or boot sales. Often, deals and items can be found in the most unlikely places. However, to guarantee an authentic purchase, it is advisable to start searching at specific antique shops or auction sites like eBay.
Authenticity
Due to the nature of vintage golf bags, it is important to gather as much information as possible about the product looking to be purchased.
Do not be afraid to ask questions about the product or a second opinion from a trusted companion or professional.
The Seller
To ensure an authentic vintage golf bag is brought, it is advisable to purchase from a seller who is an expert in this field. Not only will they be able to assist by answering any questions and offering advice on the bag, you can be assured that the product is quality and authentic. When using eBay it is easy to ask the seller further questions about the product.
How to Purchase a Vintage Golf Bag on eBay
As mentioned previously, eBay is an excellent place to purchase a vintage golf bag. The ability to search using the conveniently located search function on every page means that any type of bag can be found at the click of the button. The buyer does not need to know the exact product being sought after to browse through products from a general category like Vintage Golf Bags. However, if the specific product is known, then this can be added to the search function, and will take the buyer directly to the available products.
Further to this general search term is the ability to complete a more advanced search. By utilising the buttons found on the left hand side panel of the site, the user is able to narrow the search down by make, brand and also era (the date). It is also possible to search using the category portals. eBay offer Sporting portals that lead through to Golf and Golf Bag.
eBay is considered to be a leader in its field. As a result, the standard of customer service is always extremely high. To ensure this standard is upheld, it offers a range of different support services to both buyer and seller. In order to fully utilize the full list of services and use the site to its fullest potential – head to the Buying Tips page. This contains all the information required to use the site.
When using eBay it is important to understand how the payment system works. The most commonly used method of payment is via PayPal. This is a safe and secure 'middle man' that will transfer the money between accounts. The use of PayPal ensures that a safe and easy transaction is made. There are 3 different types of purchase options when buying off eBay. These are Buy It Now, Bid or Best Offer.
Conclusion
Golf is an enjoyable sport for a great amount of people. Many golf enthusiasts and players gain enjoyment not only out of their chosen sport, but also by collecting vintage golfing items.
A Vintage Golf Bag is an excellent item to begin any collection with. As one of the largest pieces of equipment required for the game, it is a highly visible piece to have on show. The sheer magnitude of possible designs from different eras means that there really is something for everyone. eBay is an easy to use site that offers a great range of different products to fit any budget.