This unique event has already caused a great deal of excitement among coin collectors. The Royal Mint strikes all of Britain's circulating coinage and is at the forefront of minting technology the world over. Its stringent quality control procedures mean that an error such as this is exceptionally rare indeed.
The error involves a mismatch of designs for the 20p.
Quick Guide to the undated 20p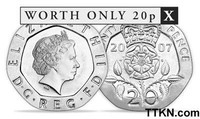 This is the old design 20p piece and all versions with the old design are worth only their face value of 20p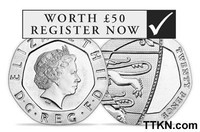 This is an error variety of the new design 20p piece - note that the Queen?s head side does not have a date whereas the regular version carries the date '2008'.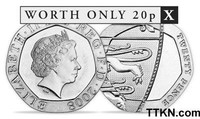 This is the new design 20p piece - and the version shown above is worth only its face value of 20p