Adding hot fix beads to clothing or crafts is a great way to enhance your items in seconds. Hot fix beads use heat to adhere to your item, and there are many types, colours, and sizes of beads to customise each creation. Purchase hot fix beads and all the supplies you need to secure them and embellish drab clothing, bags, or hats with bedazzling beads.
Types of Hot Fix Beads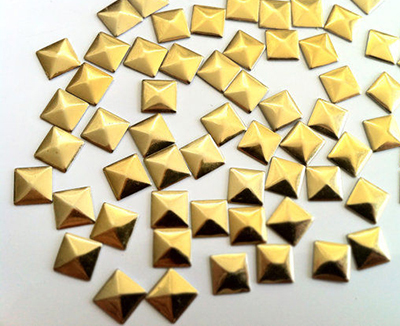 Hot fix rhinestones and crystals are the most popular type of hot fix beads. The stones have hot fix adhesive glue on the back for simple crafting once the glue melts. Some of the most popular hot fix rhinestones include 2 mm, 4 mm, and 6 mm stones in shades like purple, pink, orange, black, blue, and red. Clear hot fix crystals add sparkle to a variety of designs. Other types of hot fix beads include crystals shaped like stars, letters, hearts, or ovals. Hot fix pearls work just like the crystals, and have a flat back with bonding glue already in place. Gold and silver hot fix studs are another stylish option, and come in nail head and pyramid designs.
Applying Hot Fix Beads
Since hot fix beads and stones come with adhesive glue, all you need to apply them is a heat source. A special hot fix applicator tool works to precisely heat the stones and melt the glue right where you want it to go. Or use a traditional iron on low heat to melt the glue and secure the stones. If you wish to apply the beads to a surface that you cannot use heat on, such as plastic, skip the heat and use a strong bonding agent, such as E-6000 jewellery glue. You are not limited to using hot fix beads with heat; like other beads, they work with glue too.
Uses for Hot Fix Beads

There are endless ways to use hot fix beads and stones. Decorate any fabric garment, including T-shirts, jeans, purses, and tote bags, or add shine to shoes, sunglasses, dance leotards, holiday crafts like Christmas stockings and ornaments, and party decorations. Add personality to gift bags, and customise foam drink holders, jewellery, belts, scarves, and jackets. Create the team logo for your daughter's baseball team, or specialise bridesmaids' T-shirts for a bridal party.
Hot Fix Bead Supplies
Before you get ready for a day of hot fix crafting, ensure you have the supplies you need on hand. Purchase hot fix beads, crystals, pearls, and stones for your project, and ensure you have an iron or hot fix applicator handy. You may need heatproof paper to place over your design to protect the beads as you apply heat, and you need items to embellish. Use tweezers to precisely place your beads as you want them. For more complicated designs and patterns, pick up some stencils.