Vintage gold jewellery is a great option if you like vintage and antique accessories, want to save money off new jewellery, or you have a vintage jewellery collection. No matter the reason you want to buy vintage jewellery, plenty of options are available on eBay. You can choose jewellery based on the brand or designer, the type of gold, the production period or style, and of course, your taste in jewellery.
Vintage Gold Jewellery Marks

Most vintage jewellery features some sort of mark. If the jewellery is pre-1960s, then it most likely features a manufacturer's or jeweller's stamp. If the jewellery is actual gold, then it should also feature a purity stamp. These stamps list the ratio of gold to base metals, and are usually 9 carat, 14 carat, 18 carat, or 24 carat. For European gold, you may also see a percentage stamp such as 0.375, which means that pure gold represents 37.5 per cent of the alloy.
Vintage Gold Jewellery Brand or Designer
If the manufacturer is important to you, then purchase accordingly. For example, you may want a 1940s Chanel bracelet, a 1970s Amco earring set, or a 1950s Bergere set. Vintage gold jewellery is available from various manufacturers, but you can choose based on your collection, your taste in jewellery, and your budget.
Vintage Gold Jewellery Age or Period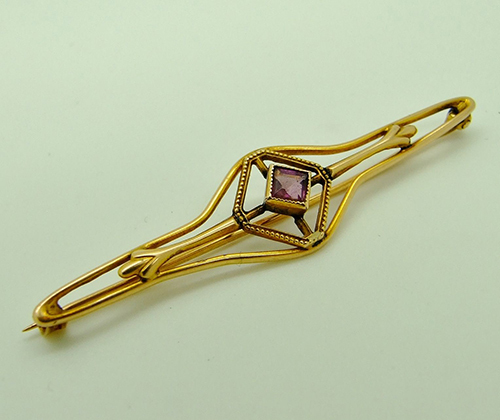 For collectors, the jewellery's age is an important consideration. However, the age is also important if you are wearing clothing from a certain period. For example, if you dress in 1950s' style clothing, then you would want your vintage gold jewellery from the same period. If you collect Edwardian bracelets, then look for jewellery made between 1901 and 1914. Most vintage jewellery is 20 years and older, although jewellery that is at least 100 years old is usually antique rather than vintage.
Vintage Gold Jewellery Condition
True vintage gold should have a patina, or age marks on the metal. While some sellers may restore the jewellery to like-new condition, most sell it as-is in order to avoid damaging the piece. A patina, signs of wear, and actual nicks or scratches show that the jewellery is most likely vintage; however, you do want the least amount of damage as possible. Depending on whether you are purchasing something to wear, or something for a collection, the condition is more or less important. However, if you are buying a vintage gold bracelet and it looks brand new, then it is either a fake or a very well restored piece.