Everything old is new again when you opt for vintage jewellery. The choices seem endless and different jewellery styles have made their way onto the scene through the years, each offering a different look to modern outfits. You can choose from earrings, bracelets, necklaces, and rings for an eclectic look that takes a step back in time.
Vintage Earrings

Go for bling with the art deco look of the 1920s through 1940s. Large stones and symmetrical designs make people sit up and take notice when you wear art deco clip on earrings. For an even bolder look, choose vintage dangle earrings from the 1970s filled with beads and wild colours attached to gold posts. Often resembling tiny chandeliers, these vintage earrings come loaded with sparkle and shine and stand out from a crowd. Other vintage earring styles include porcelain floral earrings and clip-on cameos.
Vintage Antique Jewellery
Loaded with large stones and ornate designs, vintage antique jewellery offers an overstated look made from gold and silver. You can find thick gold and silver chains in both male and female styles, while chunky gold bracelets that snap together in the middle adorn a woman's wrist. Colourful stones make their way onto earrings and rings, while beads and baubles decorate necklaces and bracelets. Find antique jewellery made from white gold, marcasite, sterling silver, and solid 24k gold.
Vintage Brooches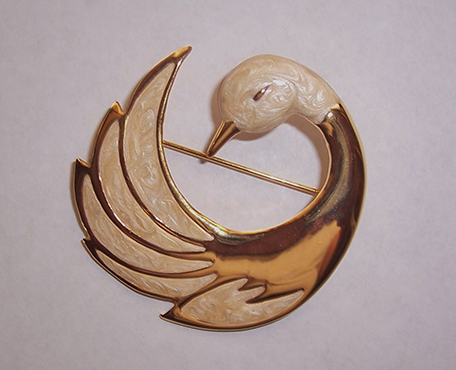 Get pinned with vintage brooches that add an extra touch to the same old outfit. Vintage brooches come filled with sparkle and shine, as ornate stones and colours adorn both the centre and the outer part of the brooch. You can find them made from solid gold, white gold, sterling silver, and marcasite. Enjoy 1940s and 1950s style with brooches shaped like animals, including tigers, cats, butterflies, and elephants.
Vintage Men's Jewellery
Men can also wear vintage jewellery pieces. You can find vintage men's rings made from solid gold with large stones in the middle. Old styles featuring animals, eyes, and ancient lettering adorn both yellow gold and white gold rings. Vintage gold and silver cufflinks work as well for dress shirts in the 21st century as they did in the 20th. You can find thick gold and silver chains to wear on casual days reminiscent of the 1970s.
Vintage Jewellery Boxes
You can have a place to put it all with a vintage jewellery box. You can choose an old musical jewellery box for a little girl's room with a spinning ballerina inside and an outside full of pretty pink. You can also find an antique jewellery box made from leather designed to last a lifetime and beyond. Sterling silver jewellery boxes with ornate floral designs in the metal, as well as white boxes lined with brocade on the outside and satin on the inside, create a decorative space for decorative jewels.