Wade Whimsies are miniature figurines of animals and buildings produced by the Wade pottery company throughout England and Ireland during the 1950s to 1990s. Highly collectible, these small, cute, well-made figurines depicting a wide range of animals quickly became popular with young children. When looking at buying Wade Whimsies, buyers have the choice of a range of series, villages and buildings, and original or modern Wade Whimsies.
Wade Whimsey Series

Numerous Wade Whimsey series have been released, including the Hat Box series, the Drum Box series, and the Canadian Red Rose Tea Company series. The Hat Box series are a collection of 26 various popular Disney characters, including Lady and the Tramp, Bambi, Dumbo, and Merlin. The Drum Box series, named for their round drum-like packaging, feature a group of five animal band figures. The Canadian Red Rose Tea Company series features a total of 32 miniature animals, including a beaver, bear, rabbit, owl, otter, hedgehog, and frog.
Wade Whimsey Villages and Buildings
In 1980 the Wade Company began producing miniature villages and buildings to complement the animal figures. The Wade Whimsey villages include the popular Whimsey-on-Why, with cottages, shops, a post office, church, school, hotel, and various other country buildings. Whimsey in the Vale is a relatively recent release, first issued in 1993. Wade Bally Whim figurines are based on an Irish village. The Wade Whimsey building series include the Coronation Street series, the Brighton Pavilion series, and the Mini Mansions series.
Original Wade Whimsies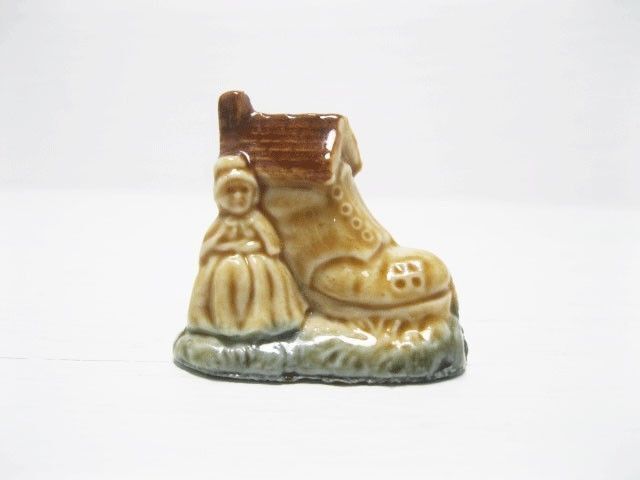 The first boxed series of Wade Whimsies was released in 1953. In total, 10 series, each containing five small figurines each, were released between 1953 and 1959. They included sets of English animals, African jungle animals, horses, polar animals, dogs, zoo animals, North American animals, and farm animals. Original Wade Whimsey figurines are considered highly collectible and appreciated for their quality make and attractiveness. Although production for sales ceased in 1959, Wade Whimsies continued to be produced and were given away in various promotions, as opposed to being sold directly to the public.
Modern Wade Whimsies
With the popularity of Wade Whimsies continuing to grow after they ceased producing for direct public sale, the company set out releasing new series in 1971, through to 1980. A total of 12 sets with five figures each, the boxed sets are identifiable by their box colour. The first box, dark blue, was released in 1971, with various red, green, yellow, orange, and brown boxes to follow throughout the 1970s.