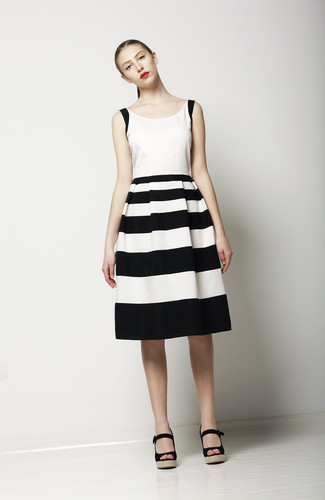 Few fashion items are as classic and timeless as the sleeveless dress. This stylish, yet comfortable, garment comes in all styles and colors, from cool vintage models as seen on old James Bond movie heroines, to ultra-modern professional dresses designed for women in the midst of their successful careers. However, the sleeveless dress, universal as it may be, does sometimes demand a bit of tasteful mixing and matching to reach its full fashion potential. There may be contexts, such as in the office or during formal ceremonies, where a sleeveless dress is best worn in combination with something else, such as a jacket, a sweater, or a scarf.
Likewise, the sleeveless dress is not always ideal under every weather condition. Bringing a cardigan, or perhaps even an umbrella or a straw hat, can add elegance and flair while at the same time providing protection from sudden outbursts of refreshing summer downpour. When shopping for a sleeveless dress, it is important to know how to wear a sleeveless dress in different seasons such as summer and autumn, how to carry off the sleeveless look in the office and during special occasions, and how to shop for the garment on eBay.
Sleeveless Summer Dresses
The most obvious times of the year to wear a sleeveless dress is during spring and summer. Few things are as pleasant as the first day of spring, when the weather is warm enough to go outside in bare arms, or to stroll down the boardwalk in the warm evening breeze. Spring and summer are without doubt the best seasons for sleeveless dresses.
Bright Colours and Patterns
As a tribute to the coming of warmth and the reappearance of the sun, sleeveless summer dresses are usually light in colour and sparkling in patterns. Yellow, orange, light green, pink, and light blue are common colours among sleeveless summer dresses, while sunflowers, palm trees, water lilies, ocean waves, and other seasonal themes are popular patterns. The guiding sentiment when choosing colour and pattern is usually one of recreation, happiness, and a sense of joy.
Light Fabric
Sleeveless summer dresses are not only beautiful, but they also serve a useful purpose, in that they are great for staying cool in warm temperatures. Part of the charm of the sleeveless summer dress is the sensation of just "popping it on" and then heading outside in the sun. The sleeveless dress should offer a sense of carefree liberty. Therefore, a light fabric, such as cotton, is preferable over heavier materials. Sleeveless summer dresses are also worn to the beach or on picnics in the park and should, for this reason, be made of a fabric that is easy to wash.
Weather Safeguards
Though summer is ideally a sunny and warm season, there are days when sun decides to take a few hours off behind the clouds. In many places of the world, particularly in coastal areas, overcast weather and rain are passing phenomena that are usually followed by a sudden reappearance of the sun. A perfect accessory to the sleeveless summer dress, then, is a small scarf or a light cardigan that can be easily thrown over the shoulders or carried inside a small bag. Another classic accessory for the bold fashionista is the umbrella, which can be used as cooling protection against the sun, as well as to offer cover against rain. Another traditional and trendy accessory is the straw hat which brings to mind the legendary days of summer in the 1960s.
Sleeveless Autumn Dresses
Unfortunately, summer must eventually come to an end and make way for autumn. Though many people associate autumn with cold, overcast, and rainy days, there is no need to stop wearing sleeveless dresses until the following year.
Quiet Colours and Length
In fact, the colours associated with autumn, such as grey, green, brown, and black, provide a great basis for stylish sleeveless outfits. There are many sleeveless dress designs that tastefully manage to reflect the darker time of year while at the same time preserving the lighter sentiments associated with the sleeveless dress. Usually, wearing a sleeveless dress during autumn and early winter involves choosing a longer model, preferably one that goes below the knees and made of heavier fabric. Wool, for instance, is great for keeping warm.
Autumn Dress Accessories
When wearing a sleeveless dress during autumn and early winter, most women like to carry with them an extra cardigan, a sweater, or a jacket, in case it gets cold. The fact is that such an accessory can add a lot of elegance to a sleeveless dress. Also, pantyhose are available in many different colours and styles that can be combined and matched perfectly to almost any sleeveless autumn dress, while keeping the legs warm. Those interested in vintage fashion may even want to consider wearing a thin sweater or turtleneck underneath a sleeveless dress. Typically, sleeveless dress accessories that are worn to keep warm during autumn or early winter are made of warm fabric such as wool.
Wearing a Sleeveless Dress in the Office
One debated question is whether it is appropriate or not to wear a sleeveless dress to the office. Some conservative offices consider the sleeveless dress too informal, and therefore discourage it. Other offices have more flexible dress codes under which wearing a sleeveless dress to work may very well be acceptable. One important thing to remember is that, while at the office, all employees are representatives of the company they work for. If the company profile is such that it demands a certain degree of formality, it may be worth giving the sleeveless option a second thought. The fact is, though, that when worn appropriately, the sleeveless dress can make a highly professional looking office outfit.
Go Discreetly Sleeveless
Perhaps the best way to avoid crossing the fine line between appropriate and inappropriate in an office environment is to take the safer path. Most offices prefer it if their employees dress in a neutral and discreet manner, which usually involves avoiding overly bright colours and eye-catching patterns. There may be nothing wrong with wearing a sleeveless dress to the office, so long as it is humble and leaning towards the formal end of the spectrum. It would in most cases be inappropriate to wear the same dress that one wears to the beach to the office.
The Sleeveless Compromise: Capped Sleeves
Another option in the office is to go for a compromise solution by wearing a capped sleeve dress to work. This is great during summer when wearing a cardigan would be too warm, and going completely sleeveless is against the dress code.
Office Dress Accessories
Another way of avoiding crossing the line by wearing a sleeveless dress to the office is to bring a cardigan, a scarf, or a jacket that can be brought out in case one feels that a sleeveless dress is not formal enough. Perhaps a sleeveless dress is fine while working alone in the office cubicle before lunch, but inappropriate at the department meeting afterwards. Instead of having to wear something entirely different during the whole day in preparation for the meeting, a convenient solution would be to simply put on a jacket or cover one's shoulders using a scarf before heading to the meeting in the afternoon.
Wearing a Sleeveless Dress at Ceremonies
Related to the criteria for wearing a sleeveless dress to the office are the formalities associated with ceremonies, such as weddings, baptisms, funerals, etc. Typically, sleeveless dresses are worn at joyous events and gatherings, rather than heavier ceremonial events. Many ceremonial festivities such as a graduation party are divided into one formal part and another less formal part. At such happy events, a sleeveless dress could be the right outfit, particularly if it takes place during spring or summer. A good rule of thumb in such cases is to wear something more formal, such as a jacket, during the actual ceremony, and to wait to go completely sleeveless until the party afterwards. At heavier ceremonial events, such as a funeral, it may be inappropriate to wear a sleeveless dress. However, if done in the right way, it could certainly be right. Like in the office, the safer route to choose under such circumstances is to go for quieter and discreet colours and patterns, perhaps accompanied by a fitting outer garment such as a cardigan or jacket.
Have Your Own Style With Sleeveless Dresses
The advice offered in this guide are, of course, simply suggestions. Readers are encouraged to wear sleeveless dresses and accessories in a way that feels personally meaningful and expressive. Nevertheless, the chart below summarises schematically the guiding principles for wearing a sleeveless dress in common settings.
| Setting | Colours | Patterns | Fabric/Length | Accessories |
| --- | --- | --- | --- | --- |
| Spring and Summer | Bright and cool; yellow, orange, pink, light green, light blue | Expressive, bold, seasonal; flowers, fruit, the ocean | Light; cotton; usually knee-length | Cardigan, scarf, straw hat, sun umbrella |
| Autumn and Winter | Warm; red, brown, dark green, dark blue, black | Small, seasonal; leaves, feathers, checkered, solid | Thick and warm; wool, knitwork; at least knee-length with pantyhose | Jacket, cardigan, scarf, t-shirt, turtleneck |
| In the Office | Discreet; red, brown, dark green, dark blue, black | Discreet; solid | Thick; at least knee-length with pantyhose | Jacket, cardigan, scarf |
| At Ceremonies | Light or dark depending on context | Usually discreet; patterns may be appropriate at joyous events | Light or heavy, depending on context; at least knee-length | Jacket, cardigan, scarf |
This chart is a general guideline for women looking to purchase sleeveless dresses for different occasions. Depending on the formality of an event, a woman may choose different styles of sleeveless dresses in order to be appropriately dressed.
Buying a Sleeveless Dress and Related Accessories on eBay
Another great place to buy a sleeveless dress and related accessories is online. The auction website eBay, for instance, is a comprehensive source that has hundreds of listings for new and used sleeveless dresses in all shapes and sizes. Likewise, there is a huge selection of scarves, jackets, and cardigans in varying textures and types along with other accessories on this auction site.
Searching for a Sleeveless Dress and Accessories on eBay
An easy way to find a sleeveless dress on eBay is to simply go the main page and type "sleeveless dress" into the search bar. This will take you to a section on the site where you find the listings related to sleeveless dresses. To narrow down your search results, you can select and deselect various filtering options according to your specifications. For instance, you can choose to display sleeveless dresses by brand, condition, length, colour, material, price, and style. Any accessory you might be looking for can be searched for in the same manner, and the results for it be filtered out according to relevant criteria. Whatever your choices may be, it is good idea to review the sellers on the listings and choosing them based on their track record as indicated on the website.
Conclusion
The sleeveless dress is a classic, simple, and versatile fashion garment. Perhaps mainly associated with spring and summer, the sleeveless dress is a universal garment that can be worn in many different contexts. This guide has provided some advice on what to consider when wearing a sleeveless dress under various circumstances, such as to the beach, in the office, during autumn, and at formal ceremonies such as weddings. The sleeveless dress is a great choice and makes a stylish outfit in most contexts, particularly when worn together with related accessories such as scarves, jackets, or cardigans.
The huge selection of designs and the ability to combine it with almost any imaginable accessory make the sleeveless dress an ideal choice for expressing one's personal style. By adding a small scarf or wearing a matching cardigan, a very simple and ordinary looking sleeveless dress can be transformed into an elegant item of high fashion. Sleeveless dresses are available in most fashion stores and department stores, as well as on many online marketplaces. eBay, for instance, is a great platform for individuals to browse through and find sleeveless dresses as well as accessories of all different types, textures, and sizes.